Biju Menon is perhaps one of the most versatile actors in Malayalam cinema.
Having started his career as a television actor in the early 1990s, he got noticed in the comedy Mannar Mathai Speaking directed by Siddique Lal.
With two Kerala state awards and a host of Filmfare awards to his credit, Biju Menon has proved that he can essay both positive and negative roles with ease.
After the success of Ayyappanum Koshiyum last year, Biju plays Ittyavira, a 73-year-old retired school teacher in the recently released Aarkkariyam, a family drama directed by Sanu John Varughese, a role for which he has been getting rave reviews.
In a telephonic interaction with Rediff.com's Divya Nair, the talented actor reveals how he prepared for this challenging character, the kind of roles that excite him and more…
Why did you sign up to play an older character in Aarkkariyam? Also, how did you prepare for the role?
There were a lot of films being made before and during COVID. Some of them were big budget films that were meant to be released in theatres.
When I was approached initially, I was confused, perhaps even apprehensive. (Director-cinematographer) Sanu (John Varughese) called and said he was planning to direct a movie.
As he was narrating the story, I was under the impression that I'd be playing Roy, so I was following his track. That is the kind of character I have been playing in the past and it's something I thought I'd be comfortable with.
Sanu asked me what role I'd like. Frankly, I wasn't even thinking of Ittyavira at the time.
Although the character was interesting, I thought it would be awkward for me to play a 73 year old. I wasn't sure if I'd be able to do it justice. I asked for two days to think about it.
I came home and discussed the idea. I also looked for people I knew who were in a similar age bracket to understand how they walk, talk and conduct themselves.
The thing is, these days, most of them use hair dye, so it was important for me to find someone appropriate that I could refer to.
I found a picture of my father and sent it to Sanu. He sent me a couple of sketches too. That's how we managed to create a reference personality.
I have played an elderly character in Anuraga Karikkin Vellam, but this was an entirely different experience. While shooting Aarkkariyam, it took me two to three days to get the makeup, body language and slang correct.
The crew members were really helpful in putting everything together. In the end, it's all about team effort.
At any point, were you concerned that you'd be typecast if you played an older character?
In the past, after I played a police character, I would only get offers to play cops. So I consciously stopped taking up such projects.
Similarly, if I played a negative role, I'd get those kinds of offers.
Even now, after seeing me in Aarkkariyam, I'm getting calls to play similar roles. Ultimately, it's up to me.
I am not really concerned about being typecast. I just say no and take up a different role each time.
Were you apprehensive about shooting a film during the pandemic? How did you convince yourself to take this project?
I took up this film only after I was convinced and confident that I could do it.
It was a budget film and there was limited crew. The location was an isolated property so we could follow all safety protocols.
There was less interaction with people from outside. Basically, it met all the requirements of a film that could be shot and released during the pandemic.
Every actor has a process or method of getting into the character. How do you approach a film or character after you sign up for it?
Whenever I do character roles, I always look for people I know whom I can base the character on.
For Aarkkariyam, I used my father as a reference. But for commercial roles, I don't pay so much attention. I go with whatever the script or director demands.
How has the feedback been for Aarkkariyam?
A lot of friends and family members who watched the film found it really clean, simple and entertaining.
Personally, I thought it had a lot of scope for me to perform as an actor. It's definitely one of the landmark roles in my career. I am happy with the way audience has valued my efforts.
Of course, there are certain drawbacks too because of the current situation.
Some of those who want to watch the film are not able to visit theatres. They are waiting for it to release online so they can watch it safely with their family.
Even if someone says this is a must-watch film, they will have to wait for the film to be made accessible so they can watch it on OTT or their television screens.
How did your family respond?
Samyuktha, my wife, watches all kinds of films, including mine. She said she liked my role and the overall mood and setting of the movie.
My son, on the other hand, was curious; he had some questions about the character which I had to explain and he understood well.
But that's about it. The overall response has been good so far.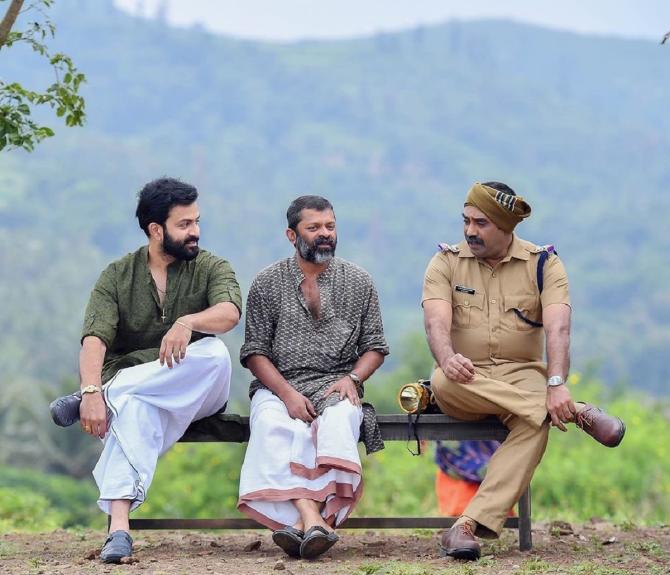 Which have been some of the most challenging roles you've played till date?
It's really hard to pick.
I've done a lot of serious and fun roles; some have been my personal best, some have been liked by viewers.
Before Aarkkariyam, I enjoyed playing Ayyappan Nair, a tough yet cool cop, in Ayyappanum Koshiyum. In my opinion, it was a challenging role; especially the character I play.
When I signed up for Vellimoonga, I wasn't expecting it to be so successful. It was a fun film and most of the humour was just flowing effortlessly.
Sometimes, the director would have to say, 'Cut, madhi (stop).'
People have told me that they have bought DVDs of the film because they liked it so much and still watch it. For me, that's a huge compliment.
In Ordinary, I picked up the Palakkad slang during the shoot.
In some films, that kind of last minute intervention is like a blessing from God.
You've been in the industry for almost 30 years. How has film-making changed in the last few years? How has your personal approach changed?
When I started my career, everything was shot on film. As an actor, you had only one take and you had to give it your 100 per cent.
Asking for a retake would cost a lot of money so I was extremely conscious as an actor.
There were no monitors where you could see how you look. You had to wait for the rushes.
Personally, I feel I got a lot more freedom as an actor to perform after we moved to digital. It gave me a lot more confidence which also helped me in my career.
What's your opinion about films releasing on OTT? Do you think it takes away the theatre experience?
There are certain films you can only watch in a theatre.
Films shot on a grander scale on a big budget may work better when watched on a big screen.
With OTTs, the advantage is the freedom of content, the penetration into homes and the comfort and convenience it offers, especially during a situation like the pandemic.
You can watch films with your entire family without having to step out or worry about your safety. Also, you get to choose what kind of films you want to watch. It's a huge advantage.
What kind of films do you like to watch at home?
I watch all kinds of films, but I rarely sit through the whole film.
I like watching comedy, light-hearted stuff at home.
Samyukta likes serious films. She usually tells me what's new and interesting.
We recently watched C U Soon and we both liked how the film was shot during the pandemic.
It's amazing the kind of content that is available online — there are so many new and talented actors, directors in so many different languages.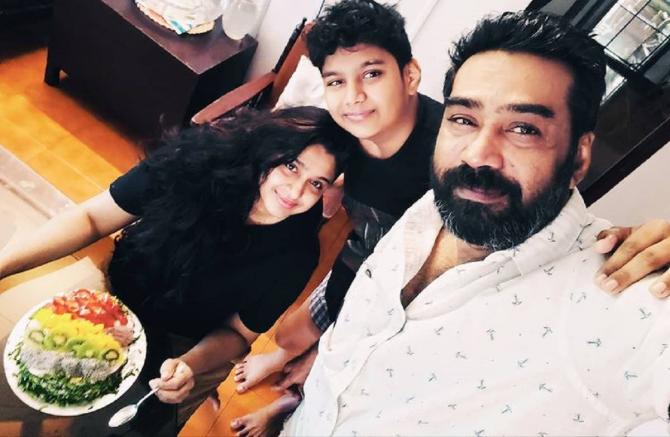 What is Biju Menon like off-camera? Apart from cinema and films, what are your other interests?
I studied in a technical school so, when I am at home, I am fixing things. You'll rarely see me sitting idle at home.
I also like to paint.
How did you spend time during the lockdown?
We got to spend a lot of time indoors as a family.
We watched TV together, went out for walks.
I was looking for creative ways to engage my son off-screen. Once, I dismantled his cycle and we put it back together.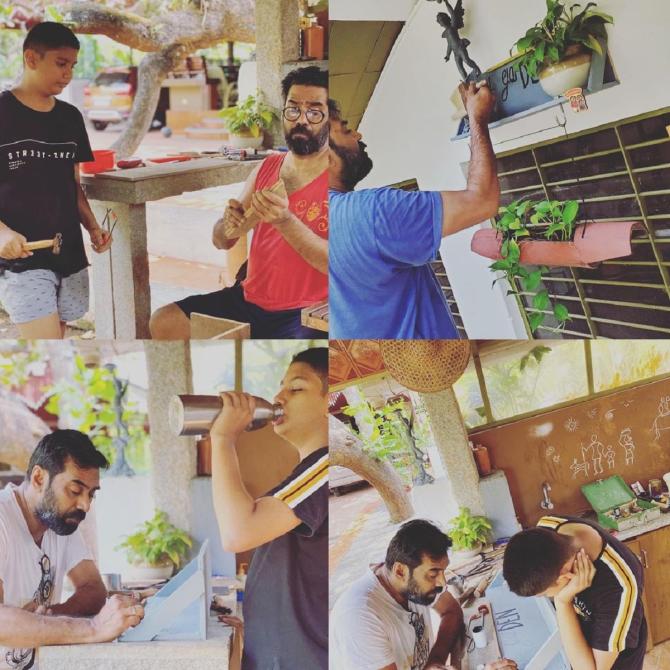 Did you learn a new skill or discover anything new or interesting?
At home, Samyukta likes vegetarian food.
Daksh and I like non-vegetarian, so we did a lot of experimentation in the kitchen this time.
You are singing a Hindi song in Aarkkariyam. What kind of music do you like listening to?
I've always loved S P Balasubramanian's voice.
I don't usually listen to sad songs, I love melodies.
When I drive, I listen to slightly fast paced music, not too loud though. Basically, I like a good mix of songs.
Is there a character or real life personality you'd like to portray on screen?
I have thought about this a lot. Maybe I can do certain roles but I am slightly reluctant at times.
If someone tells me that I can pull off a character, I take my time.
Personally, I am open to all kinds of roles and characters.
I like playing negative and serious roles. But since people like seeing me in humorous roles, I do comedy.
I try and avoid doing the same kind of roles.
Are you keen on working in other languages?
Besides Malayalam, I am comfortable speaking in Tamil and can manage Telugu as well.
After Ayyappanum Koshiyum, I got a lot of offers in Tamil and Telugu. Some of them are big budget films.
The thing with big budget films is you have to commit your dates in advance. For one appearance, I will have to block my dates for, say, three months. That means I may not be able to do other films.
If the right script comes my way, I'd like to work in other languages as well.
Which actors, directors are you most comfortable working with?
When the director is a friend, of course, I share a very different relationship. The late Sachy, (who directed Ayyappanum Koshiyum) was one such director.
Similarly, I also enjoy working with Lal Jose.
An actor you want to work with?
I haven't worked with Dulquer (Salmaan) and Fahadh (Faasil).
I am in talks. If something interesting comes up, I'd like to work with both of them.
Will we get to see you produce or direct a film in the future?
In the future I am planning to produce a film with Suresh Krishna in which I will also be acting.
What are your upcoming films?
My next is Lalitham Sundaram, directed by Madhu Warrier.
Source: Read Full Article