Let us get high on Pathaan and his simple-minded antics, but let us also take a moment to think about Jim who, with that one cunning piece of dialogue, goes on to boldly state that patriotism is a many-hued thing, observes Sreehari Nair.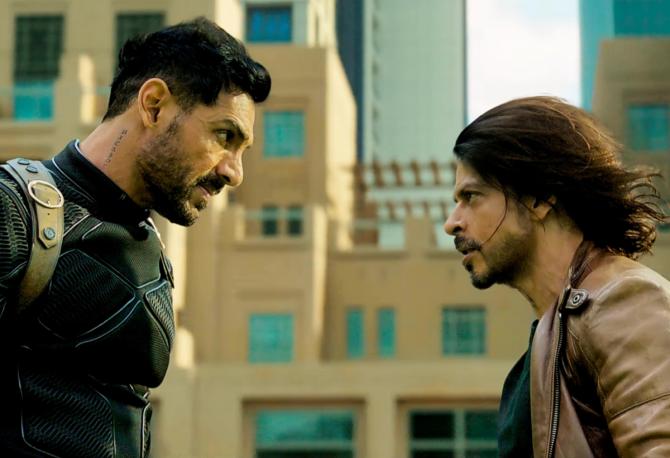 The only interesting dialogue in Siddharth Anand's Pathaan is uttered by the film's villain, Jim, and it is meant to signify his villainy, though in truth the dialogue presents a very sophisticated line of thought.
The scene in question has Jim (John Abraham, as an ex-RAW agent gone rogue) telling Pathaan (Shah Rukh Khan, the good soldier, now flipped upside down after a car ambush) about the critical difference between their patriotisms.
'You think of the country as your mother,' says Jim with a sideways smile, 'while I have always seen her as my lover.'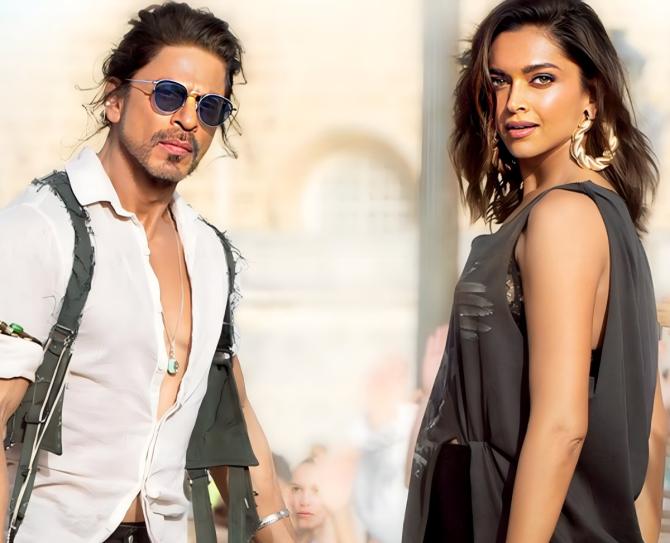 To add to my view that Jim is perhaps John Abraham's most relaxed performance since appearing as a helmet-wearing loony in a Pankaj Udhas music video, I believe the aforesaid piece of dialogue is a real clincher.
It is so good and so sophisticated that in a more courageous film the hero would have mouthed it, and thereby added fresh dimensions to our wan ideas of heroism.
Though the dialogue is credited to Abbas Tyrewala, the sentiment it expresses recalls Sahir Ludhianvi and Guru Dutt.
The country not as your mother, but as your spiritual mate — think about how true that rings in your inner ear; for the relationship that most of us share with our country is analogous to a marriage.
We love our country, it sets our teeth on edge; we are charmed by certain aspects of our country, and repelled by its other aspects.
Think about the possibilities contained in the country-as-your-spiritual-mate line of thought.
To see your country as your lover is to grant yourself the freedom to say that your feelings towards your country can be fraught with frustration and despair.
You can afford to sit in a certain unhappiness in relation to your country.
You can brood about the fact that it hasn't become the great country it could have.
Jim's line of thought extends the bounds of patriotism, frees it from the demands of readymade respect and devotion, extricates patriotism from that adolescent imagery that is built up during school-skits (a little girl, dressed up in a sari, hand raised in blessing, with a Styrofoam cut-out of India behind her) and then repeated throughout our lifetimes as a means to silence every dissent against the ruling dispensation (any dispensation, any era).
Jim's 'My country is my lover' stance puts us in direct communion with our country — thus daring us to investigate how our small vices and our casual insensitivities go into constructing the character of this country.
I don't wish to overstate my argument, but seeing our country as our spiritual mate may even make us more tolerant of our own mates — of their tantrums, their bad habits, their shortcomings, their excesses.
But let us park Jim and his virile proposition for now.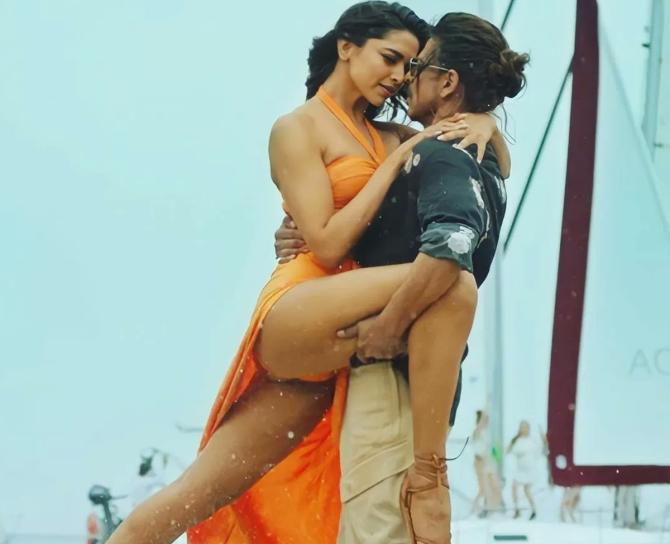 Let us lend our ears to the anti-Right campaigners out there who are busy touting Pathaan as Shah Rukh Khan's calculated response to everyone who has been questioning his loyalty to this republic.
Let us empathise with the liberal euphoria that has erupted over this movie, a movie which suggests that Khan's flag-waving instincts are as uncomplicated as the average knuckle-dragging right-winger's, and suggests that he can, when talking about his motherland, put on a face as grim as any of those 'Akhand Bharat' proponents.
Let us not aim too high: this is mainstream Indian cinema after all, and there's only so much bravery it can furnish in one go.
So let us overlook the image-change that Pathaan thrusts upon SRK: Someone who had taught us how to behave on a first date is today being hailed as Bharat Maa's Dulaara.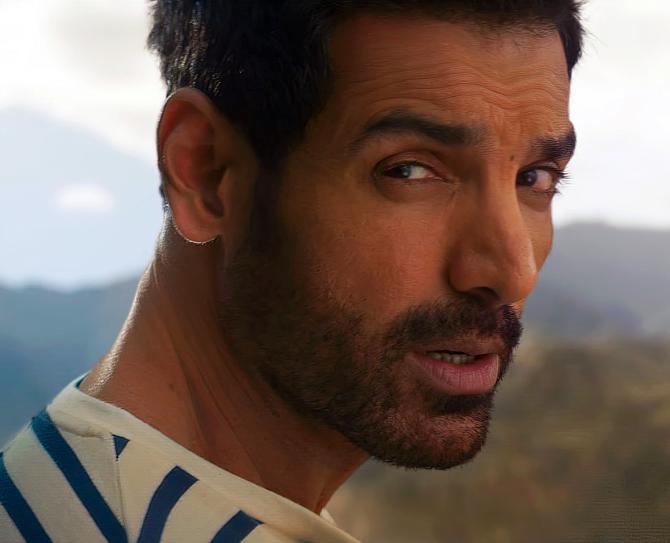 Let us conveniently forget that twenty-three years ago, Khan had delivered a far more personal account of his country-love when, moving like a sylph inside the precincts of a studio, he gave marrow and soul to an enjoyable ditty that told us that we Indians are as twisted as we are candid, as rough as we are compassionate, as sly as we are hard-working.
Let us get high on Pathaan and his simple-minded antics, sure, but let us also take a moment to think about Jim who, with that one cunning piece of dialogue, goes on to boldly state that patriotism is a many-hued thing.
Jim doesn't cede patriotism to those who are trying to define it in narrow terms, and that may just be his special appeal.
Among a bunch of 'yellow' patriots playing catch-up with the diktats of the party line, here's a man who articulates a radical position in passing, and emerges as the film's truly liberal character.
Feature Presentation: Rajesh Alva/Rediff.com
Source: Read Full Article