This tangled tale of good versus evil could have been far more intriguing, observes Mayur Sanap.
Cinema is often regarded as a tool for social commentary and change.
If done right, it works as an introspective piece of content for viewers.
But walking the tightrope of on-point messaging and effective storytelling is a precarious task, and the slightest off-balance can turn the whole exercise into a preachy affair.
Case in point, Writer-Director Nila Madhab Panda's The Jengaburu Curse, which has noble intentions but it struggles to be anything much beyond that.
The ominous title of the show, which means the curse of the red mountain in a tribal language, represents the outback of Odisha.
The story is centred on the relationship between nature and mankind with a backdrop of the mining industry, greedy corporations, corrupt local officials and the often abused indigenous population.
It is a solid premise, but the show works only intermittently with the initial promise of brilliance fading away due to the generic nature of drama at its centre.
The story follows the journey of Priya Das (Faria Abdullah), who is an ambitious career woman based in London.
When she receives a distress call from her homeland about her father's sudden disappearance, she lands in Bhubaneshwar. She is assisted by Mr Rao (Nassar), who claims to be her father's close associate.
Priya soon realises nothing is as it seems and decides to unearth the truth on her own which sets off a chain of events that alters her life.
Based on the screenplay from Mayank Tewari, who wrote the Rajkummar Rao-starrer Newton (2017), The Jengaburu Curse delivers a few moments of intrigue when it tackles the prickly social issues of the indigenous tribe.
Ambitious industrialists grab the mineral-rich land leaving the local people either displaced or exposed to health hazards. There is an intense paucity of food and potable water, and some of them retort with violence only to be labeled as a nuisance in the path of 'welfare and development'.
This tangled tale of good versus evil could have been far more intriguing, but the socio-political commentary that the show makes does not hit home because of the undeveloped drama that surrounds it.
The bad guys are extreme caricatures who can easily remove the hindrance of do-gooders.
There is mass corruption with greedy politicians and a bunch of vicious policemen at play, and the value of life to some is worthless with action sequences popping up randomly and body count piling up more frequently.
Spaced out at seven episodes, the show quickly turns into a cat-and-mouse game with its key themes becoming a mere footnote. Despite this sudden turn of events, the narrative remains fuzzy due to its sluggish pace. It also does not help that even the main characters are woefully underdeveloped.
We don't fully understand Priya's equation with her professor-activist father. We get a few flashbacks of her childhood where she is enlightened by her father about her roots. But instead of delving more into this backstory, the show resorts to mawkish drama to make us root for them.
In the first few episodes, Faria Abdullah's fish out of water act is a little too dramatic with hammy dialogue delivery, but the actress picks up the sur of her character as the show progresses.
Nassar plays his part with necessary restraint, but when the flip happens, his character ends up becoming a parody of similar characters that we have seen before.
In a change from his usual baddie avatar, Sudev Nair plays Priya's childhood sweetheart Dhruv, who helps her on this quest. He has a very convincing character arc and the actor infuses a sense of warmth in the gloomy proceedings with his understated performance.
Makarand Deshpande, as a benevolent doctor, can't rise above his one-note character and barely leaves any impression.
It is only in the concluding episode that The Jengaburu Curse captures your attention with the gravity of the events that it chronicles.
In these final bits, the show bares its big ambitions, but by then, it has fallen considerably short from becoming the compelling piece it could have been.
The Jengaburu Curse streams on Sony LIV.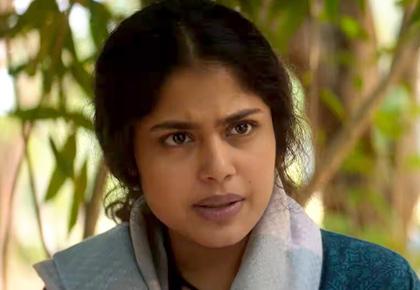 Source: Read Full Article