People move on, get attached to other people, ending a close bond. But we rarely see that on screen, observes Aseem Chhabra.
Martin McDonagh's The Banshees of Inisherin opens with fog lifting and the camera capturing the gorgeous lush green landscape of a remote (and fictional) Irish island called Inisherin.
As a folk song plays in the background, we see the island's residents going about their daily business, a rainbow colouring the sky and then a cheerful man with a stride walking along the edge of island.
This is Pádraic Súilleabháin (Colin Farrell), a farmer, a single man, who lives alone with his sister. The year is 1923.
The Irish civil war is on at a distance, but to a simple man like Pádraic, none of it matters, other than he hears occasional bombs or sees smoke rising in the mainland.
He is heading to his best friend Colm Doherty (Brendan Gleeson)'s white coloured house, with a red door, facing the beach and the ocean.
This is a daily ritual for Pádraic.
After he has taken care of his farm animals and his pet donkey Jenny, he goes to Colm's house and then the two walk together to the local pub for a couple of glasses of Guinness.
But this time Pádraic is in for a shock. Colm is inside his house, but he does not open the door. Soon Pádraic realises that his friend has decided not to talk to him.
McDonagh's script does not wait for niceties or a prologue.
The Banshees of Inisherin starts with a bang and the film's plot focuses on Pádraic's efforts to make his friend talk to him and be nice again.
'Do you know what you used to be?' Pádraic asks Colm.
'No, what did I used to be?' Colm asks back.
'Nice! You used to be nice! And now, do you know what you are? Not nice.'
To that Colm responds, 'Ah well, I supposed niceness doesn't last then, does it?'
Niceness as a human quality is brought up a few more times in the film such as when Pádraic's sister Siobhan (Kerry Condon) approaches Colm to understand what has gone wrong between the two friends.
'You can't just all of a sudden stop being friends with a fella,' she says.
'Why can't I?' Colm asks. 'Why can't ya? Because it isn't nice.'
Hollywood has often made buddy films: Two guys engaged in crimes (Butch Cassidy and Sundance Kid) or a pair of cops from different parts of the world thrown together to solve a crime (the Rush Hour franchise), there have been portrayals of gay romances (Brokeback Mountain).
But films rarely consider male friendship between straight men and how it falls apart.
People move on, get attached to other people or facets of life and changes can impact what could have been a close bond. But we rarely see that on the screen.
The Banshees of Inisherin stands apart as a quirky film, where one friend Colm, comes to the realisation that he finds the other friend's company boring. He would rather spend his time composing music on his violin and playing with his dog.
'He's dull,' Colm says to Siobhan.
'But he's always been dull. What's changed?' Siobhan asks.
'I've changed,' Colm says. 'I just don't have place for dullness in me life anymore.'
Along the way, McDonagh's film directs us from a particular sad situation to a larger comedy, which eventually takes on very dark macabre tone.
Fans of McDonagh's 2008 black comedy In Bruges (also starring Farrell and Gleeson) will recognise this mood shift which makes his films a delight to watch.
McDonagh's thoughtful understanding of the human condition, why people are warm, nice and sometimes cruel to each other is on full display here.
After In Bruges, McDonagh ventured into the realm of Hollywood films — Seven Psychopaths and the Oscar-winning Three Billboards Outside Ebbing, Missouri.
But with The Banshees of Inisherin, McDonagh is back to his Irish roots. This is by far his best work — quirky, hilarious, introspective and then, unexpectedly gory.
Just like In Bruges, the new film is very enjoyable. No wonder the film won three Golden Globes for its Screenplay, Actor (Farrell) and Best Picture.
The last two awards were handed out in the comedy or musical section.
In creating the fictional universe of Inisherin, McDonagh peppers the island with a number of eccentric characters like a priest, a cop, a pub owner, a shopkeeper, a mysterious older woman — a banshee, who turns up at odd moments in dark paths — and a village idiot.
The last character Dominic Kearney is played by the endearing Barry Keoghan (The Killing of a Sacred Deer, Dunkirk). Dominic is likeable even when he annoys the characters around him.
In one of the most heartbreaking moments, he confesses his love to Siobhan. I will not give away the details of how the scene plays out, but I will say this much: It features one of the best acting you will see in a long while.
The Banshees of Inisherin is beautifully shot by Ben Davis with clouds and the sun enveloping the island and Carter Burwell (the Coen Brothers' regular composer) decorates the scenes with lovely compositions.
The Banshees of Inisherin belongs to Farrell and Gleeson, an unlikely pair of co-actors, who seem to be the perfect match in the world that McDonagh creates.
Farrell, who has smoothly moved away from his sexy star image to a serious actor, gives his career best performance using his face, especially his angular eyebrows, to express his state of confusion and disappointment.
After Farrell's Golden Globe win, there is strong talk of his winning an Oscar as well.
One note of caution: Watch The Banshees of Inisherin with subtitles on. Otherwise, you might miss key dialogues in the film's Irish accented English.
The Banshees of Inisherin streams on Disney+Hotstar.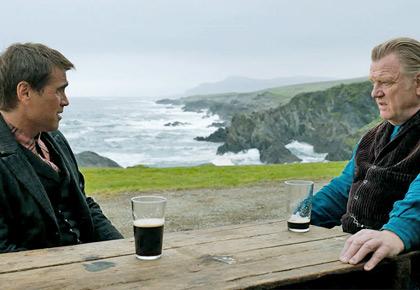 Source: Read Full Article