Here are the shows and films you can stream on Netflix, Amazon Prime Video, Disney+ Hotstar, ALTBalaji, SonyLIV, ZEE5, Apple TV+ and Voot among more.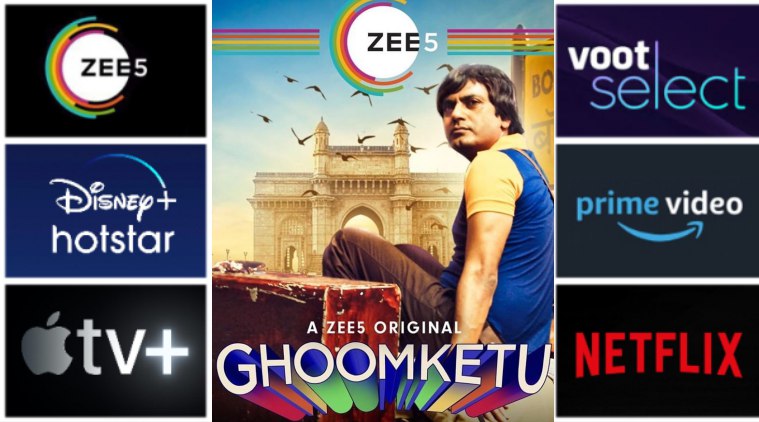 Being locked up inside our house is being made easier by OTT platforms. Be it Netflix, Amazon Prime Video, Disney Plus Hotstar, ZEE5, Voot Select, ALTBalaji or MX Player, every streaming platform has upped their game in terms of content and have ensured 24/7 entertainment for the audience.
Now, several Bollywood, Hollywood and south movies will also have a digital release. These include Ayushmann Khurrana-Amitabh Bachchan's Gulabo Sitabo, Vidya Balan starrer Shakuntala Devi, Tom Hanks' Greyhound, Disney movie Artemis Fowl and others.
Streaming Guide | May 19, 20, 21 | May 18, 17, 16 | May 15, 14, 13 | May 12, 11 | May 10, 9, 8 | May 7, 6, 5 | May 4, 3 | May 2 | April 27, 28 | April 25, 26 | April 22, 23, 24 | April 19, 20, 21 | April 18 | April 15, 16, 17 | April 12, 13, 14 | April 10, 11 | April 7, 8, 9 | April 5, 6 | April 3, 4 | April 1, 2 | March 30, 31 | March 28, 29 | March 26, 27| March 24, 25 | March 22, 23 | March 20, 21 | March 19, 18  | March 17 | March 16  
So, you need not get bored sitting at home as you can enjoy movies and shows while keeping yourself safe from the outbreak of coronavirus. And, if you are confused about what to watch, we are here to help.
In this blog, we suggest movies, web series, TV shows and documentaries you can watch on several digital platforms.
While the sunny Los Angeles is not as compelling a setting for horror as the dank streets of Victorian London, The City of Angels, Showtime horror series Penny Dreadful's spinoff, is surprisingly good, with a nice amalgam of contemporary social issues and the supernatural.
Starring Saoirse Ronan, Emma Watson, Florence Pugh, Laura Dern, Meryl Streep, Eliza Scanlen, Timothee Chalamet and Chris Cooper, the Greta Gerwig directorial Little WOmen is now streaming on Amazon Prime Video. Read the review here.
Adapted from Jawaharlal Nehru's The Discovery of India, this Shyam Benegal show delves deep into India's rich and disturbing past. It features a variety of actors, including the likes of Om Puri, Pallavi Joshi, Piyush Mishra among others, playing historical characters. You can stream the series on YouTube.
Gujarati film Hellaro, directed by Abhishek Shah, won the 66th National Award for Best Feature Film. Based in a village in Gujarat, the movie tells the story of a group of women who break the shackles of patriarchy. Read more
The Indian Express' Shubhra Gupta gave the Amazon Prime Video web series 3.5 stars and wrote in her review, "A celebrity TV anchor is the target of a group of killers. Why do they want to kill him? Who is behind it all? The case is handed over to a cynical, seen-it-all, from the wrong-side-of-the-tracks cop, and as he starts digging, startling connections between the most unlikely people in the most unlikely places start popping up. Paatal Lok is fashioned as a crime thriller-cum-police procedural set mainly in Delhi, spinning off into several threads, some really solid, a few comparatively weak, but managing to keep its hold on us. Weaving in an awareness and recognition of contemporary India makes it political, and elevates it: Paatal Lok is intelligently written, fast-paced, and engrossing, and I thoroughly enjoyed it." Read More.
Firsts is a simple love story that unfurls over video calls. Aman, a fun-loving marketing executive, and Tanya, a software developer, meet on Bumble. Tanya uses a perfect pickup line on Aman, and the two connect instantly. The only trouble in their paradise is a lockdown. In one-minute episodes titled 'The First Call', 'The First Compliment', 'The First Date', 'The First Fight' and more, the creators make us feel good with the small pleasures of a romantic relationship. Read more
Directed by Pushpendra Nath Misra, Ghoomketu stars Nawazuddin Siddiqui, Anurag Kashyap, Raghubir Yadav, Swanand Kirkire, Ragini Khanna and Ila Arun. Touted as a comedy-drama, the story revolves around an inexperienced writer (Siddiqui) who struggles to make it big in the film industry in Mumbai. Kashyap will be seen in the role of a lazy and corrupt police officer who has been tasked to find a missing person called Ghoomketu.
Read more | Ghoomketu movie review: The Nawazuddin Siddiqui-starrer is a drag
Recently, Anurag Kashyap and Nawazuddin Siddiqui starrer Ghoomketu released on ZEE5. In her review of the film, Indian Express' Shubhra Gupta wrote, "Comedy likho, badi demand hai', Ghoomketu is told. We really could do with some laughs in these grim times, and this film's premise did hold out promise, but it turns out to be more clutch-your-head-ache, than hold-your-sides-laughter."
Source: Read Full Article