Rocky Aur Rani delivers a king-sized entertainer that blends old charm with fresh ideas.
It is a win for Karan Johar whose conviction works big time to satisfying results, asserts Mayur Sanap.
He is a brawny, happy-go-lucky, Punjabi munda who derives a life of abundance from his well-heeled family's mithaai empire.
She is a scholarly, defiant Bengali firebrand who comes from a highbrow family and has a rebellious streak in her.
Nothing is common between these two, except one thing — they are extremely good-looking individuals.
Ranveer Singh's Rocky Randhawa falls head over heels for Alia Bhatt's Rani Chatterjee at first sight. She, on the other hand, gets carried away by his perfectly chiseled chest visible through his loose-fit shirt.
Sparks fly as his boisterous antics charm her, and soon, a torrid affair engulfs the two.
For Rani, it is 'just a fling' as she says, until, of course, she too falls madly in love with Rocky. After all, that's what the film's elaborate title is all about.
Karan Johar dons the director's hat after seven years for Rocky Aur Rani Kii Prem Kahaani, which is his love letter to good ol' Bollywood.
And romance is the true essence of this Bollywood.
The genre typically follows a template where we have attractive and bankable stars, melodious music, lip-sync songs, opulent sets, a lot of naach-gaana, passion and emotions, rousing drama, and a happily ever after.
It's the kind of romance where realism takes a backseat so that magical moments can fly on screen. A romance where the emotion buttons are pushed and all the hows and the whys become inconsequential because the world feels so surreal.
There is an interview where Johar spoke about Bollywood losing out on its conviction and cinematic language that once besotted the audience. I would like to believe his latest film is an attempt to restore glory to the cinema that we all loved watching.
Johar is utterly unabashed and apologetic with his approach to Rocky Aur Rani and the result is this zany romantic comedy that is hilarious and heartfelt in equal measures.
For any good romance, a conflict that plagues the love story is a crucial hook. Here, Rocky and Rani's pyaar is pitted against their parivaar. The families have conflicting cultural and social backgrounds and naturally the people involved here are appalled by this very union. Some, more than others.
Unlike two recent romantic dramas Tu Jhooti Main Makkar and Satyaprem Ki Katha, where the conflict was internal and more understated, here the family drama is painted in broad strokes.
Each family member is given a distinct character trait, and the writing trio of Ishita Moitra, Shashank Khaitan and Sumit Roy gives them one big emotional moment that enlivens the central love story.
Johar brings his A-game as he wraps a progressive story with the packaging of a well-meaning masala entertainer. The film is designed as this old-fashioned romp with a beating modern heart.
If K3G told us 'It's all about loving your family,' his new film brings an update with a few codicils to that template. Two strikingly different scenes are standouts in the film that come right before and after the Dhindhora Baje Re song.
In a delightfully subversive moment, two men dancing to Dola Re Dola with so much grace shatter the attributes of masculinity into many pieces. Moments later, a verbal fight ensues between two characters, and the way this scene concludes ultimately turns many genre conventions on their heads.
These two impressive stretches showcase Johar's new found directorial voice, which is bold and more mature than ever before.
The film also packs in social commentary on various issues, but the results are mixed. We get the messaging about gender norms, patriarchy, body shaming, individuality, and societal expectations.
It might be well-intentioned, but some of this feels utterly misplaced. This is especially apparent in scenes when Alia gives an earful about feminism to an entitled politician, and when Rani's mother (Churni Ganguly is lovely!) talks about respect for women, and when Ranveer randomly goes into Twitter-like rant mode about the cancel culture.
There's an air of superficiality to their monologues which makes these scenes slightly odd, if not jarring.
Ranveer's Rocky is the best written character in the film, and the actor powers his performance through his innate charm and off-the-rails energy that thankfully does more service to his character than any harm.
When Alia's Rani says to Rocky 'Tum Kya Ho Yaar', she is essentially echoing the sentiments of viewers. He is marvelous!
Alia nicely brings up the nonconformist side of her Rani without ever losing sympathy. She looks ravishing in Manish Malhotra's stunning ensemble and shares electrifying chemistry with Ranveer.
Their love story is padded by another prem kahani which features a love-lorn couple played beautifully by Dharmendra and Shabana Azmi. It's delightful to watch a medley of vintage Hindi songs picturised on these two movie legends, and it makes up for the film's lukewarm original music.
Jaya Bachchan is suitably stern as the Randhawa family matriarch who is at odds with the idea of love. Despite her tragically underwritten role, she is immensely watchable with her deadpan stares and commanding demeanour.
A scene where she tells Alia's Rani how she holds her family together will remind you of that iconic Mahjong game scene between Constance Wu and Michelle Yeoh from Crazy Rich Asians.
Despite some of its rough edges, Rocky Aur Rani delivers a king-sized entertainer that blends old charm with the newness of fresh ideas. It is a win for Karan Johar whose conviction works big time to satisfying results.
There is, of course, a lot to love in this prem kahani.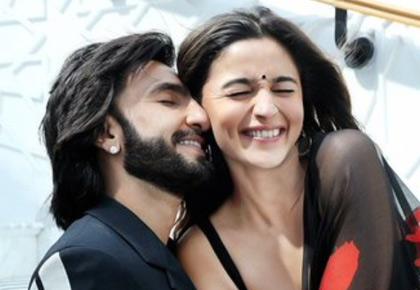 Source: Read Full Article