Ranjish Hi Sahi is a feeble attempt at showcasing a sensitive love story, complains Namrata Thakker.
Ranjish Hi Sahi, directed by Pushpdeep Bharadwaj, is set in the 1970s and revolves around a leading Bollywood lady, who is head over heels in love with a struggling, married film-maker. Yes, the show seems to be based on Mahesh Bhatt and his torrid relationship with the late actress Parveen Babi.
It's something Bhatt explored in his film Arth and then in Phir Teri Kahani Yaad Aayee and again, in Mohit Suri's directorial Woh Lamhe.
So story wise, Ranjish Hi Sahi has nothing to offer that's unexpected or surprising.
In fact, it's hard to understand why Bhatt decided to make this Web show in the first place.
Shankar Vatts (Tahir Raj Bhasin) is a flop film-maker in search of his first big hit.
He is so consumed by his profession and its failure that he is hardly home to take care of his family and is mostly drunk, sleeping on the footpath.
Amna Parvez, on the other hand, is at the peak of her acting career. But her personal life is a complete mess.
While no one wants to work with Shankar because of his track record and blunt attitude, Amna is struggling to keep up with her work because of her messy love life.
She's dating an actor who is cheating on her.
Shankar grabs Amna's attention and plans to make a film with her. She refuses his offer, but their relationship takes off.
The story also throws light on Amna being diagnosed with paranoid schizophrenia and how Shankar tries his best to help her.
Overall, the show is strictly okay and wouldn't hurt if you watched it once. Most episodes are just 20-30 minutes long and that works in its favour.
But there are many subplots and flashbacks, making the show confusing and boring at times.
Tahir Raj Bhasin delivers a decent performance.
Amala Paul's uncanny resemblance to Deepika Padukone from her earlier days is very distracting.
While Amala does look like Parveen Babi in some scenes, she fails to make her mark with her acting.
Zarina Wahab and Amrita Puri perform earnestly and lend good support to Tahir's Shankar. The former plays his mother; the latter is his wife.
Overall, Ranjish Hi Sahi seems like a feeble attempt at showcasing a layered, sensitive, love story. It's hard to decipher what the show wants to say.
Is it Mahesh Bhatt's biography or is it a tribute to the lady who impacted his career most?
Or is it about a man who is neither wrong nor right?
Or is it a love story that conventional society will never be able to comprehend?
Whatever it is, Ranjish Hi Sahi doesn't do justice to any of it.
Ranjish Hi Sahi is streaming on Voot Select.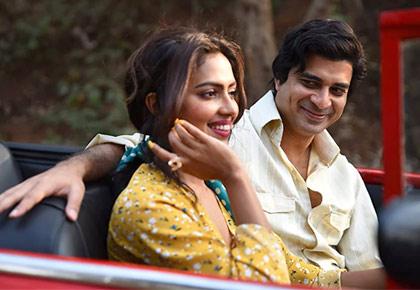 Source: Read Full Article