Metro Park 2 has the same cliched jokes, sighs Moumita Bhattacharjee.
In the first season of Metro Park, we were introduced to some Gujaratis in New Jersey and the theme revolved around: You can take a Gujarati out of Gujarat, but not Gujarat out of a Gujarati.
It was a tried and tested formulaic series when it released in 2019.
Last year, they came up with a quarantine edition and now, we have the follow-up season.
The predictability and repetitive humour of the narrative make it an exhausting 12 episode series.
In the second season, the story moves ahead from the first season where Kinjal (Vega Tomatia) has a baby boy and her husband Kannan (Omi Vaidya) continues to be paranoid.
Kalpesh (Ranvir Shorey) becomes an insurance agent, apart from running a convenience store in New Jersey call Pay and Run.
Payal Patel (Purvi Joshi) runs a beauty parlour. When she is not doing that, she is busy being an influencer.
The series tackles one issue an episode and attempts to leave us in splits.
It reminds me of the many 1990s and early 2000 movies where the Indian Diaspora is trying to keep India alive in the US.
So you have ABCD kids (American Born Confused Desis) who are often berated for their American ways, a cliched, awkward and boring Indian parent giving sex education, Indians missing India… all in all, some yawn-inducing moments.
Despite having a quarantine edition last year, season 2 draws no reference from it.
Does that mean season 2 was shot before the pandemic?
Thus, the follow-up seems quite disconnected as if nothing happened in the last year.
Some of the jokes do make you laugh like when Vaidya likens a baby monitor with Donald Trump's account that 'Blabbers, but makes so sense.'
The moments where Payal is trying to shoot a video for her 500 followers are quite funny.
Performances are the only surviving grace here.
Ranvir Shorey lives his character of Kalpesh Patel to the hilt. Be it the personality or mannerisms or mindset, Ranvir has done a superlative job. He never slips.
Purvi Joshi is fantastic as an enterprising woman while also being deeply rooted in her culture. She has amazing comic timing.
Vega Tomatia keeps it classy while Sarita Joshi, as their mother, is simply fab.
Pritobash is candid and effective while Omi Vaidya keeps fleeting between Chatur (his character in 3 Idiots) and Kannan.
All in all, Metro Park 2 has the same vibe with cliched jokes.
Metro Park 2 is streaming on Eros Now.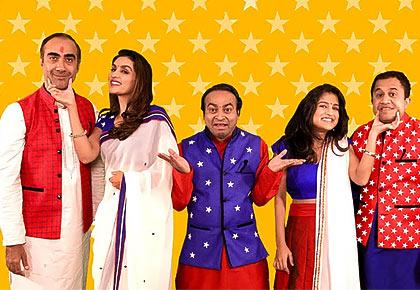 Source: Read Full Article