If you thought you had seen the high points in the trailer, the entire film is simply fire, applauds Joginder Tuteja.
After watching three hours of nonstop entertainment, I feel Jawan is set to be an all-time mega blockbuster, the term to be used when a film enters the Rs 500 Crore Club.
This is just the kind of movie that I was waiting to catch Shah Rukh Khan in and if the cheers of the audiences of the 6 am show are any indication, this will be unstoppable at the box office.
If you thought you had seen the high points in the trailer, the entire film is simply fire!
What you see in the trailer is not even 10 percent of what the film actually brings to the table, especially when it comes to the build up and then the way it culminates.
Jawan is a mix and match of several south movies, Hindi movies and even Spanish TV, including Money Heist, Valimai, Master, Sarkaru Vaari Paata, Jailer, Dhartiputra, even Shahenshah, and then the spirit of Shankar movies come together to make this mass masala film, South ishtyle! It's clear that Shah Rukh Khan has completely surrendered himself to the vision that Director Atlee carried.
The emotional scenes featuring the team of ladies and an extended flashback featuring Deepika Padukone could have been better, and makes the film slow down for some brief minutes.
But that's a minor blip in this film that moves at a rapid pace and has an out and out action-drama narrative.
What works is the older Shah Rukh Khan, who shows what THE Shah Rukh Khan would be like when he plays new roles in his 60s. His sense of humour is simply amazing.
His younger version has a huge role in the film and it's amazing how he himself bows down to his father version.
The villain of the piece, Vijay Sethupathi, is a STAR.
He is so lovable even as an evil guy and makes you wait for his scenes to come. His unique dialogue delivery with humour peppered in it makes you laugh at various junctures.
Nayanthara makes an able Bollywood debut.
Priyamani has the largest role amongst the girls while Sanya Malhotra is just there. The other actresses hardly have a part to play.
Music is ordinary though the title song and end credit song is good. Background score by Anirudh is superb.
Catch Jawan only at big screens. It's quite the experience with a houseful audience!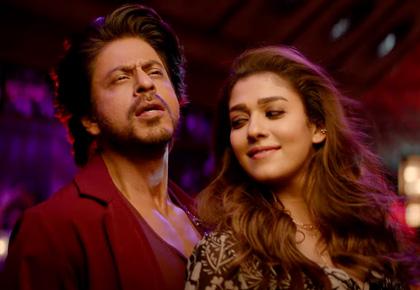 Source: Read Full Article