'He would dance and I would give him marks.'
'If I gave him five on 10, he would get disappointed.'
'So I would ask him to do better, and he would try and do better.'
Madhuri Dixit is pleased with the kind of roles actresses are getting these days.
Like her role in Karan Johar's grand production, Kalank.
"Women are women in films now, not caricatures," she tells Patcy N/Rediff.com.
After Sridevi passed away, her daughter Janhvi thanked you for taking her place in Kalank in an emotional post on Instagram.
It was a very emotional reaction. Sabhi ki chahiti thi woh (she was everyone's favourite).
It happened so suddenly, it was shocking!
She had such young kids…I have kids too… I felt very bad, but then someone had to step in.
I have known Karan for so many years. We have judged a television show together.
We have spent so much time together on the sets.
It was an emotional decision for me.
What was your reaction when you heard the script?
I thought it was beautiful.
The characters were not one-dimensional, they were layered. That's what I liked.
Life is not just black and white. Life is also grey sometimes.
There are a lot of grey areas in this movie and yet, every character has the right motivation.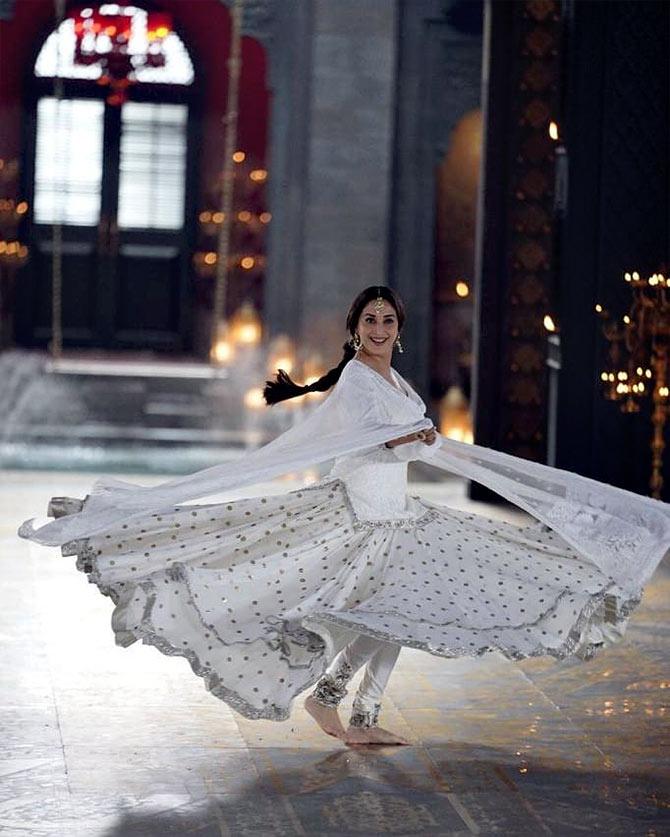 Alia Bhatt says she has learnt a lot from you.
People keep telling me Alia said this and that, but it is not just them. When we work with them, we learn a lot too.
I see how they handle themselves. We call Varun a marketing guru because he knows it so well.
I imbibe all that in my life too; like I have started (being on) social media.
What do you think about Alia as an actress?
Alia gets into the skin of the character.
I have seen her in Udta Punjab and Highway. She becomes the character.
She has worked in different kinds of films like Raazi and Gully Boy and is an amazing actress.
Varun spoke about meeting you as a kid,on his father David Dhawan's sets.
We were shooting for Yaarana in Switzerland.
Davidji and (his wife) Laaliji had gone to meet his brother.
We were sitting in the bus and he (Varun) was getting antsy. He was a kid, and had nothing to do.
I saw he was getting restless.
His dad had told me that he dances, so I asked him to show me how he dances.
So he would dance and I would give him marks. If I gave him five on 10, he would get disappointed.
So I would ask him to do better, and he would try and do better.
I kept him occupied that way.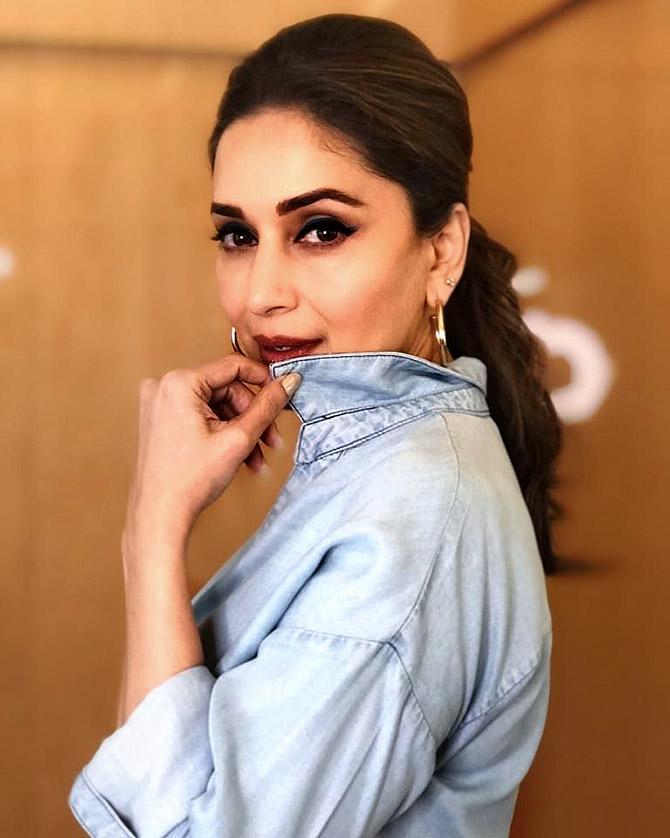 Do you think movie promotions are taxing these days?
No. It is just that we have to say the same thing again and again. By the end of the day, it gets very exhausting because I have said the same thing over and over again.
But promotions are necessary because there are so many distractions today, so many mediums, so much content available on the Internet…
There is so much competition that you have to amplify whatever you are doing.
You have to make your voice heard.
Was making Kalank exhausting?
It was emotionally exhausting because of the circumstances.
But once we started working on the script, I got into the character.
It is exhausting because you discover something new about the character every day.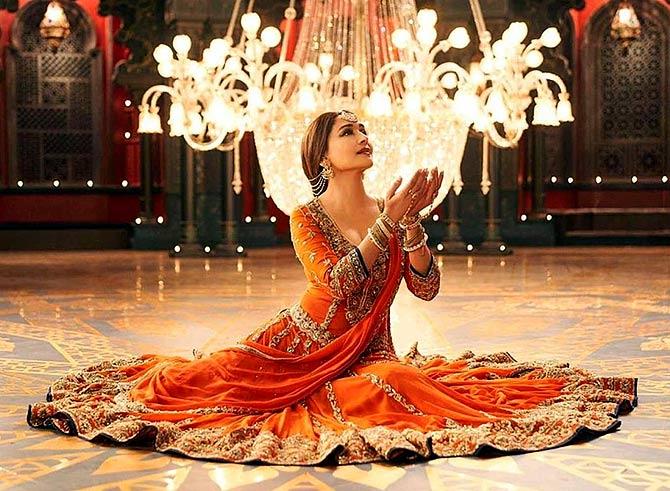 Your song Tabah Ho Gaye has been much appreciated.
Tabah Ho Gaye comes at a very important point in the story where everything gains momentum.
It's a very emotional piece because Bahar Begum's character is very different — it is not like Chandramukhi or the other characters that I have played.
This character is very reserved.
We had to keep that in mind when we were choreographing the dance. That is why we got Sarojji (Khan) to choreograph the song.
Both Sarojji and Remo (D'Souza) have collaborated on the song. Two choreographers have come together for the first time in a song.
The funny thing is that Remo — who normally does hip hop — has done classical with me twice before. First, he did Hamari Atariya in Dedh Ishqiya and now, this.
I told him we should be doing hip hop, not classical, but that only shows how versatile he is.
Sarojji, of course, is brilliant.
Nobody can beat her in this kind of choreography.
We wanted to make it different from the other things we have done over the years.
During the crescendo of the song, we thought of doing different kind of chakars. Plus, we wanted to do it in one shot, so we practiced.
Saroj Khan recently said the industry has forgotten her.
This too shall pass because she is so talented and nobody can take that away from her.
When a song like Tabah Ho Gaye comes up, I feel it deserves a Saroj Khan.
We didn't get her because she didn't have work, we got her because she deserved it.
She will get a lot of work.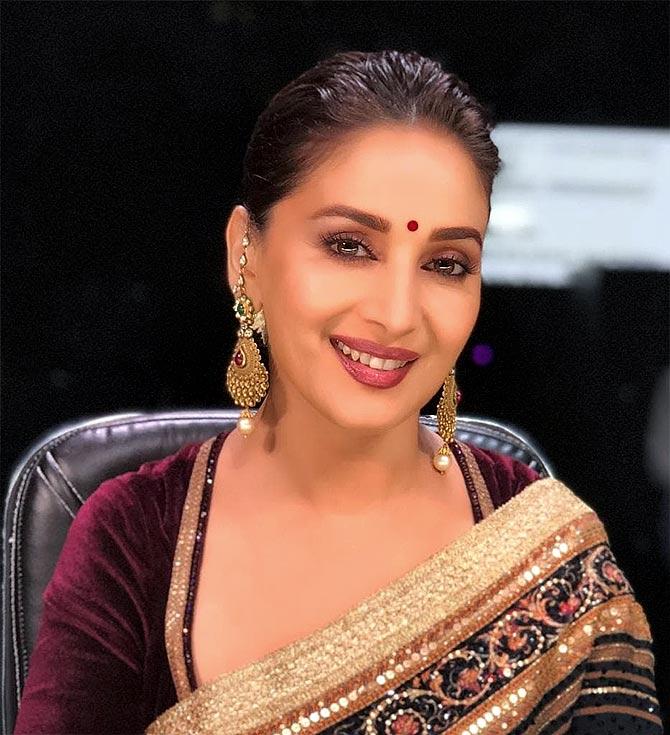 How do you see your journey from your first film Abodh to Kalank?
I have been fortunate that things have gone right for me.
I got different kinds of roles, I got to work with good directors and choreographers, I got the right opportunity at the right time.
While doing commercial films, I got the opportunity to do a Mrityudand, which was a very different film.
Now, there is no demarcation between art and commercial cinema, but at that time, everybody said, 'You are a commercial cinema actress. How can you do an art film?'
But I didn't care.
I did it anyway because it was a beautiful role.
Even when I came back, I always tried to do something different.
Dedh Ishqiya and Gulaab Gang were different kinds of films. In between, I did a Marathi film, Bucket List, which was a very sweet film.
Total Dhamaal had over-the-top absurd comedy and adventure.
Now, I am doing Kalank.
So in one year and within a span of four months, people will see me in diametrical opposite characters.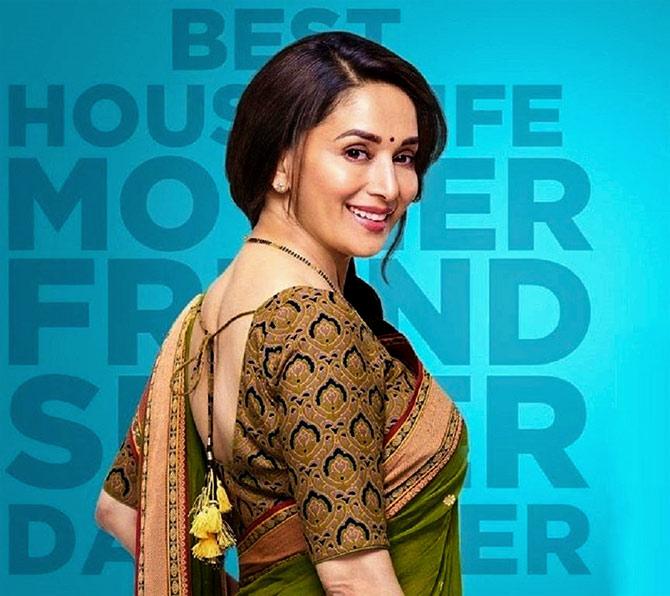 You released your Marathi film 15 August, on Netflix. Why didn't you release it in theatres?
We were already in the digital world because of Dance With Madhuri.
We also have a Web site and an app. It's an e-learning platform.
We had that background and experience, so the next logical step was to make a movie.
We had two options — one was releasing in theatres and the other was releasing it on Netflix.
There is a niche audience for Marathi movies.
When you go to theatres, you get 400 screens for one film. But if two-three films release together, that number is reduced.
If a successful Hindi film comes in, your shows are further reduced.
So you hardly reach an audience. That was my experience with Bucket List.
So we decided to go with Netflix because the day you release the film, you are reaching 139 million families in 190 countries. That is more than 350 million people!
Plus, you get to watch it in different languages, thanks to subtitles.
This kind of content works beautifully on the digital medium because it gives a taste of your culture and your country.
2019 has a lot of multi-starrers like Total Dhamaal and Kalank.
Before, there were the Dhamaal series, the Golmaal series, the Housefull series… So this is not a new phenomenon.
It is wonderful to work in an ensemble star cast.
It is so much fun!
When I was doing Total Dhamaal, Johnny Leverji, Arshad Warsi and Jaaved Jaferi's one-liners were terrific!
Even in Kalank, we had fun.
The only thing is that this has high drama and the characters are a very complicated lot!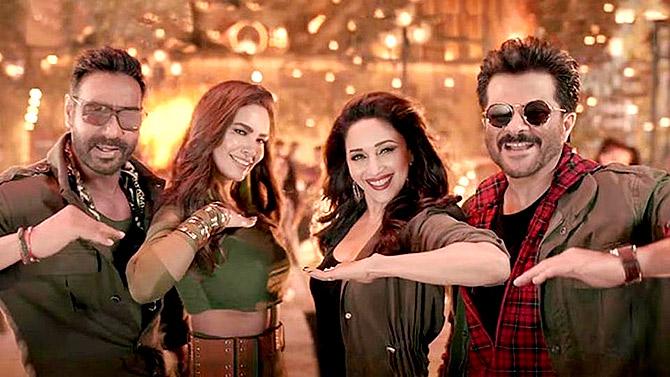 Do you think female characters are better written now?
Lovely roles are being written for women now.
In Andhadhun, Tabu's role was beautifully written. It had negative shades and was unapologetic.
In Badhaai Ho and De De Pyaar De, the characters are also interesting.
Slowly, women are getting their due.
I see so much change from when I was doing Beta and Raja.
I always thought I was so fortunate to get different kinds of roles, but today when I see others playing them and writers writing these roles, the change is amazing.
Women are women in films now, not just caricatures.
Source: Read Full Article