Its success script: Investing more in local content ecosystem; growing its partnership footprint.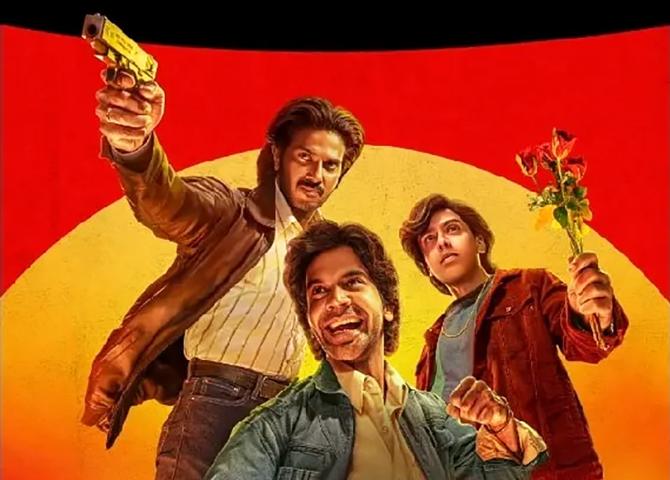 Suyash Kamat's Sadabahar is sad yet quirky. The 13-minute Konkani film about five bandwallahs in Goa has garnered 90,000 views on Netflix's YouTube channel since its release in November 2022.
Sadabahar received funding through Take Ten, a short film competition by Netflix and Film Companion, aimed at discovering emerging Indian film-makers.
"The few grants available for short films usually come with either aesthetic or commercial baggage. This did not come with any baggage. It helped me find my voice," says 28-year-old Kamat.
Take Ten is one of the eight programmes run by Netflix India, either independently or in collaboration with bodies such as the British Academy Film Awards.
Many of these programmes are funded by Netflix, which generated $32 billion in revenue from its 239 million subscribers worldwide in 2022.
"We won't be able to increase the value of what we offer unless we invest in the creative community," reckons Monika Shergill, vice-president, content, Netflix India.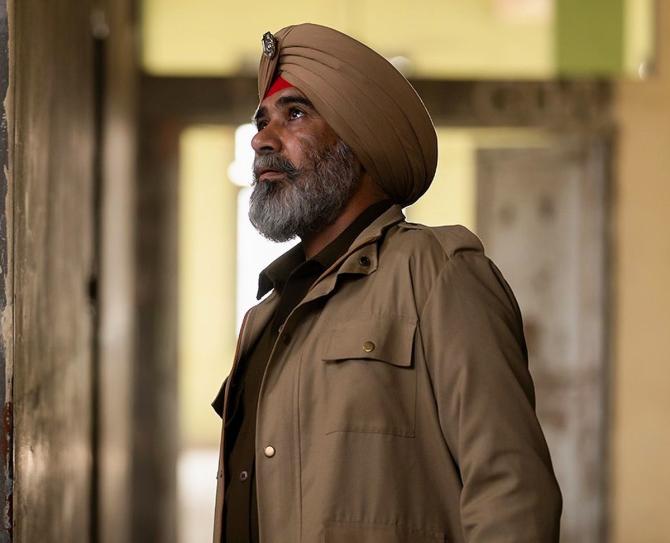 Much like Kamat, Netflix too is finding its voice after years of floundering in India.
From Minnal Murali and Mission Majnu to Rana Naidu and Darlings, its shows and movies are climbing the charts both locally and globally.
Kohrra reached no. 1 on the global non-English top 10. RRR remained in the global top 10 for 18 weeks.
"Chor Nikal Ke Bhaaga has been a raging hit in Latin America, staying on our global top 10 non-English list for one month," says Shergill.
'In India, we had the best year in 2022 of our existence. Our content viewing grew by 30 per cent last year, and revenue increased by 25 per cent,' said Ted Sarandos, co-chief executive officer of Netflix, at an India media summit in February this year.
Its subscriber base has nearly doubled to an estimated 10 million, and with (again estimated) Rs 2,200 crore to Rs 2,400 crore (Rs 22 billion to Rs 24 billion) in revenue, it is the second-largest pay service after Disney+ Hotstar, which generated Rs 3,200 crore (Rs 32 billion) in revenue.
It is about time.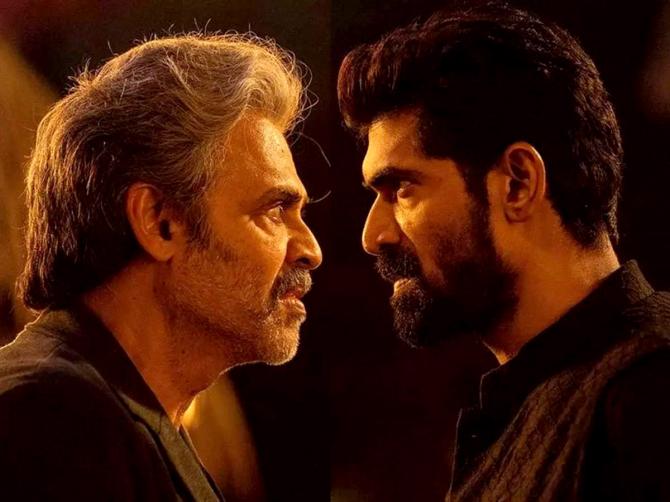 Why local success matters
Any show or film released on Netflix reaches over 200 countries.
However, the way its algorithm works, a show doesn't hit the global charts unless it is a success locally.
As Indian shows become local and then global hits, more people are signing up for the service.
In 2022, the country became the fastest-growing market for subscribers in the Asia-Pacific region.
Another bump is due, as paid sharing was rolled out in India this July.
This means that passwords cannot be shared outside of a Netflix household, defined as one using the same internet connection across devices.
Paid sharing, launched in over 100 countries in May this year, has pushed up revenues and sign-ups, making it Netflix's primary 'revenue accelerator'," said Spencer Adam Neumann, chief financial officer, in a recent earnings call.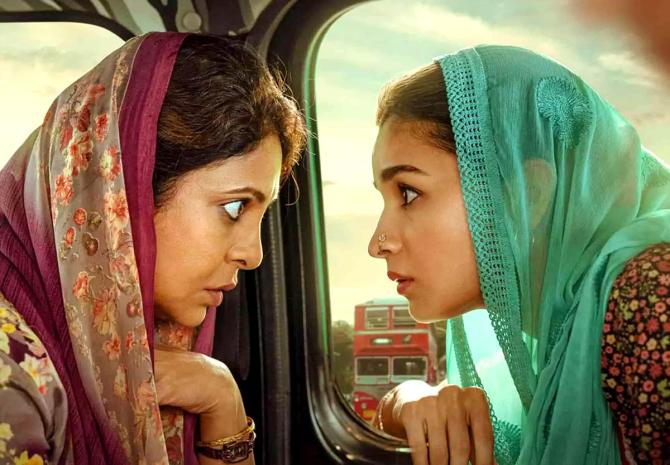 Even if it reaches 12-13 million subscribers by the end of 2023, Netflix still has some way to go in the Rs 29,600 crore (Rs 296 billion) Indian streaming market.
It remains at one-fourth of Disney+ Hotstar's 40 million subscribers and about half of Amazon Prime Video's 22 million.
Note that this is the number of people who have signed up for the Prime service on Amazon, which offers free delivery, music, and video.
They may not all be Prime Video viewers, point out analysts.
Also, Disney, ZEE5, and SonyLIV are all backed by successful broadcasting businesses (Star, Zee, and Sony), while Netflix is a standalone service.
According to Tony Gunnarsson, principal analyst, television, video, and advertising at Omdia, globally, Netflix remains the largest service.
The model in mature Western markets is Netflix plus one or two other over-the-top (OTT) platforms. It serves as an anchor service.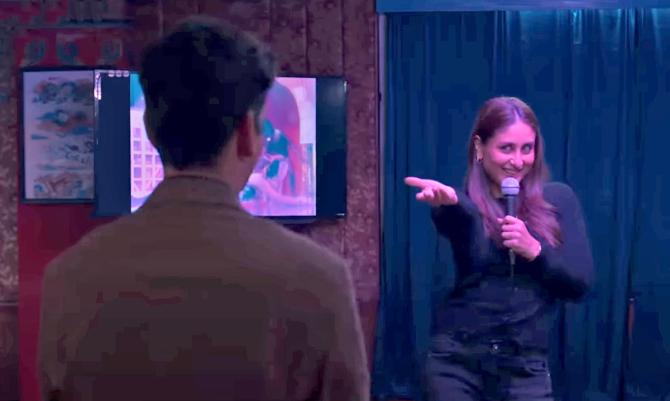 Guns & Gulaabs, and Kathal
However, that is not how it played out in India.
Ever since it entered the market in 2016, it has been criticised for everything from its high pricing to its 'elite programming'.
Rivals seemed to have better local originals and a firmer grasp on audiences.
In 2021, over five years after its India launch, it had only 5.5 million subscribers in one of the fastest-growing streaming markets.
That was about a fourth of Amazon Prime Video or 9 per cent of Disney+ Hotstar's subscriber count at the time.
Even a price drop of 60 per cent on its basic pack in December 2021 hardly moved the needle.
In a now-famous earnings call in January 2022, co-founder Reed Hastings expressed frustration at not being able to crack the Indian market.
What has changed?
"There has been no major change in pricing in the past two quarters; therefore, the real driver is content," thinks Mihir Shah, vice-president, Media Partners Asia (MPA).
"We were always very clear about where we were headed. But we had to put our heads down and keep working because content takes time. A film commissioned today takes 18 months, and a series takes 24-30 months. That is what you are seeing now," says Shergill.
Two things, in particular, worked.
One is investing more in the local content ecosystem, either directly by commissioning or indirectly by helping develop a pool of filmmakers, writers, and technicians, a la Kamat.
Netflix also attracted the best creators from rival platforms. For instance, Hansal Mehta's Scam 1992 revived SonyLIV. But his hugely successful Scoop was on Netflix this year. He has just signed a multi-year, multi-series deal with the service. Most people within the industry agree that the turnaround is about programming, but they wish it had a wider focus.
"When Netflix had bad shows, it marketed them very aggressively. Now the content is in the right zone, but its marketing is not," says one senior industry insider.
Two, "We have grown our partnership footprint," says Gaurav Pradhan, director, business development.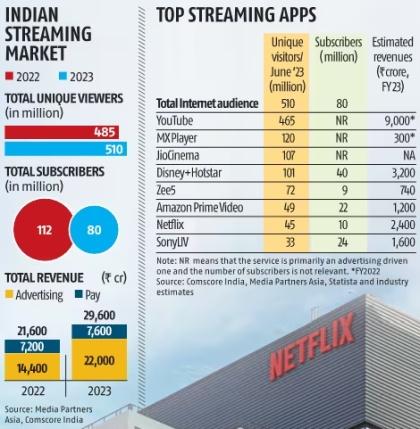 In late August, Reliance Jio announced prepaid plans with a bundled Netflix subscription.
There are distribution partnerships with Airtel, ACT (for the South India market), and Tata Play.
Depending on the plan, Netflix retails at Rs 149 to Rs 649 a month, compared to Rs 199 to Rs 799 pre-December 2021.
This is where there might be trouble.
The number of OTT subscribers has fallen from 112 million in 2022 to 80 million in 2023, according to MPA data.
The advertising end of the business shows more potential for revenue growth. But Netflix is an avowedly pay-driven brand.
Globally, it has rolled out an ad tier in 12 markets, albeit half-heartedly, say analysts.
Will it do that in India as well? And will that mean lower-end programming?
"India is doing very well on subscription-driven video on demand. There are no plans for an ad-supported tier," says Shergill. "When we do, we will announce it clearly."
It has taken eight years, but Netflix is finally clear on what it is doing in India.
Feature Presentation: Rajesh Alva/Rediff.com
Source: Read Full Article