Gems you can enjoy from the time Dev Saab was at his handsome and magnetic best.
Had he lived — and we did believe he would live forever — he would have turned 100 today, September 26, 2023.
They called Dev Anand an 'Evergreen Star'.
Over a long and active career as actor, producer, writer and director, Devsaab did 120 odd films.
His best films like Guide, Jewel Thief and Hare Rama Hare Krishna may not be on a streaming platform, but there are many other gems that you can enjoy from the time he was at his handsome and magnetic best.
Celebrate Dev Anand by having a private film festival at home, and Deepa Gahlot lists where you can watch his films on OTT.
Baazi (1951)
Where to watch? Shemaroo
When besties Dev Anand and Guru Dutt worked together in Prabhat Studio, they promised each other that whoever got a break first would give the other a leg up.
Baazi was the second film produced under the Navketan banner established by Dev Anand, and he asked Guru Dutt to direct it.
Dev played a grey character called Madan, a gambler, who had taken up this shady work to pay for the treatment of his ailing sister.
A club dancer, Leena (Geeta Bali) is in love with him but he falls in love with Rajni (Kalpana Kartik), daughter of a rich man (K N Singh), who gets him framed for Leena's murder.
The film, with its moody black and white camerawork and hit songs by the Sahir Ludhianvi-Sachin Dev Burman combo, was a blockbuster.
Taxi Driver (1954)
Where to watch? Amazon Prime Video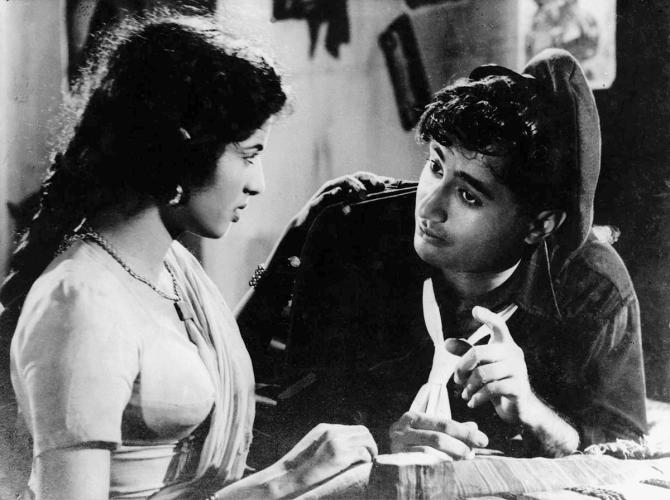 A film that credited Bombay as a character in the credits, this romantic-thriller, directed by the eldest Anand brother, Chetan, had Dev Anand playing Mangal, a taxi driver whose carefree life changes when he rescues Mala, a damsel in distress (Kalpana Kartik), who came to the city to become a singer, and shelters her in his home.
He has a club singer girlfriend (Sylvie), who is dumped for the innocent village woman, but not without resulting complications.
The star, nursing a heart broken by Suraiya, fell in love with his heroine, and the two vanished from the set for a few hours to get married.
S D Burman-Sahir Ludhianvi worked musical magic again, and the success of this film put Navketan back into the running after two flops (Aandhiyan and Humsafar).
CID (1956)
Where to watch? Amazon Prime Video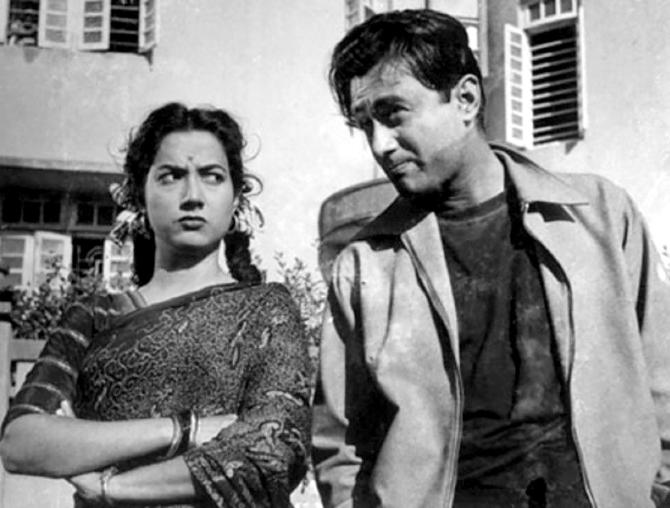 This crime thriller was produced by Guru Dutt and directed by Raj Khosla, who, with just his second film, showed all signs of being a master.
Dev Anand plays a cop, Inspector Shekhar, who is called by his friend, a newspaper editor, who has been shot because he was about to expose the criminal activities of a powerful man.
At some point, Shekhar finds himself accused of murder, and also in the romantic sights of two women, Rekha (Shakila) and Kamini (Waheeda Rehman making her film debut).
Even if it was not such a fast-paced and entertaining film, it would have gone down in history for giving the city its anthem — Yeh Hai Bombay Meri Jaan — written by Majrooh Sultanpuri, composed by O P Nayyar and sung on screen by the inimitable Johnny Walker.
Nau Do Gyarah (1957)
Where to watch? Amazon Prime Video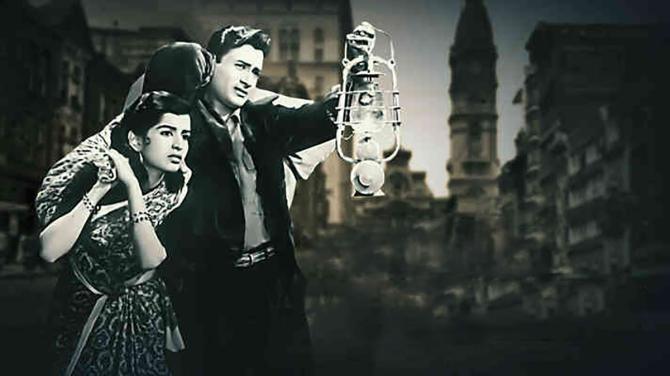 Dev Anand's youngest brother Vijay 'Goldie' Anand had been writing films for the Navketan banner, and it was about time he got a chance to direct his own.
Nau Do Gyarah was a lighthearted, romantic road movie in which Madan (Dev Anand), on the way to his uncle's house to claim an inheritance, finds a runway heiress Raksha (Kalpana Kartik) hiding in his truck, disguised as a Sardar.
When he finds out she is a woman, Madan falls in love with her.
When he reaches Bombay, he finds that his uncle is dead and the property promised to him has been usurped.
The groom Raksha had left at the mandap gets Madan arrested for kidnapping her.
Vijay Anand shot the film on the road from Delhi to Bombay and were halted by dacoits on the way, who wanted the star's autograph.
The film, with its fabulous S D Burman-Majrooh songs was a hit, and the director was on his way to Bollywood's Hall of Fame.
The leading lady, however, quit with this film, and stayed out of the limelight.
Teen Devian (1965)
Where to watch? Amazon Prime Video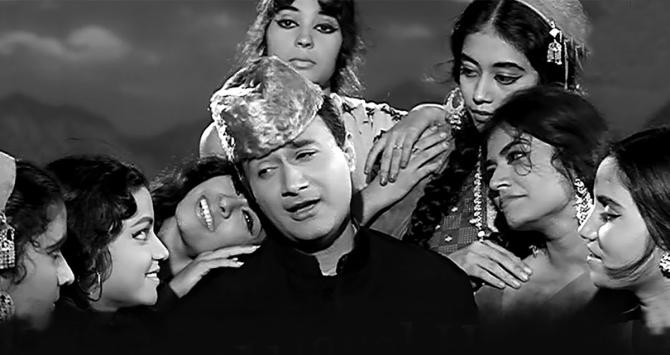 Teen Devian was surprisingly mature for the times: A leading man falls in love with three women, and can't make up his mind whom to marry. He is not perceived as a philandering villain because Devdutt was played by the impossibly charming Dev Anand.
In this Amarjeet directorial, he played a poor poet, who works at a music store run by a sympathetic boss (I S Johar).
He has already met one of the devis, Nanda, and meets two others, Kalpana (not Kartik) and Simi Garewal through the power of his published poems.
The film had great S D Burman music, like most Dev Anand films of the time. There was apparently an English version that never got released.
Kala Pani (1958)
Where to watch? Shemaroo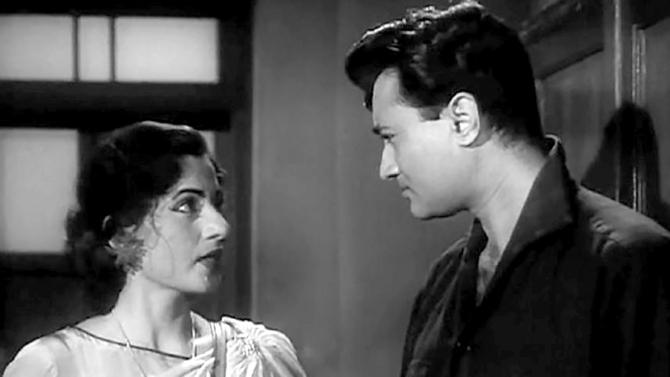 Raj Khosla united with Dev Anand again with this crime drama, in which the star was paired with Madhubala.
He played Karan, who discovers that his father (M A Latif) is in prison for a murder he did not commit.
He sets out to prove his father's innocence with the help of a journalist (Madhubala). He also has to ensnare a courtesan (Nalini Jaywant), who may have witnessed the murder and could lead him to the killer.
There are many villains to outwit before he can finally get his father out of jail. And while he is at it, there are the wonderful songs to hook the audience.
Dev Anand, who always had to face comparisons with contemporaries Dilip Kumar and Raj Kapoor, considered better actors, won his first Filmfare Award for this film.
Bombai Ka Babu (1960)
Where to watch? Amazon Prime Video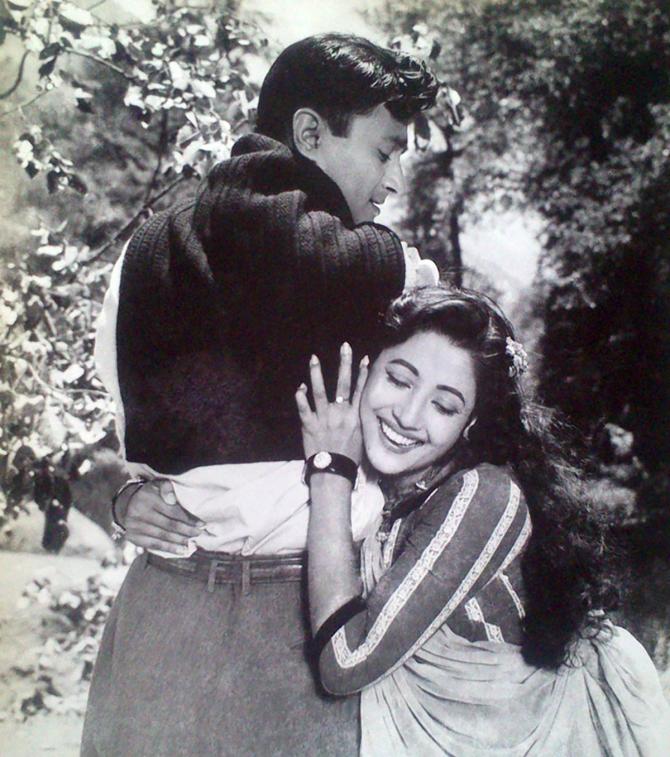 The wistful romance-cum-crime drama, one of the handful Hindi films Suchitra Sen acted in, was directed by Raj Khosla from Rajinder Singh Bedi's adaptation of an O Henry story.
Dev Anand played Babu, a criminal who wants to reform but gets trapped further when he kills a man in a fight and flees.
There he is asked by a man called Bhagat (Rashid Khan) to pretend to be Kundan, the lost son of a rich family, with the plan of later stealing from them.
He is treated with affection by the parents and falls in love with the daughter Maya (Sen) but obviously cannot express it because he is an impostor posing as her brother.
Again, the film has wonderful songs by S D Burman and Majrooh that lifted the gloom of the story. Only Dev Anand could consistently play dark characters without losing out on the audience's sympathy.
Kala Bazar (1960)
Where to watch? Shemaroo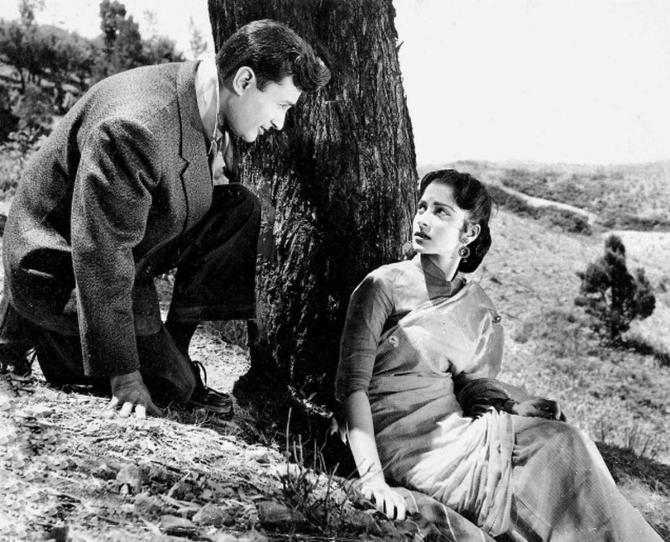 There was a time when selling movie tickets in black was a lucrative crime.
In this film, directed by Vijay Anand, Raghuveer (Dev Anand) loses his job as a bus conductor and for want of any other option, starts scalping tickets, making so much money that he is able to move his family into a swanky apartment.
He falls in love with Alka (Waheeda Rehman), lures her away from her fiance (Vijay Anand), and decides to give up his illegal business. But he gets arrested, and who should be the prosecutor (Chetan Anand) but the man he once stole from to buy tickets to sell at a premium!
The three brothers appeared in the same film.
S D Burman's music was divine, with lyrics by Shailendra.
Hum Dono (1961)
Where to watch? Shemaroo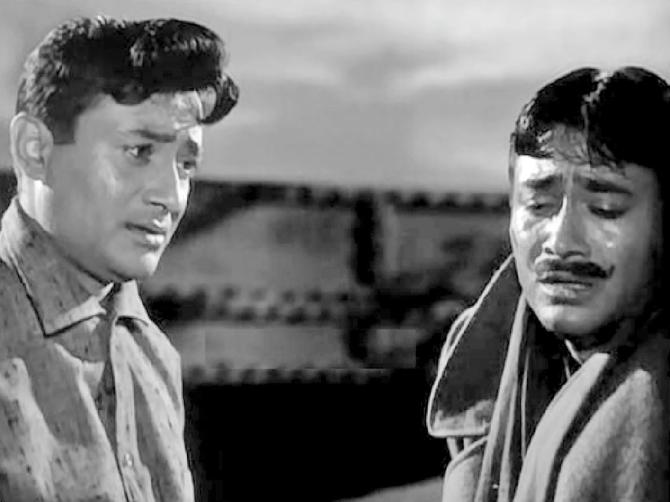 With his popular mannerisms and style of speech, it would be difficult for him to play a double role, but he did, in Amarjeet's film, written by Vijay Anand.
Lookalikes Anand and Major Manohar Verma are in the army. When the latter goes missing and presumed dead, the other has to break the news to his mother (Lalita Pawar) and wife Ruma (Nanda).
He is mistaken for Major Verma, and is forced to play the part due to Ruma's ill health.
His girlfriend Mita (Sadhana), who left home to look after Dev Anand's ailing mother (Leela Chitnis) is obviously miffed.
Ruma wonders why her husband is so distant and suspects there is another woman.
Sahir's lyrics set to Jaidev's music had that smoker's favourite number Main Zindagi Ke Saath Nibhata Chala Gaya, Har Fikr Ko Dhuen Main Udata Chala Gaya.
The film was colourised and re-released in 2011.
Johnny Mera Naam (1970)
Where to watch? ZEE5
Vijay Anand's film turned into a cult movie, and its scenes inspired many film-makers.
Sohan (Dev Anand) and Mohan (Pran) are brothers separated at birth. Sohan is a cop, who goes undercover as a petty thief called Johnny, while Mohan becomes a criminal.
Eventually, they recognise each other through an iconic boxing scene, and unite to beat their enemy (Premnath).
Hema Malini played Sonan's love interest, who wants to clear the name of her father, wrongly accused of theft.
She is wooed by Sohan with the fabulously picturised song Pal Bhar Ke Liye Koi Hame Pyar Kar Le in a room with multiple windows. Goldie Anand was a master class in how to shoot songs.
The film had a shocking strip tease number Husn Ke Lakhon Rang by Padma Khanna, which had trouble getting past the censors.
The brothers hit their peak with this film; both went on to give hits but could not reach the gold standard of Johnny Mera Naam.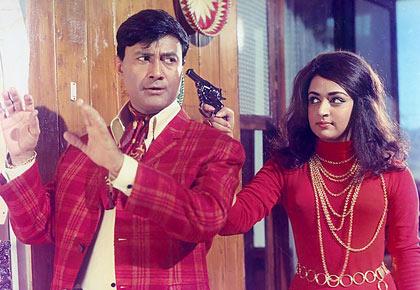 Source: Read Full Article