Father's Day 2021: Celebrities are observing Father's Day 2021 by sharing pictures of their dads along with affectionate messages.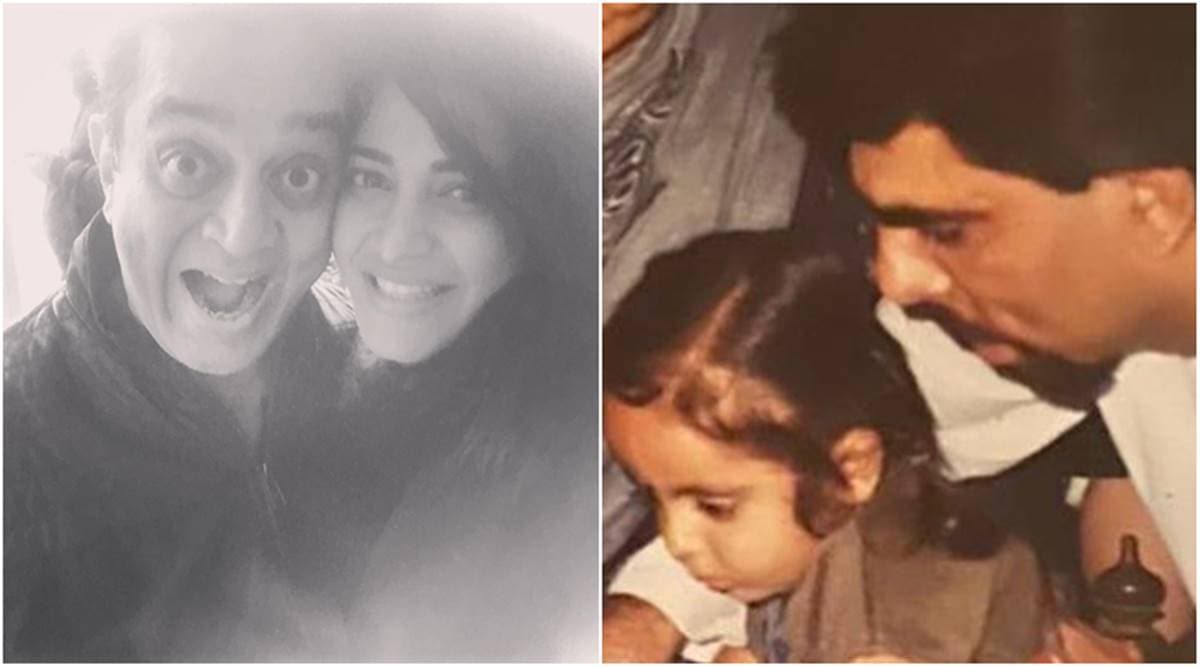 Today, the world is celebrating Father's Day. Begun in the United States, the day is supposed to be a reflection on the importance of our fathers or father figures.
The festivities, if any, are expected to be minimal owing to the fact that a global pandemic is still claiming lives. Also, for many, not just in India but around the world, the day will assume a poignant form as many sons and daughters have lost their fathers.
Celebrities, including Jamie Dornan, Abigail Breslin, Hina Khan, Baba Sehgal, Bhuvan Bham among others, have lost their fathers. The pandemic has not left anybody untouched.
Hina tweeted earlier today, "Indeed a Father's Day (Truly).. June 20th, It's been two months today Dad. We clicked these pictures 7 months back and I didn't let u see these pictures when they were clicked coz I wanted to post them on a special day..Never did I think tht I will be posting them today."
Father's Day 2021 thus becomes not just one of celebration, but for many, a day of commemoration.
Celebrities are observing the day by sharing pictures of their dads along with affectionate messages. Follow this live blog to keep yourself updated about celebs' Father's Day celebrations.
Follow all the latest updates about celebrities' Father's Day celebrations.
https://www.instagram.com/p/CQUyub3ssyu/
A post shared by Ayesha Shroff (@ayeshashroff)
Jackie Shroff's wife Ayesha Shroff posted adorable throwback pictures of the actor with his kids Krishna Shroff and Tiger Shroff. She tagged him as the "best dad in the world."
https://www.instagram.com/p/CQTSvV-gDo-/
A post shared by Kajol Devgan (@kajol)
Kajol's Father's Day post is dedicated to Ajay Devgn, her father and her father-in-law. She says fathers complete the 'missing pieces of my puzzle.'
Suniel Shetty has often spoken about how close he is to his daughter Athiya Shetty. On Father's Day, he spoke about how it has been always important for him to keep Athiya happy. "I remember the day Tia came to me, and said she wanted to be an actor. We were in America at the time, to check out some colleges for her further education. She assumed I wouldn't be too happy with her decision. But, for me, the most important thing was & has remained, her happiness. That day, she smiled knowing she had my blessings! I'm so proud of the self-assured & graceful woman she's grown up to be, and all the choices she's made. And, she is my best friend!"
https://www.instagram.com/p/CQUQX8GhJVN/
A post shared by Ayushmann Khurrana (@ayushmannk)
Ayushmann Khurrana treated fans to some unseen photos of himself with his father on Father's Day. He spoke about his father's contribution to what he is today. "We got it from him. The discipline. The love for music, poetry, films and art. He studied law but was always intrigued by astrology. He's the reason behind the double Ns and double Rs in my name. At the same time he also taught us that we have the ability to carve out our own destiny and our good karma can supersede any soothsayer. My friend, philosopher and guide. My father @astrologer.pkhurrana," he wrote in an Instagram post.
https://www.instagram.com/p/CQU4I_EBrrm/
A post shared by Shruti Haasan (@shrutzhaasan)
On Father's Day, Shruti Haasan posted a picture of herself with Kamal Haasan and wrote, "You are blessed if the person who you learn from the most and the person who makes you laugh the most also happens to be your parent 🙂 happy Father's Day @ikamalhaasan Thankyou for being My daddy dearest."
While fathers are normally associated with tough love, particularly in India, there are many fathers who are tender, gentle and kind. Fathers, like mothers, teach us our first words, witness our first step, nurture us, and play a big part in our physical and emotional development.
Millions around the world are observing Father's Day in honour of that special man in their lives.
The Indian Express website has been rated GREEN for its credibility and trustworthiness by Newsguard, a global service that rates news sources for their journalistic standards.
Source: Read Full Article