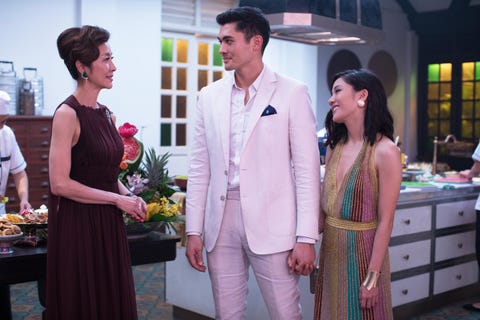 Crazy Rich Asians, the hotly anticipated big screen adaptation of Kevin Kwan's best-selling novel of the same name, is set to open nationwide Aug. 15, 2018, roughly five years after the book was first published. Per The Hollywood Reporter, NRG (National Research Group) estimates that the film will gross $20 million in its first five days, with younger female fans leading the way in ticket sales. In a movement led by director Jon M. Chu, more than 100 creatives have bought out theaters for Crazy Rich Asians' opening week with hopes that the film will have a #GoldOpen.
Director @jonmchu: "Crazy Rich Asians is more than just a movie, it's a movement." But EVERY MOVEMENT NEEDS ITS MAFIA. That's why 100+ of us have bought out theatres to give #CrazyRichAsians a #GoldOpen. Join us and buy your tickets NOW for opening week on @Fandango.com pic.twitter.com/rvYayv1GkV
Below, a cheat sheet to get you all ready for the movie version of CRA. Just make sure to have an Astrid-approved couture gown ready for opening night. (Or a designer suit Eddie would drool over.)
The crazy plot
While you should definitely re-read the book for Eddie's hilarious antics alone, the plot goes a little something like this: Our leads are Rachel Chu, an American-born Chinese with a promising career as an economics professor at NYU, and her boyfriend Nick Young, who also teaches at NYU (his field is history). Overseas, three elite Chinese families – the Youngs, the Shangs, and the T'siens – are introduced to the reader ahead of the wedding of the year century between the rich (and handsome) Colin Khoo and fashion icon Araminta Lee. The twist? Nick is from one of those rich Chinese families and has yet to tell Rachel. The wedding brings them to Singapore, where Rachel meets Nick's family for the first time. Someone really should have warned her about Nick's mom, Eleanor.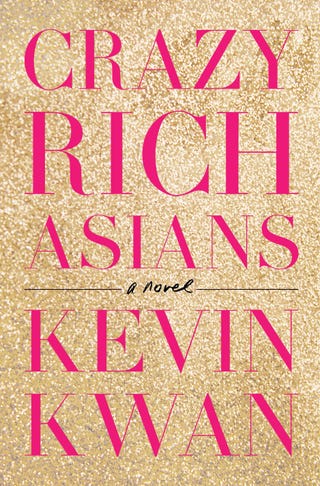 Buy This Book
The crazy beautiful cast
Constance Wu plays Rachel, with newcomer Henry Golding as her Nick. Michelle Yeoh has the honor of playing Nick's mom Eleanor, while Gemma Chan (Humans) will play Nick's cousin Astrid. The star-studded list continues: Harry Shum Jr. plays Charlie, Astrid's ex; Awkwafina plays Goh Peik Lin, Rachel's college BFF who lives in Singapore; Ken Jeong is Peik Lin's dad; comedian Ronny Chieng is Nick's cousin Eddie; Sonoya Mizuno (Ex Machina, La La Land) is Araminta, and Remy Hii (Netflix's Marco Polo) is Nick's other cousin Alistair.
Hi guys ?+?
A post shared by Constance Wu (@constancewu) on
Jon M. Chu was probably destined to direct Crazy Rich Asians
According to Variety, Chu was hired for the job after putting together a visual presentation of his family photos for producers Nina Jacobson, Brad Simpson, and Jon Penotti. Chu, whose filmography already includes two Justin Bieber documentaries, three Step Up movies (he directed two and executive produced one), and the second installment of the magic heist flick Now You See Me, later told Entertainment Weekly that he "knew in my heart" he was the director for CRA. "It's a movie that speaks to my identity as an Asian and that struggle of figuring out who I am and where I belong, and it deals with what my family went through, what my mom and my dad from mainland China [went through], so all the struggles I've experienced are in this book in a fun way, not in some sort of lecturing way."
So honored to be in the presence of this asskicker/groundbreaker. We are about to make some waves together. @kevinkwanbooks #CrazyRichAsiansTheMovie
A post shared by Jon M Chu (@jonmchu) on
The casting call was difficult at first
As one of the first American-made films in a long time to feature an all-Asian cast, Chu ran into problems. As he told BuzzFeed, "When I do a 'regular' movie with Caucasian actors as the leads… actors are everywhere," noting that while there's been an abundance of Asian talent in the business, the roles written for them have been few and far between. "It's a systemic problem because there aren't enough leading-man roles for people to cut their teeth on and learn how to be a leading man. As an Asian male myself, I feel like this representation is very important to me, and I want it to be a range of dudes that have a range of looks and feels, so it's not just one-note either."
There was also an issue with getting the right actors with the appropriate accent. "Even though we've seen thousands of professional actors and now thousands of new people who want to pursue acting… it is still very difficult," Chu told BuzzFeed in March 2017, shortly after Constance Wu's casting was announced and just before Henry Golding joined the film. "[We] realized mainland Chinese actors can't necessarily do an English accent properly or understand the strife of an Asian-American character."
Kevin Kwan has been involved with the film since day one
"It's been amazing, the producers, Nina Jacobson of Color Force has been amazing in the way that she's really involved me, the author, in shaping this entire project," Kwan told Cosmopolitan.com in May 2017. "I helped [with] every stage where there was an important decision to be made, creatively. I was able to give advice to screenwriters, then work with the production team as they began working on the set design, the costumes, and more recently, [character notes] for the actors. It's been an enormously collaborative experience. They're really trying to create an authentic of a world as possible."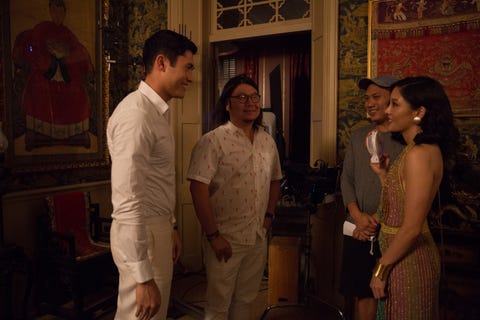 And from this clip, it looks like he has a wee cameo during a massive texting scene about the identity of Nick's girlfriend:
There's a lucky reason why the movie is opening on Aug. 17, 2018
As Lainey Gossip points out, the date is likely intentional, seeing as eight has always been viewed as a lucky number in Chinese culture. In addition to opening in the eighth month in a year ending in "8," the date itself, when taken apart to become a math equation, boils down to the damn number: 1+7=8. Too much? Too bad, because phonetically, "18" also sounds like the expression for "will be rich." Crazy Rich Asians will be rich. I already love this movie! Also, if you believe in all of this and worked on any of the following movies set to open the same weekend, good luck to you: Captive State (John Goodman and Vera Farmiga), The Happytime Murders (Melissa McCarthy and Maya Rudolph), and Three Seconds (Rosamund Pike and Clive Owen).
Update 5/23, 2 p.m.: Per Warner Bros. and author Kevin Kwan, the release date has been moved up two days to Aug. 15, 2018.
Breaking News! The U.S. release date for #CrazyRichAsians has been moved up two days earlier to Wednesday, August 15th!!! ?: @jonmchu
A post shared by Kevin Kwan (@kevinkwanbooks) on
In April 2018, Warner Bros. Pictures released the first full, crazy trailer
The trailer was presented by Constance and Henry during an appearance on The Ellen DeGeneres Show. As you can see, Rachel and Eleanor will have one hell of a showdown in the movie:
A gorgeous poster has also since been released: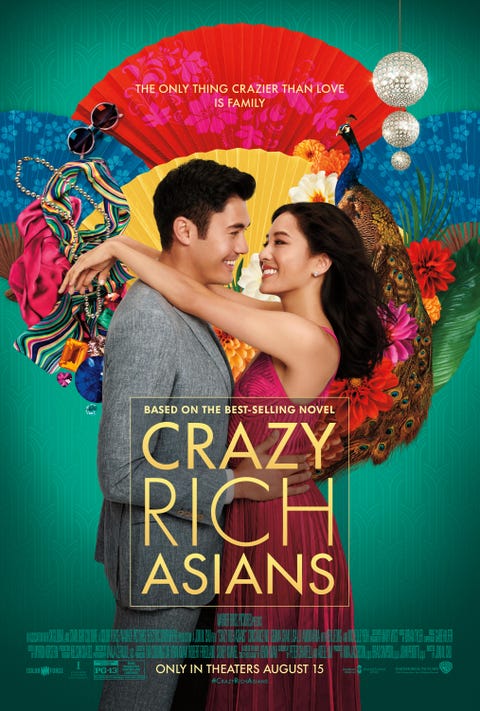 Production wrapped in June 2017 following two months of filming in Kuala Lumpur and Singapore
Which explains these beautiful behind-the-scenes photos, courtesy of the cast and crew.
Hot fun in the summertime with @awkwafina @sonoya @henrygolding @carmen_soo #CrazyRichAsiansMovie
A post shared by Kevin Kwan (@kevinkwanbooks) on
Shit just got CRA… #CrazyRichAsians where you at @kevinkwanbooks !!!!
A post shared by Jon M Chu (@jonmchu) on
Waiting for the rain to pass. @pangeerz @henrygolding
A post shared by Jon M Chu (@jonmchu) on
Shhh ? #QuietOnSet
A post shared by Remy Hii (@remyhii) on
Fresh ? @harryshumjr #crazyrichasians #crazyrichasiansthemovie
A post shared by Gemma Chan (@gemma_chan) on
The Kwan, the Wu and the Chan. #CrasyRichAsiansTheMovie
A post shared by Jon M Chu (@jonmchu) on
Aaaand that's a wrap ?✨ #crazyrichasiansmovie out
A post shared by Remy Hii (@remyhii) on
The premiere was held on Aug. 7 at the legendary TCL Chinese Theatre in Hollywood.
It was basically prom with a touch of old Hollywood glam.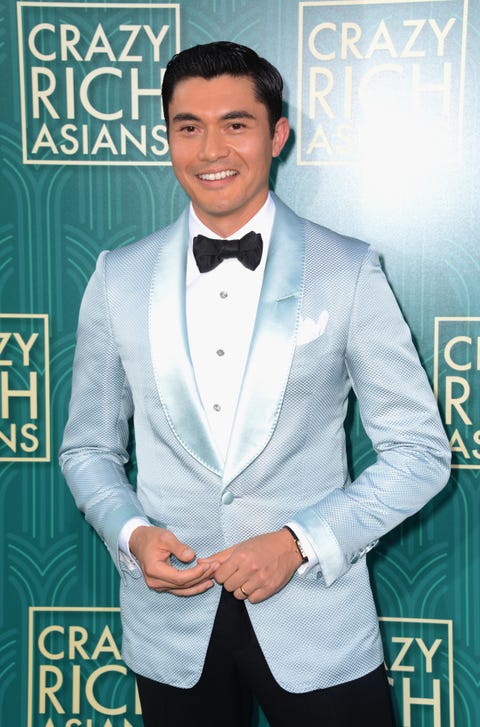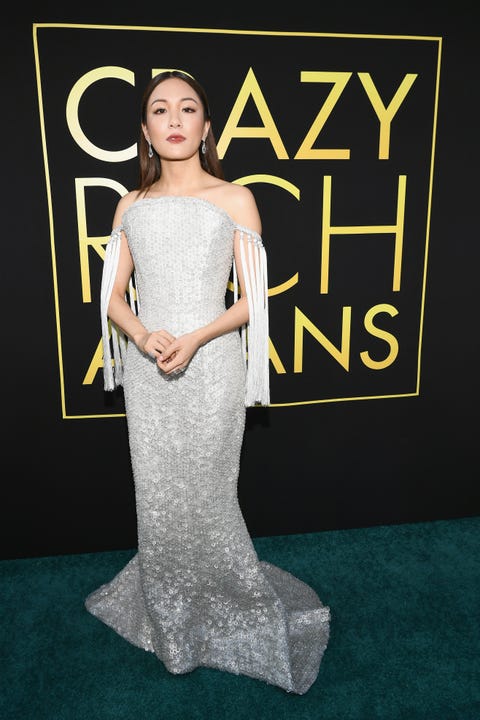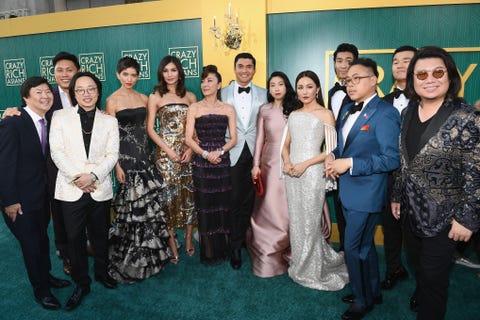 Follow Peggy on Twitter.
Source: Read Full Article