'I haven't done TV in quite some time now, but I have faced this bias.'
'It's not that I feel unwelcome.'
'It's just that when it comes to certain things, I get shortlisted and they tell me that my test was really good, but the producer wants a film face.'
Ali Abbas Zafar's Web series Tandav has been mired in controversy since it released.
Kritika Kamra, who makes her digital debut with this political drama, has been excited to be a part of it right from the beginning.
"Ali Abbas Zafar shoots very big scale, so it IS actually like shooting a big budget film but longer than the two hours," she tells Rediff.com Contributor Sameena Razzaq.
Just when we were wondering where Kritika has disappeared, you surprise us with your digital debut in Tandav.
I have always taken these breaks.
I have been choosy right from the beginning, even during my television days.
I wanted to do something on the OTT. It's such an exciting space.
There have been opportunities but I wanted to start with the right one.
Tandav checked all the boxes.
It's an Amazon Prime original.
It's made by Ali Abbas Zafar and written by Gaurav Solanki.
Look at the cast.
Everything was perfect about this one.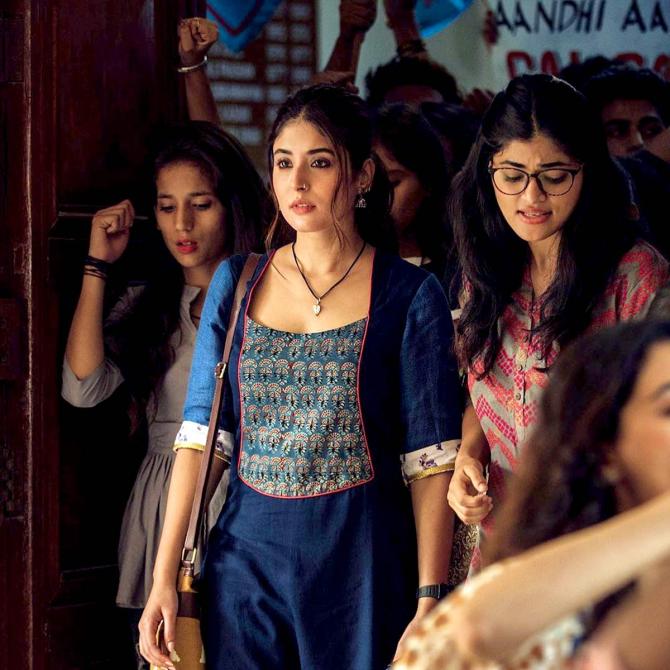 Tandav has Saif Ali Khan, Dimple Kapadia, Mohd Zeeshan Ayyub, Sunil Grover and many more seasoned actors. It doesn't get bigger than this.
It is big, look at the response.
We finished shooting for this in 2019. I did not tell anybody about it, did not know when it would come out.
The buzz is great.
The feedback on my social media has been great.
Just working with these actors has been such an enriching experience for me.
People enjoying the show is the icing on the cake.
Ali Abbas Zafar has this habit of directing his actors while the shot is on. Saif wasn't comfortable with it initially but eventually got used to it. Did his style distract the actor in you as well?
No, it didn't.
Ali is very clear about what he wants, so that helps you.
Also, he is very fast and precise. He designs his shots in such a way that he knows his characters.
Of course, we rehearse before the scene.
Most of my scenes were with Zeeshan (Mohd Zeeshan Ayyub), who is a brilliant actor, so that really lifts your own performance.
We used to like run over the lines, rehearse once, this is where we have to travel and what we have to do… many times Ali would decide to do in one shot.
I have a few scenes with Saif and they are intense.
There are two different worlds in Tandav. One is national politics, which is Samar Pratap Singh's world. This is Saif's side of things.
Then, there's what is happening at the university. I play a student.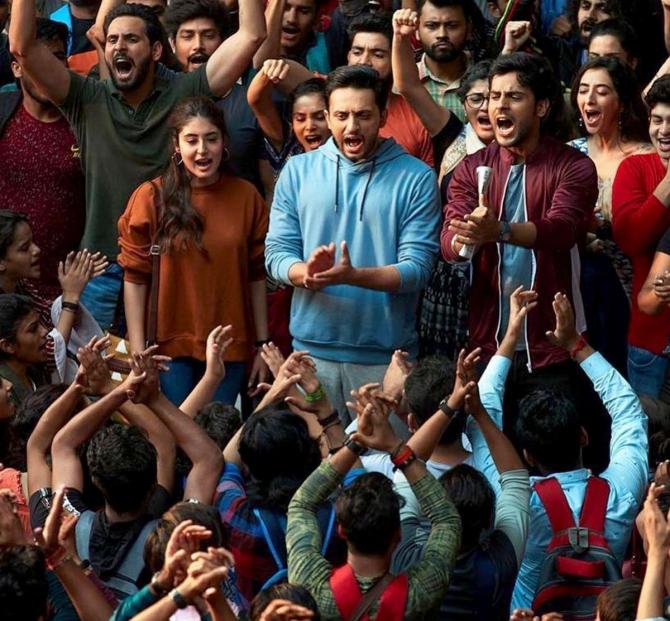 One gets an impression that your character Sana Mir is fashioned on the Kashmiri student leader and activist Shehla Rashid. Is it so?
I am not aware of this.
Actually not. We were not given any references as such, so I am sure it is not based on a real person.
In fact, Gaurav (Tandav writer Gaurav Solanki) has said in a lot of interviews that he tried his best to make his characters not look like any real person and yet make them realistic because they are not black and white.
They have layers, flaws, limitations…that's what makes them human.
I know these parallels are drawn because there have been people who became popular in university politics.
How was the experience working with Saif?
He is cool, witty, well read and intelligent.
He makes great conversations about anything under the sun.
I haven't shot with him a lot, but the days we did, were very nice.
The scenes were always intense because that's the nature of the show.
But when the scene was over, it was very chilled.
He would crack jokes because the take would be intense, and that kind of defuses the tension a little.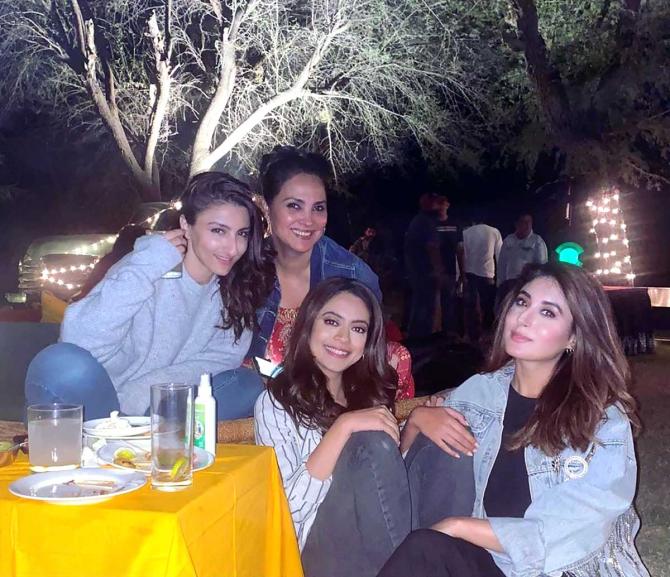 You share a warm relationship with his sister Soha Ali Khan.
I have finished a Web series with Soha, which should be out some time this year. We play sisters in that.
That's where I met Soha.
We shot for it in 2020.
We were in Rajasthan together, for two months.
Lara (Dutta) is in it too, and all of us became a family.
We have so much to talk about, so many stories. So we hang out a lot.
Soha and Saif are very warm.
I have met them socially too.
The Web series is called Kaun Banega Shekhawati. Can you tell us more about it?
We started shooting for this just after the restrictions were lifted.
It was a very different experience and we had all the safety protocols.
Naseeruddin Shah is also in the show, so with that, I ticked off one more on my bucket list.
Who doesn't want to work with him?
He is a legend, and I got to work with him.
It's a comedy, and very different from what I am doing in Tandav.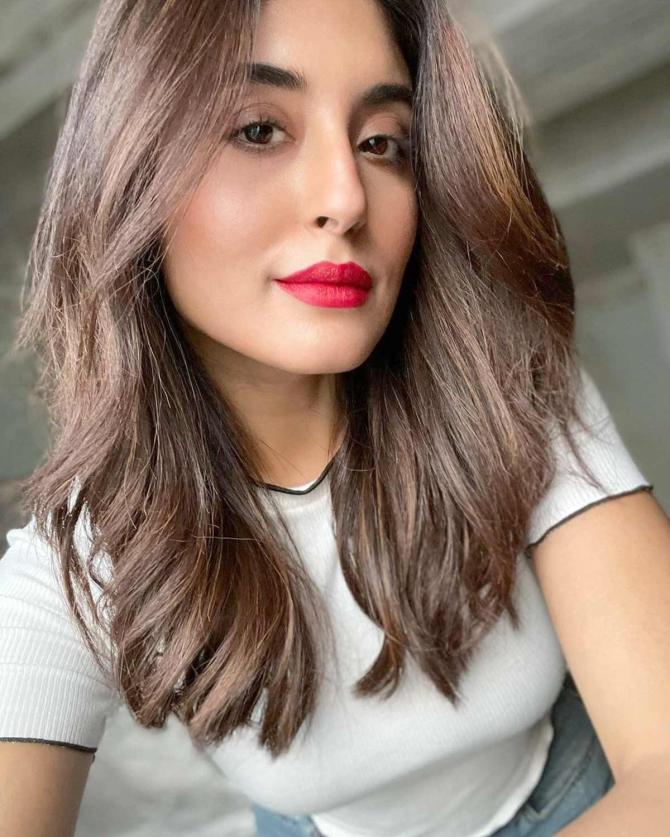 OTT has bridged the gap between films, television and the digital mediums, so actors can easily transition across all three mediums. But do you still feel you face a bias against TV actors?
Yes, I still do.
I haven't done TV in quite some time now, but I have faced this bias.
I have never really understood the game.
I go for auditions or meetings, and that's how I got Tandav.
I didn't know anybody before that.
I had never met Ali; I don't think he even knew me.
The casting agency — headed by Abhishek Banerjee and Anmol Ahuja — called me.
Abhishek himself is doing so well as an actor now.
It's not that I feel unwelcome.
It's just that when it comes to certain things, I get shortlisted and they tell me that my test was really good, but the producer wants a film face. It's happened to me a couple of times.
Sometimes they feel I am very exposed because of television.
Once, a director told me 'I have never seen anything on TV, but I watched your audition…' he said 'I thought all television actors act in a certain way, but you were different.'
I didn't know whether to be happy or sad about that.
I feel people hesitate…
They can't imagine that you can do things outside of what they have seen you do on television.
So you have to prove yourself, which is fine.
That's how Tandav happened for me.
You go, audition, and if you are good for the job, you get it. Otherwise, you don't. Your background should not matter, whether you are a TV actor or not.
I can only hope it changes in my personal experience.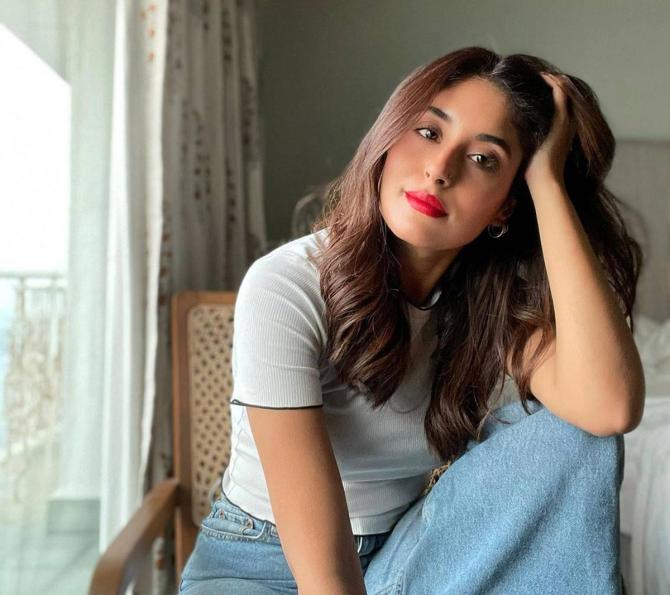 Will you continue doing television?
I haven't done TV in so long.
I think I have explored that medium and done everything in it.
I have done fiction (shows), non-fiction, hosted a show… I have tried to make unconventional choices in TV.
I stayed away from playing the stereotypical bahu.
I was conscious of the kind of stuff I want to be a part of.
I need to challenge myself.
For me, films and OTT are new mediums.
The medium is not even in the top three criteria for me. It's always the maker, the writing and then, my part.
As an actor, your approach doesn't change.
Of course, television is very hectic and this is a new style for me.
Ali Abbas Zafar shoots very big scale, so it's actually like shooting a big budget film, but longer than the two hours.
Yes, as an actor, you need to be available physically, mentally and emotionally and TV does burn you out.
I learnt a lot and then I tried to unlearn also.
OTT has no pressure of box office, so you can do a lot more.
Television actors get trolled when they wear bikinis because the audience is not used to seeing them dressed that way. Why is there a pressure on TV actors to not show their skin so much?
I think it's changing.
I see everybody dressing up the way they want to.
I see some beautiful bikini pictures of people.
I don't think its only about TV actors, it's for women in general.
Some people will always have a problem with women owning their sexuality or being comfortable in their bodies.
I have seen so many people doing what they want to do, which is great.
On Instagram, I think a lot of people are really comfortable in their skin.
People say you resemble Kareena Kapoor. Do you agree?
I don't think I resemble her.
She is drop dead gorgeous.
I have met her and admired her as an actor.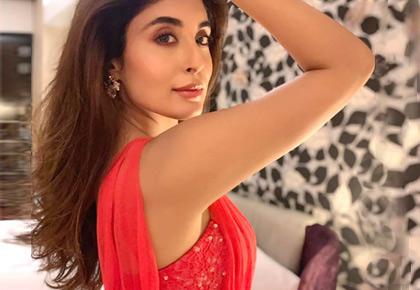 Source: Read Full Article