Watchmen has got the maximum nominations this year. It received a leading 26 nominations. The Amazon Prime Video's comedy The Marvelous Mrs Maisel is the second most-nominated series with 20 nods, followed by Netflix's Ozark with 18 nominations.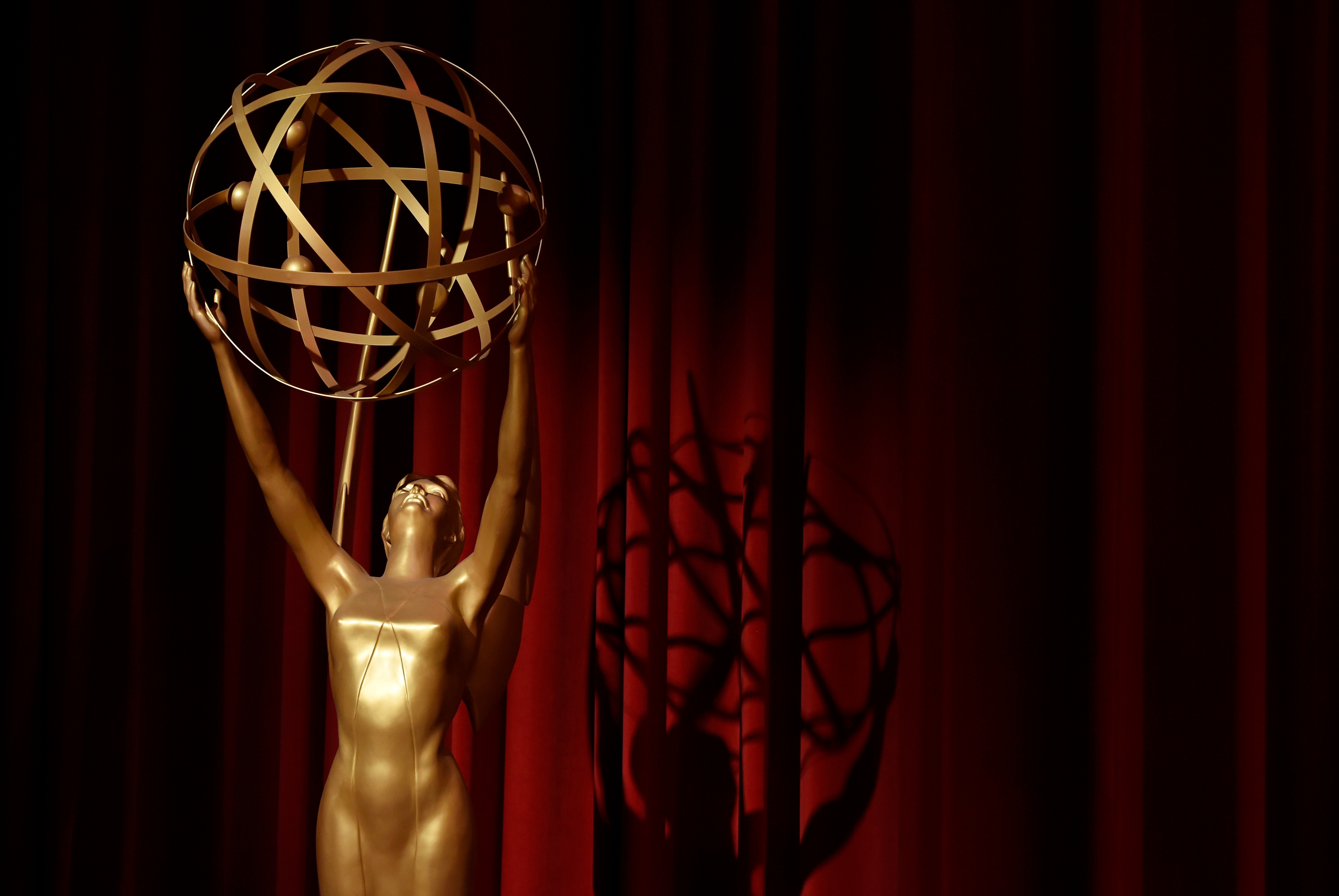 This year, Emmy Awards are different courtesy coronavirus pandemic. The award ceremony is happening virtually. Jimmy Kimmel, who has earlier hosted the ceremony, will take the stage in the Staples Center in downtown Los Angeles but this time the audience won't consist of celebrities decked up in their best outfits. He will host the show in the presence of production staff and a few stars.
To avoid the drawbacks of a Zoom call, the showrunners have arranged for many movie-quality cameras, lights and microphones to capture live and spontaneous reactions from winners in their living rooms. Producers are monitoring 130 live feeds from about 20 cities, including Los Angeles, New York, London, Tel Aviv and Berlin.
A lineup of "special guests" including Oprah Winfrey, Sterling K. Brown and Jason Bateman is slated to appear in some form. Casts of some series are expected to gather together to watch the broadcast.
The one major disappointment for fans is no red carpet event. But, Breanne Heldman, senior TV editor for People magazine, expects that the virtual setup will bring out a different side of celebrities.
Follow all the latest updates about Emmys 2020.
OUTSTANDING CASTING FOR A COMEDY SERIES
Schitt's Creek, POP TV
OUTSTANDING CASTING FOR A DRAMA SERIES
Succession, HBO
OUTSTANDING SHORT FORM COMEDY OR DRAMA SERIES
BETTER CALL SAUL EMPLOYEE TRAINING: LEGAL ETHICS WITH KIM WEXLER, AMC.COM
OUTSTANDING SHORT FORM ANIMATED PROGRAM
FORKY ASKS A QUESTION: WHAT IS LOVE?, DISNEY+
OUTSTANDING DERIVATIVE INTERACTIVE PROGRAM
BIG MOUTH GUIDE TO LIFE, NETFLIX
OUTSTANDING ORIGINAL INTERACTIVE PROGRAM
THE MESSY TRUTH VR EXPERIENCE, OCULUS
OUTSTANDING MUSIC SUPERVISION
The Marvelous Mrs. Maisel, It's Comedy Or Cabbage, PRIME VIDEO
OUTSTANDING MUSIC COMPOSITION FOR A LIMITED SERIES, MOVIE OR SPECIAL (ORIGINAL DRAMATIC SCORE)
Watchmen, It's Summer And We're Running Out Of Ice, HBO
OUTSTANDING CHOREOGRAPHY FOR SCRIPTED PROGRAMMING
Zoey's Extraordinary Playlist, NBC
OUTSTANDING INNOVATION IN INTERACTIVE PROGRAMMING
CREATE TOGETHER, YOUTUBE
THE LINE, OCULUS
OUTSTANDING INDIVIDUAL ACHIEVEMENT IN ANIMATION
Archer, Road Trip, FX NETWORKS
Cosmos: Possible Worlds, Vavilov, NATIONAL GEOGRAPHIC
Genndy Tartakovsky's Primal, Spear And Fang, ADULT SWIM
Genndy Tartakovsky's Primal, A Cold Death, ADULT SWIM
OUTSTANDING MOTION DESIGN
Inside Bill's Brain: Decoding Bill Gates, NETFLIX
OUTSTANDING ORIGINAL MUSIC AND LYRICS
LABRINTH, Euphoria, HBO
OUTSTANDING ORIGINAL MAIN TITLE THEME MUSIC
NATHAN BARR, Hollywood, NETFLIX
OUTSTANDING STUNT COORDINATION FOR A COMEDY SERIES OR VARIETY PROGRAM
EDDIE PEREZ, Shameless, SHOWTIME
OUTSTANDING CHARACTER VOICE-OVER PERFORMANCE
MAYA RUDOLPH, Big Mouth, NETFLIX
OUTSTANDING ACTOR IN A SHORT FORM COMEDY OR DRAMA SERIES
LAURENCE FISHBURNE, #FreeRayshawn, QUIBI
OUTSTANDING ACTRESS IN A SHORT FORM COMEDY OR DRAMA SERIES
JASMINE CEPHAS JONES, #FreeRayshawn, QUIBI
OUTSTANDING SPECIAL VISUAL EFFECTS
The Mandalorian, Chapter 2: The Child, DISNEY+
OUTSTANDING SPECIAL VISUAL EFFECTS IN A SUPPORTING ROLE
Vikings, The Best Laid Plans, HISTORY
OUTSTANDING CINEMATOGRAPHY FOR A LIMITED SERIES OR MOVIE
Watchmen, This Extraordinary Being, HBO
OUTSTANDING CINEMATOGRAPHY FOR A MULTI-CAMERA SERIES
The Ranch, It Ain't My Fault, NETFLIX
OUTSTANDING CINEMATOGRAPHY FOR A SINGLE-CAMERA SERIES (HALF-HOUR)
The Mandalorian, Chapter 7: The Reckoning, DISNEY+
OUTSTANDING CONTEMPORARY HAIRSTYLING
black-ish, Hair Day, ABC
OUTSTANDING PERIOD AND/OR CHARACTER MAKEUP (NON-PROSTHETIC)
The Marvelous Mrs. Maisel, It's Comedy Or Cabbage, PRIME VIDEO
OUTSTANDING PROSTHETIC MAKEUP FOR A SERIES, LIMITED SERIES, MOVIE OR SPECIAL
Star Trek: Picard, Absolute Candor, CBS ALL ACCESS
OUTSTANDING FANTASY/SCI-FI COSTUMES
Watchmen, It's Summer And We're Running Out Of Ice, HBO
OUTSTANDING PERIOD COSTUMES
The Crown, Cri De Coeur, NETFLIX
OUTSTANDING MULTI-CAMERA PICTURE EDITING FOR A COMEDY SERIES
One Day At A Time, Boundaries, POP TV
OUTSTANDING SINGLE-CAMERA PICTURE EDITING FOR A DRAMA SERIES
Succession, This Is Not For Tears, HBO
OUTSTANDING SINGLE-CAMERA PICTURE EDITING FOR A LIMITED SERIES
Watchmen, A God Walks In To Abar, HBO
OUTSTANDING SOUND MIXING FOR A COMEDY OR DRAMA SERIES (HALF-HOUR) AND ANIMATION
The Mandalorian, Chapter 2: The Child, DISNEY+
OUTSTANDING SOUND MIXING FOR A LIMITED SERIES OR MOVIE
Watchmen, This Extraordinary Being, HBO
OUTSTANDING SOUND EDITING FOR A COMEDY OR DRAMA SERIES (ONE HOUR)
Stranger Things, Chapter Eight: The Battle Of Starcourt, NETFLIX
OUTSTANDING SOUND EDITING FOR A COMEDY OR DRAMA SERIES (HALF-HOUR) AND ANIMATION
The Mandalorian, Chapter 1: The Mandalorian, DISNEY+
OUTSTANDING PRODUCTION DESIGN FOR A NARRATIVE PROGRAM (HALF-HOUR)
The Mandalorian, Chapter 1: The Mandalorian, DISNEY+
OUTSTANDING PRODUCTION DESIGN FOR A NARRATIVE CONTEMPORARY PROGRAM (ONE HOUR OR MORE)
The Handmaid's Tale, Household, HULU
OUTSTANDING MUSIC DIRECTION
The Kennedy Center Honors, CBS
OUTSTANDING SHORT FORM VARIETY SERIES
CARPOOL KARAOKE: THE SERIES, APPLE TV
OUTSTANDING COSTUMES FOR A VARIETY, NONFICTION OR REALITY PROGRAM
The Masked Singer, The Season Kick-Off Mask-Off: Group A episode, FOX
OUTSTANDING CONTEMPORARY HAIRSTYLING FOR A VARIETY, NONFICTION OR REALITY PROGRAM
RuPaul's Drag Race, I'm That Bitch episode, VH1
OUTSTANDING CONTEMPORARY MAKEUP FOR A VARIETY, NONFICTION OR REALITY PROGRAM (NON-PROSTHETIC)
RuPaul's Drag Race, I'm That Bitch episode, VH1
OUTSTANDING WRITING FOR A VARIETY SERIES
Last Week Tonight With John Oliver, HBO
OUTSTANDING DIRECTING FOR A VARIETY SERIES
Saturday Night Live, Host: Eddie Murphy, NBC
OUTSTANDING LIGHTING DESIGN/LIGHTING DIRECTION FOR A VARIETY SPECIAL
Super Bowl LIV Halftime Show Starring Jennifer Lopez And Shakira, FOX
OUTSTANDING PICTURE EDITING FOR VARIETY PROGRAMMING
Last Week Tonight With John Oliver, Eat Shit Bob! (segment), HBO
OUTSTANDING SOUND MIXING FOR A VARIETY SERIES OR SPECIAL
The Oscars, ABC
OUTSTANDING TECHNICAL DIRECTION, CAMERAWORK, VIDEO CONTROL FOR A SPECIAL
Live In Front Of A Studio Audience: "All In The Family" And "Good Times", ABC
OUTSTANDING TECHNICAL DIRECTION, CAMERAWORK, VIDEO CONTROL FOR A SERIES
Last Week Tonight With John Oliver, Episode 629, HBO
OUTSTANDING PRODUCTION DESIGN FOR A VARIETY, REALITY OR COMPETITION SERIES
Saturday Night Live, NBC
OUTSTANDING PRODUCTION DESIGN FOR A VARIETY SPECIAL
The Oscars, ABC
OUTSTANDING VARIETY SKETCH SERIES
SATURDAY NIGHT LIVE, NBC
OUTSTANDING VARIETY SPECIAL (LIVE)
LIVE IN FRONT OF A STUDIO AUDIENCE: "ALL IN THE FAMILY" AND "GOOD TIMES", ABC
OUTSTANDING SHORT FORM NONFICTION OR REALITY SERIES
National Geographic Presents: Creating COSMOS: Possible Worlds, NATIONAL GEOGRAPHIC
OUTSTANDING CASTING FOR A REALITY PROGRAM
RuPaul's Drag Race, VH1
OUTSTANDING SOUND MIXING FOR A NONFICTION OR REALITY PROGRAM (SINGLE OR MULTI-CAMERA)
Apollo 11, CNN
OUTSTANDING SOUND EDITING FOR A NONFICTION OR REALITY PROGRAM (SINGLE OR MULTI-CAMERA)
Apollo 11, CNN
OUTSTANDING MUSIC COMPOSITION FOR A DOCUMENTARY SERIES OR SPECIAL (ORIGINAL DRAMATIC SCORE)
Why We Hate Tools & Tactics, DISCOVERY CHANNEL
OUTSTANDING CINEMATOGRAPHY FOR A NONFICTION PROGRAM
The Cave, NATIONAL GEOGRAPHIC
OUTSTANDING CINEMATOGRAPHY FOR A REALITY PROGRAM
Life Below Zero, The New World episode, NATIONAL GEOGRAPHIC
OUTSTANDING WRITING FOR A NONFICTION PROGRAM
Don't F**k With Cats: Hunting An Internet Killer, Closing The Net episode, NETFLIX
OUTSTANDING DIRECTING FOR A DOCUMENTARY/NONFICTION PROGRAM
American Factory, NETFLIX
OUTSTANDING NARRATOR
Seven Worlds, One Planet episode, BBC AMERICA
OUTSTANDING PICTURE EDITING FOR AN UNSTRUCTURED REALITY PROGRAM
Cheer, God Blessed Texas episode, NETFLIX
OUTSTANDING PICTURE EDITING FOR A NONFICTION PROGRAM
Apollo 11, CNN
OUTSTANDING PICTURE EDITING FOR A STRUCTURED REALITY OR COMPETITION PROGRAM
RuPaul's Drag Race, I'm That Bitch episode, VH1
OUTSTANDING HOSTED NONFICTION SERIES OR SPECIAL
LEAH REMINI: SCIENTOLOGY AND THE AFTERMATH, A&E
OUTSTANDING DOCUMENTARY OR NONFICTION SPECIAL
THE APOLLO, HBO
OUTSTANDING DIRECTING FOR A REALITY PROGRAM
Cheer, Dayton episode, NETFLIX
OUTSTANDING STRUCTURED REALITY PROGRAM
QUEER EYE, NETFLIX
Check out the 72nd Emmy Awards nominations in key categories:
OUTSTANDING DRAMA SERIES
Better Call Saul (AMC)
The Crown (Netflix)
The Handmaid's Tale (Hulu)
Killing Eve (BBC America)
The Mandalorian (Disney+)
Ozark (Netflix)
Stranger Things (Netflix)
Succession (HBO)
OUTSTANDING COMEDY SERIES
Curb Your Enthusiasm (HBO)
Dead to Me (Netflix)
The Good Place (NBC)
Insecure (HBO)
The Kominsky Method (Netflix)
The Marvelous Mrs. Maisel (Amazon)
Schitt's Creek (Pop)
What We Do in the Shadows (FX)
OUTSTANDING LIMITED SERIES
Little Fires Everywhere (Hulu)
Mrs. America (FX on Hulu)
Unbelievable (Netflix)
Unorthodox (Netflix)
Watchmen (HBO)
OUTSTANDING LEAD ACTOR IN A DRAMA SERIES
Jason Bateman (Ozark)
Sterling K. Brown (This Is Us)
Steve Carell (The Morning Show)
Brian Cox (Succession)
Billy Porter (Pose)
Jeremy Strong (Succession)
OUTSTANDING LEAD ACTRESS IN A DRAMA SERIES
Jennifer Aniston (The Morning Show)
Olivia Colman (The Crown)
Jodie Comer (Killing Eve)
Laura Linney (Ozark)
Sandra Oh (Killing Eve)
Zendaya (Euphoria)
OUTSTANDING LEAD ACTOR IN A COMEDY SERIES
Anthony Anderson (Black-ish)
Don Cheadle (Black Monday)
Ted Danson (The Good Place)
Michael Douglas (The Kominsky Method)
Eugene Levy (Schitt's Creek)
Ramy Youssef (Ramy)
OUTSTANDING LEAD ACTRESS IN A COMEDY SERIES
Christina Applegate (Dead to Me)
Rachel Brosnahan (The Marvelous Mrs. Maisel)
Linda Cardellini (Dead to Me)
Catherine O'Hara (Schitt's Creek)
Issa Rae (Insecure)
Tracee Ellis Ross (Black-ish)
OUTSTANDING LEAD ACTOR IN A LIMITED SERIES OR MOVIE
Jeremy Irons (Watchmen)
Hugh Jackman (Bad Education)
Paul Mescal (Normal People)
Jeremy Pope (Hollywood)
Mark Ruffalo (I Know This Much Is True)
OUTSTANDING LEAD ACTRESS IN A LIMITED SERIES OR MOVIE
Cate Blanchett (Mrs. America)
Shira Haas (Unorthodox)
Regina King (Watchmen)
Octavia Spencer (Self Made)
Kerry Washington (Little Fires Everywhere)
OUTSTANDING SUPPORTING ACTOR IN A DRAMA SERIES
Kieran Culkin (Succession)
Billy Crudup (The Morning Show)
Giancarlo Esposito (Better Call Saul)
Bradley Whitford (The Handmaid's Tale)
Mark Duplass (The Morning Show)
Nicholas Braun (Succession)
Matthew Macfadyen (Succession)
Jeffery Wright (Westworld)
OUTSTANDING SUPPORTING ACTRESS IN A DRAMA SERIES
Helena Bonham Carter (The Crown)
Laura Dern (Big Little Lies)
Julia Garner (Ozark)
Thandie Newton (Westworld)
Fiona Shaw (Killing Eve)
Sarah Snook (Succession)
Meryl Streep (Big Little Lies)
Samira Wiley (The Handmaid's Tale)
OUTSTANDING SUPPORTING ACTOR IN A COMEDY SERIES
Mahershala Ali (Ramy)
Alan Arkin (The Kominsky Method)
Sterling K. Brown (The Marvelous Mrs. Maisel)
Daniel Levy (Schitt's Creek)
Tony Shalhoub (The Marvelous Mrs. Maisel)
Kenan Thompson (Saturday Night Live)
William Jackson (The Good Place)
Andre Braugher (Brooklyn Nine-Nine)
OUTSTANDING SUPPORTING ACTRESS IN A COMEDY SERIES
Yvonne Orji (Insecure)
Alex Borstein (The Marvelous Mrs. Maisel)
Betty Gilpin (GLOW)
Marin Hinkle (The Marvelous Mrs. Maisel)
Kate McKinnon (Saturday Night Live)
Cecily Strong (Saturday Night Live)
D'Arcy Carden (The Good Place)
Annie Murphy (Schitt's Creek)
OUTSTANDING SUPPORTING ACTOR IN A LIMITED SERIES OR MOVIE
Dylan McDermott (Hollywood)
Jim Parsons (Hollywood)
Tituss Burgess (Unbreakable Kimmy Schmidt: Kimmy vs. The Reverend)
Yahya Abdul-Mateen II (Watchmen)
Jovan Adepo (Watchmen)
Louis Gossett Jr. (Watchmen)
OUTSTANDING SUPPORTING ACTRESS IN A LIMITED SERIES OR MOVIE
Holland Taylor (Hollywood)
Uzo Aduba (Mrs. America)
Margo Martindale (Mrs. America)
Tracey Ullman (Mrs. America)
Toni Collette (Unbelievable)
Jean Smart (Watchmen)
OUTSTANDING WRITING FOR A COMEDY SERIES
Daniel Levy (Schitt's Creek)
David West Read (Schitt's Creek)
Michael Schur (The Good Place)
Tony McNamara (The Great)
Sam Johnson and Chris Marcil (What We Do In The Shadows)
Paul Simms (What We Do In The Shadows)
Stefani Robinson (What We Do In The Shadows)
OUTSTANDING WRITING FOR A DRAMA SERIES
Thomas Schnauz (Better Call Saul)
Gordon Smith (Better Call Saul)
Chris Mundy (Ozark)
John Shiban (Ozark)
Miki Johnson (Ozark)
Jesse Armstrong (Succession)
Peter Morgan (The Crown)
OUTSTANDING WRITING FOR A LIMITED SERIES MOVIE OR DRAMATIC SPECIAL
Tanya Barfield (Mrs. America)
Sally Rooney and Alice Birch (Normal People)
Susannah Grant, Michael Chabon and Ayelet Waldman (Unbelievable)
Anna Winger (Unorthodox)
Damon Lindelof and Cord Jefferson (Watchmen)
OUTSTANDING DIRECTING FOR A COMEDY SERIES
Gail Mancuso (Modern Family)
Ramy Youssef (Ramy)
Daniel Levy (Schitt's Creek)
Matt Shakman (The Great)
Amy Sherman-Palladino (The Marvelous Mrs. Maisel)
Daniel Palladino (The Marvelous Mrs. Maisel)
James Burrows (Will & Grace)
OUTSTANDING DIRECTING FOR A DRAMA SERIES
Lesli Linka Glatter (Homeland)
Alik Sakharov (Ozark)
Ben Semanoff (Ozark)
Andrij Parekh (Succession)
Mark Mylod (Succession)
Benjamin Caron (The Crown)
Jessica Hobbs (The Crown)
Mimi Leder (The Morning Show)
OUTSTANDING DIRECTING FOR A LIMITED SERIES, MOVIE OR DRAMATIC SPECIAL
Lynn Shelton (Little Fires Everywhere)
Lenny Abrahamson (Normal People)
Maria Schrader (Unorthodox)
Nicole Kassell (Watchmen)
Steph Green (Watchmen)
Stephen Williams (Watchmen)
OUTSTANDING VARIETY TALK SERIES
The Daily Show With Trevor Noah (Comedy Central)
Full Frontal With Samantha Bee (TBS)
Jimmy Kimmel Live! (ABC)
Last Week Tonight With John Oliver (HBO)
The Late Show With Stephen Colbert (CBS)
OUTSTANDING COMPETITION PROGRAM
The Masked Singer
Nailed It
RuPaul's Drag Race
Top Chef
The Voice
Source: Read Full Article