For those who believed in her talent since Lootera, Dahaad is a truly rewarding experience, observes Sukanya Verma.
A blurry visual of different stages of a dying bride at the start of every episode serves as a prelude to Dahaad's ominous backdrop and pursuit of a predator at large.
Gradually, as the image grows clearer so does the larger picture driving the series.
A noxious combination of misogyny, casteism and bigotry polluting the air of small town Rajasthan as it collapses under patriarchy's violent grip lends Dahaad's police procedural its abundant layers and significance.
Social commentary and serial killer thriller bundled in one, Reema Kagti and Zoya Akhtar's engrossing eight-part Web series is an intricate study in human behaviour and impulses at the root or receiving end of crime and chaos.
Serial killer stories often follow a formulaic template — troubled individual, traumatic childhood, preying pattern, one tiny slip and it's game over.
Predictable as these machinations may be, Dahaad soaks in the method to the madness.
Ditching suspense for study, the offender's identity is never really a secret.
What interests its writers Kagti, Akhtar and Ritesh Shah is the execution and the environment of a demented mind.
A series of women across different parts of Rajasthan show up dead in a public loo — every single one duped and bumped off the same way, leading a certain cop to believe the mastermind behind all this evil is one and the same.
Sub Inspector Anjali Bhaati's (Sonakshi Sinha) curiosity, competence and care-a-damn attitude towards anyone discriminating against her on the basis of caste makes her a force to reckon with.
Bhaati's formidable aura makes her a natural leader in the eyes of awestruck strangers. It's only natural they'll ask, 'Madam aap ki senior hai kya?'
She has her sagacious superior Devilal Singh's (Gulshan Devaiah) respect and begrudging senior Parghi's (Sohum Shah) attention even if there's always one lackey in the chowki rushing to burn a bunch of incense sticks, like some cleansing ritual, every time she passes by, highlighting how casteist mentality supersedes professional hierarchy within a Constitution abiding system.
Mostly though, it's how the personal and professional lives of these three cops are intertwined as is their interpersonal relationship.
Devi's family life isn't in the progressive space he'd like it to be.
Parghi's dad-to-be is uncomfortable with the idea of bringing a life in such a dark world.
Bhaati's mom is desperately seeking suitors for her couldn't-care-less daughter.
On work front, technically, it is Parghi who has been around longer but Bhaati's seasoned skills make her indispensable to the team.
There's a grace and sensibility in how Zoya Akhtar and Reema Kagti see and seek to resolve life's quandaries.
Where many would see their friction as an opportunity for cheap shot, Dahaad looks at it as a choice between rivalry and doing the right thing.
Equally fascinating is the delicate role model-protégé, boss-junior equation shared by Devi and Bhaati. She's got his backing, but there's no manipulation.
He's impressed by her fearless, fiercely independent ardour but knows where to draw the line.
Dahaad peeks inside the intimate corners of this trio's head yet never invades their privacy for its own thrills.
When we first meet them, trouble is brewing over missing Hindu girls and their purported Muslim beaus held responsible by politicians chanting slogans of 'ghar ki beti ghar rahegi', crying hoarse 'love jihad' and strong-arming police into enforcing reckless judgement.
Another character story brews on the side — of Anand Swarnakar (Vijay Varma), a Hindi literature professor traveling across the region in his self-sufficient van, teaching unprivileged kids for free.
A hands-on father to his school-going son and accommodating better half to a wife (Zoa Morani cannot rise above her wishy-washy part) working night shifts at a heritage hotel, the cordial nature of their relationship is what Dahaad has our curiosity piqued about.
Anand's trajectory in Dahaad almost runs parallel to that of Bhaati's as two people navigating through the extremes of class and morality.
Without giving away any of its bleak details or gritty breakthroughs, let it be said Dahaad's immersive world comes alive in dialogue writer Sumit Arora's pungent penmanship, Tanay Satam's perceptive visuals and perfect casting.
Gulshan Devaiah's quiet exasperation over his domestic woes gently build towards an organic outburst. But his clean cut approach to his professionalism reveals an unshakable work ethic.
The actor excels in delivering a flawless work-home balance without ever disturbing the harmony of either.
Sohum Shah's inner conflict isn't as sharply outlined, but his understanding of Parghi's insecurities is so seamless, what comes forth is remarkably complex.
Vijay Varma is the meat Dahaad draws its strength from. An actor of rare versatility and emotional depth, Varma's ability to keep his audience guessing is a gift that keeps on giving.
'Poori hunterwali hai,' warns a subordinate.
Sonakshi Sinha's tough girl exterior is well suited to play a no-nonsense policewoman but it's her stunning authority while putting people in their place without any add-ons like swaggering background score or slow-motion style that makes her delightfully dynamic and daunting at once.
For those who believed in her talent since Lootera, Dahaad is a truly rewarding experience.
When Rani Mukerji balked at the idea of marriage in Hum Tum> — 'Jab tak ek aurat ki zindagi mein ek aadmi nahi aata, uski zindagi safal nahi ho sakti?' — still holds true two decades later in Sonakshi's outrage in Dahaad.
When it comes to relegating a woman's worth to marriage and pressurising her relentlessly over the same, things are no different for an independent, upper caste, privileged NRI or a lower-caste woman of humble means.
Bhaati is discerning enough to note why the constant indignation by her own over matters of caste, dowry and age compel weak-willed women to lap up the first carrot dangled their way. Though it's rather convenient that only this strain of women fall for the culprit's charms, Dahaad's nervous energy encompassing these exploitations makes it work.
Long form gives space for character growth but leaves room for languid pace and logic loopholes too.
A lot of Dahaad's plot threads hang about loosely while its big reveal backstory never culminates into a satisfying conclusion.
Although the final outcome is more whimper than roar, Dahaad achieves a lot on the strength of a nuanced screenplay and sound acting.
Dahaad streams on Amazon Prime Video.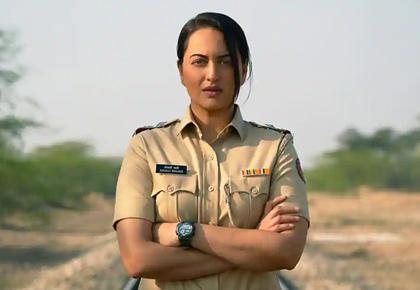 Source: Read Full Article