Rubina says she may even slap Rakhi if she has to, and walk out of the show.
The episode begins with Rubina locking horns with Devoleena and Rakhi over kitchen chores.
It is like a scene straight out of a saas-bahu episode where they accuse each other.
Rubina claims that Rakhi-Devoleena are doing everything to create drama.
Devoleena tries to clear the air, but it takes off to another level with both Rubina and Devoleena losing their cool.
Devoleena gets upset and tells Rakhi that Rubina and Abhinav also talked about their personal life and casually brought up Abhinav's alleged affair with Kavita Kaushik.
Unaware of this track, Rakhi asks for details. Devo tells her she has no idea what really happened between Abhinav and Kavita, but she has no intention to make a big deal out of it.
Rakhi says this is a reality show and if you are a public figure, you should be prepared to parade your personal life.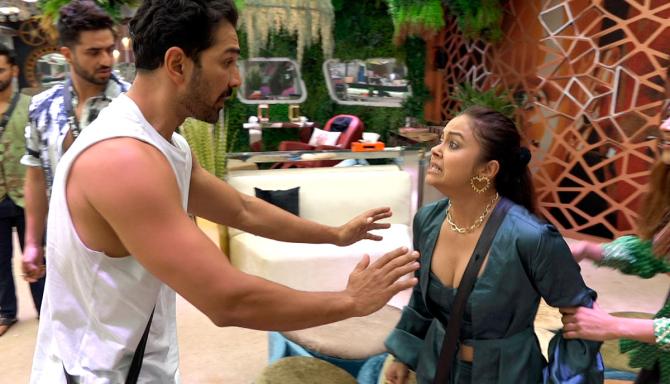 Rakhi then tries to provoke Aly, Rubina and Nikki calling them names and even tries to link Aly with Nikki.
At this point, Rubina intervenes and asks her to stop degrading people for the sake of content.
Abhinav also interrupts and confronts Rakhi why she lies and twists facts so much.
Rakhi challenges the couple to discuss this in the bathroom area and leaves.
Abhinav explains to Rubina not to fall for these gimmicks.
He tries to reason how Nikki and everyone else is trying to fuel the fight so Rubina loses her temper and says something offensive.
When the leaderboard is displayed, Rakhi's bathroom area naturally tops the list followed by Rahul.
Aly and Abhinav discuss that despite Rakhi and Devoleena being in the top list, they won't pick their points because they are doing 'melodrama'.
Aly decides to pick Nikki, but before he can announce his decision, the buzzer rings.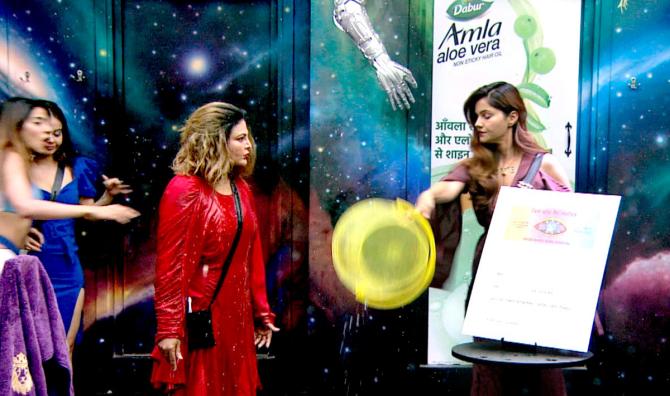 As part of her task, Rakhi provokes Abhinav by calling him 'joru ka ghulam' and 'tharki' in the bathroom area.
Abhinav gets super annoyed with the latter remark.
Rubina empties a bucket of water on Rakhi and tells her to calm down.
Both Rubina and Abhinav accuse Bigg Boss for encouraging her on the show.
Aly and Devoleena try to drive some sense into Rakhi and warn her from crossing the line.
Somehow, the couple seemed more concerned about their image being tarnished than solving the problem.
Even while discussing with Aly, she continues to say that Devoleena is supporting her, which is not true at all.
She says she may even slap Rakhi if she has to, and walk out of the show.
Rakhi tells Devoleena that she was simply doing her task. Rubina amplifies the issue and makes it about her self-respect.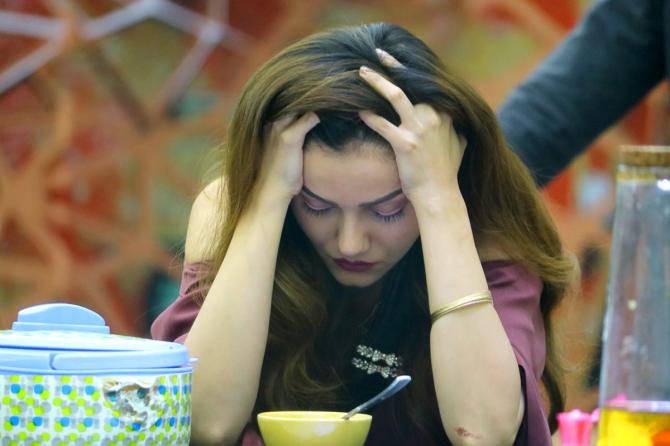 Bigg Boss analyses the task and reveals that Abhinav and Rakhi were engaged in a verbal duel and whatever they speak only reflects their individual personalities and opinions.
Condemning Rubina's violent outburst, Bigg Boss nominates her for the rest of the season.
Bigg Boss further condemns Aly and Abhinav for compromising the task's rules by not competing as contenders, thereby insulting the format of the show.
Rahul confronts Aly saying it was wrong of him to partner Abhinav during the task.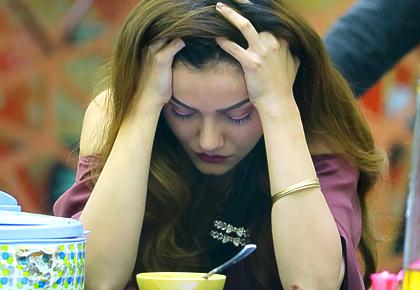 Source: Read Full Article