Varun Dhawan finds a sweet spot between an Ayushmann Khurrana role-meets-a Salman Khan role and makes it his own, notes Sukanya Verma.
He's full of shit.
She's full of smarts.
Together, they embark on a whirlwind journey that is as surprising as it is silly.
Bawaal navigates the course of love and war where honeymoon and history lessons collide.
Unlike the cryptic, bewildering trailer designed to ensure one has no idea what to expect, the actual experience is a lot more calm slice-of-life.
Director Nitesh Tiwari has a knack for creating intriguing characters and scenarios that feel fresh yet familiar at the same time. But the underlying goal behind all their actions — questionable or inspirational — is rooted in wisdom.
Only, the far-fetched ideals of Bawaal are easier said than swallowed.
Linking Hitler's hate and its tragic repercussions on Europe in the aftermath of World War II to a self-absorbed individual's callous attitude, Bawaal not only downplays a historical horror but also simplifies profound knowledge to cursory information when a disgraced high school teacher from Lucknow travels all the way to Europe and provides LIVE lessons in WWII to his students.
Undeterred by the preposterous nature of its plot, penned by significant other Ashwiny Iyer Tiwari, the director gives precedence to the interactions between a nearly-year-long married couple than their itinerary.
Playing on the duality of the sentiment — itihaas hota hi is liye hai taaki apni galtiyon se seekhein — Bawaal fares better when chronicling Ajay Dikshit aka Ajju's (Varun Dhawan) belated coming-of-age and estranged wife Nisha (Janhvi Kapoor) quietly coming into her own while out and about in Paris, Normandy, Amsterdam, Berlin and Poland.
Aside from the cosy cafes and culture landmarks, it's the distressing memories of wartime suffering dominating their tourism.
Tiwari's film-making is rarely marked by visual finesse.
But if Ajju's Christmas Carol-esque epiphanies while revisiting the Holocaust in black and white scenes of battles and bloodshed appear sloppy and tame, one can attribute it to his imagination or lack of it.
But that's only the second half of Bawaal.
Earlier in Lucknow, the indulged and only son of two doting albeit disappointed parents (Manoj Pahwa, Anjuman Saxena) Ajju conceals his mediocre reality in dazzling notions — saleti kabootaron ke beech mein masakali.
A classic case of all sound no fury, the man has built his brand of popularity around tall tales of could have been/should have been — a status quo he's afraid to lose if the truth about his epileptic wife comes out.
Clearly, Ajju has no business being a teacher. Neither does he know a thing about history nor the famous folks in history diagnosed with epilepsy.
Bawaal's treatment of the medical condition as well as a self-conscious Nisha timidly putting up with Ajju's misbehaviour over it is more perplexing than its inscrutable trailer, especially when the grown-ups are all so sensible and sensitive about the whole thing.
No blame games between families or hullabaloo from either side makes for a refreshing change. Also 'divorce koi halva nahi hai' has to be a rare rational line uttered by a Bollywood movie mom.
Of course, Ajju is too cocky for such benefits.
But the hero playing him has a history of behaving like an ass and then getting away with it by showing genuine remorse.
Varun Dhawan finds a sweet spot between an Ayushmann Khurrana role-meets-a Salman Khan role and makes it his own.
There's a zen quality to his co-star Janhvi that never feels a need to assert itself loudly to be heard. It's what makes their gradually improving equation free of screechy filmi fervour.
Despite the uproar in its title, Bawaal is mild even with jazzily-dressed Gujaratis and their love for food thrown into the mix. It's only when things get too schmaltzy for their own good, history is doomed to repeat itself.
Bawaal streams on Amazon Prime Video.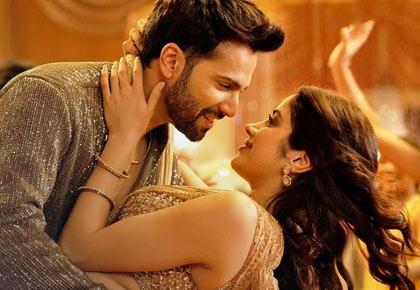 Source: Read Full Article