If Vikrant Massey does not win a National Award for this film, it will be unjust to an actor who has given a performance of such unalloyed brilliance, applauds Deepa Gahlot.
There is a double take moment: A film like 12th Fail, directed by Vidhu Vinod Chopra, gets into Prakash Jha's Hindi heartland territory and emerges with his cinematic abilities, polished and gleaming.
The film is based on a novel by Anurag Pathak, which was inspired by the story of real life IPS officer Manoj Kumar Sharma (played by Vikrant Massey, setting his actor's vanity aside and 'becoming' the character).
In reality, with the severe lack of opportunities in north India, getting government job is a passport to stability.
The aspirations of village boy Manoj are just to pass the 12th standard and get a job as a peon.
Those who cannot manage medicine or engineering, aspire to the civil services not because of any great desire to serve the people but to make 'oopar ki kamaai' (bribes) and command higher dowries for the men.
However, from this muck, once in a while an upright and incorruptible official comes out and it is these people who keep belief in the system alive.
In Manoj's Chambal village school, cheating is encouraged by the teachers because it is owned the corrupt MLA, and the level of education is so low (the teacher writes 'borad' instead of 'board'), there is no other way for the kids to pass.
One day, an honest cop (Priyanshu Chatterjee) arrives, stops the scam and impresses Manoj enough for him to dream of the khaki uniform, without resorting to copying in the exams.
His father (Harish Khanna) has been suspended for refusing to collude in the MLA's scheme of embezzling government welfare funds. The MLA's men come in the way of Manoj and his brother trying to make an honest living by running a jugaad. Lack of finances would have dashed Manoj's dreams but for his grandmother's help (Sarita Joshi).
The money gets stolen, however, and Manoj finds himself broke and hungry in Gwalior, and discovers, to his dismay, that police recruitment has been halted.
A chance meeting with Pritam Pandey (Anantvijay Joshi) leads him to Delhi and a higher aim — the UPSC exam, the holy grail of lakhs of candidates, with barely one percent making it through the three-stage examination process after back-breaking coaching and swotting.
There is a stranger-than-fiction graph to Manoj's progress. He faces seemingly insurmountable hurdles but at every stage, he also gets someone to give him a leg-up.
He is so earnest and innocent that he crashes into homes of people to ask for help and he gets it.
The UPSC exam allows for four attempts, after which that door slams.
For Manoj and Pritam, the living example of the almost-made-it man is Gauri Bhaiya (Anshuman Pushkar), who helps other students and runs a tea stall called Restart.
Manoj meets rich girl Shraddha (Medha Shanker), who is able to see beyond his simple clothes and menial jobs and love him for his never-say-die persistence — the hope that gives him the strength to work in a flour mill for 15 hours, study under a single bulb and get by on three hours of sleep.
In the village, his mother (Geeta Aggarwal Sharma) and siblings struggle with poverty.
Manoj's story is real (their photographs accompany the end credits), and it is that of a winner.
But it could have just as easily ended in failure; the power of Chopra's writing (with Pathak and Jaskunwar Kohli) and direction plus Massey's acting lies in making the viewer not even want to contemplate that eventuality.
12th Fail ticks all the boxes of the underdog-to-victor story and still gives it heart-wrenching emotional force.
If Massey does not win a National Award for this film, it will be unjust to an actor who has given a performance of such unalloyed brilliance.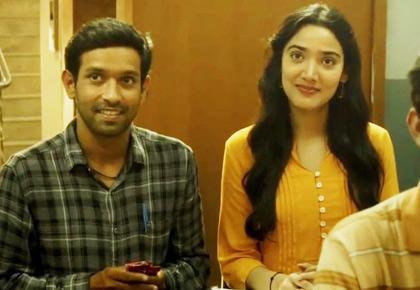 Source: Read Full Article