How do teams get to the semi-finals? Will there be a reserve day for the final? How much will teams get for winning each round robin game?
Group Format
Played in the same format as World Cup 2019, the 10 teams at World Cup 2023 will play every side once in a single round robin format, with the top four teams going on to the semi-finals.
The top team after the round robin will play the team finishing fourth on the table, while the second and third-place finishers will meet in the other semi-final.
The winners of each semi-final will meet in the final.
Points needed for a team to reach the semi-finals
Taking a look at the 2019 competition, seven victories from nine games should be enough to guarantee a semi-final spot.
Assuming little to no inclement weather, six wins could place teams in a precarious spot.
If teams are level on points, total wins is the next tie-breaker, with net run rate the next factor to consider when differentiating teams.
To use 2019 as an example, New Zealand edged Pakistan to fourth spot on net run rate after both teams finished on equal points (11) and equal wins (five), with the pair also taking a point from a no-result.
A scenario with at least three teams on six wins would likely mean a team misses out on net run rate, so seven wins should be the minimum goal for teams vying for the trophy.
How Teams Qualified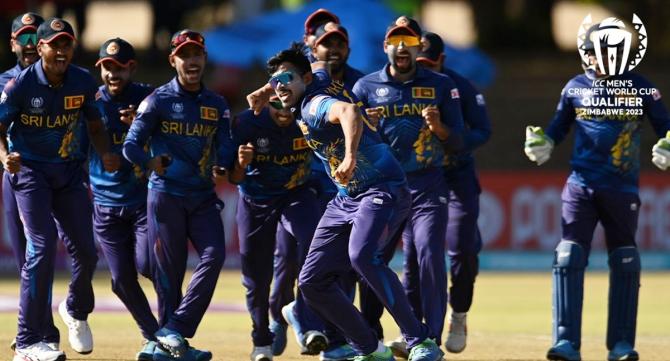 After India qualified as hosts, the next seven teams were decided by finishing positions in the ICC Men's World Cup Super League, a three-year competition where 13 teams played eight three-match bilateral series each.
New Zealand, England, Bangladesh, Pakistan, Australia, Afghanistan and South Africa all progressed to World Cup 2023 via a top eight position in the competition, while the bottom five went on to the World Cup Qualifier, joining others from League 2 and the Qualifier Play-off tournament.
Sri Lanka and The Netherlands, after finishing 10th and 13th respectively in the Super League, went on to progress to World Cup 2023 via the Qualifier.
Sri Lanka went unbeaten in the group play and in the Super Six stage to go through, while The Netherlands qualified by squeezing past Scotland and Zimbabwe on net run rate in the Super Sixes.
The Dutch chased Scotland's 278 quick enough to overtake them and book their India tickets.
Reserve Days
The World Cup 2023 semi-finals and final will have a reserve day.
Should they need to be taken, games on reserve days will take place a day after their originally scheduled match date.
Prize money
The winners will take home $4 million, with the runners-up winning $2 million.
Teams will collect $40,000 for every group stage win.
Source: Read Full Article