Ten iconic venues across India will play host to the 13th edition of the Cricket World Cup, starting in Ahmedabad from October 5.
From Dharamshala to Bangalore, millions of fans are all geared up to watch the finest the global game has to offer.
A re-run of that unforgettable 2019 final opens the tournament as defending champions England take on New Zealand, runners up four years ago, while India's opening match is against Australia in Chennai on October 8.
Check out the World Cup 2023 venues:
Narendra Modi Stadium, Ahmedabad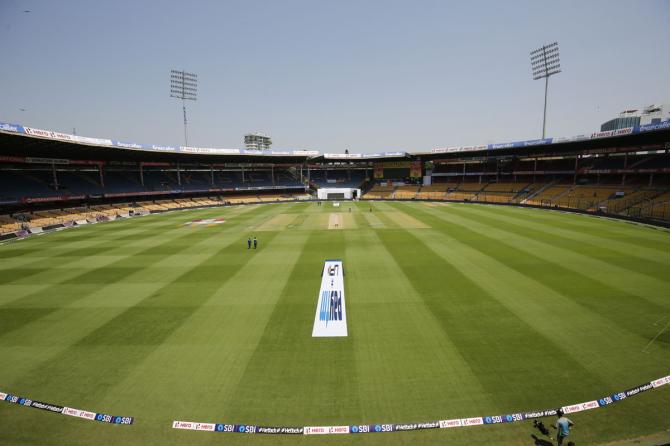 With boundary sizes of around 65 metres, M Chinnaswamy Stadium is expected to offer some of the highest-scoring innings of the tournament.
Records could be broken in a repeat of 2011, where Kevin O'Brien crashed the fastest hundred in an ODI World Cup in just 50 balls as Ireland chased down 328 to beat England.
The stadium has been home to the National Cricket Academy since 2000, producing some of the finest international Indian talent seen this century.
M A Chidambaram Stadium, Chennai
Situated next to the Indian Ocean, the M A Chidambaram Stadium will provide one of the most humid climates across all venues.
In 1952, India registered their first-ever win in Test cricket when Vijay Hazare's team defeated Donald Carr's England.
The first-ever tied Test match was played between India and Australia in 1986 at the 38,200 capacity stadium that sits just two kilometres from Marina Beach.
Arun Jaitley Stadium, Delhi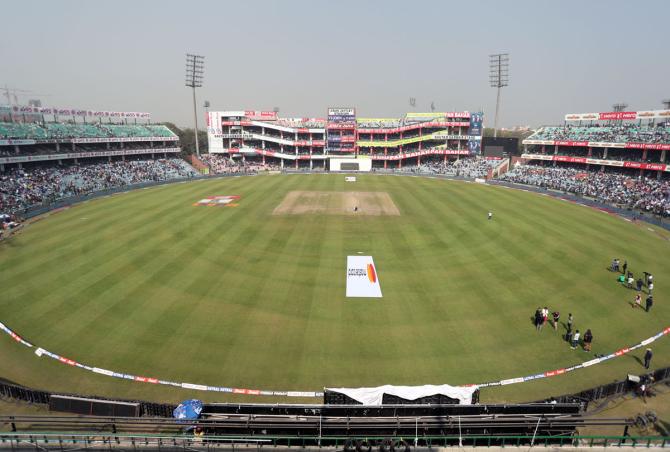 New Delhi boasts one of the most historic venues in the country.
Sachin Tendulkar broke Sunil Gavaskar's record for most Test centuries when he brought up his 35th ton in a 2005 match against Sri Lanka.
The stadium formerly had the reputation of producing slow pitches but, following a renovation of the square, the pace has picked up with totals to match.
Himachal Pradesh Cricket Association (HPCA) Stadium, Dharamsala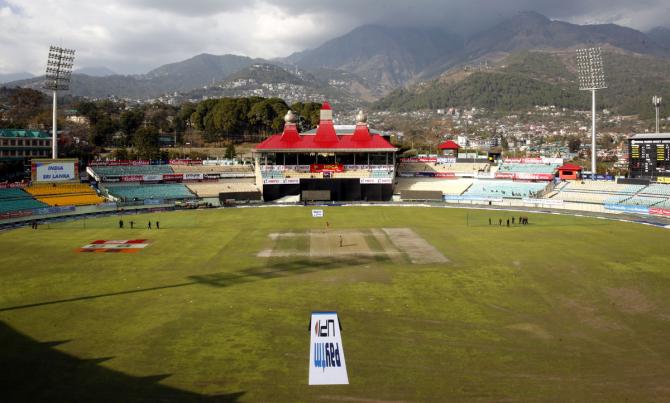 With its picturesque views, Himachal Pradesh Cricket Association Stadium is one of the newest stadiums in the country.
The venue has been a regular feature in India's home international calendar since 2013, when England visited for an ODI.
With a 64-metre boundary, fans are at the heart of the action and high-scoring innings can be expected in the stadium's opening game between Afghanistan and Bangladesh.
Eden Gardens, Kolkata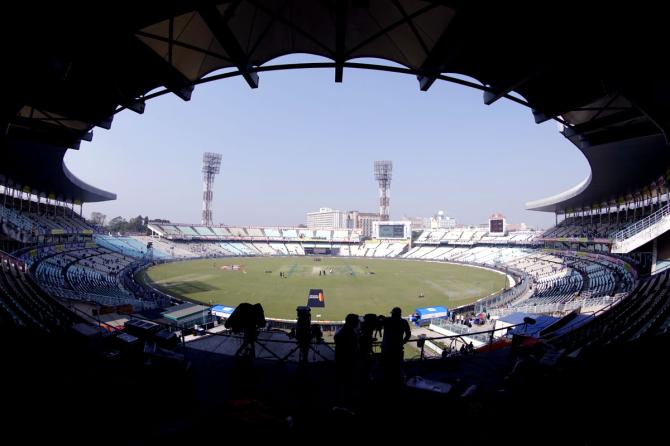 Before the Narendra Modi Stadium's renovation, Eden Gardens held the title for the largest venue in India with a capacity of 68,000.
It was the first stadium that hosted a World Cup final in 1987 after Lord's hosted the first three.
The lively pitch and breezy conditions next to the Hooghly River are sure to rustle up some stunning ODI clashes, as well as a World Cup semi-final meeting.
Bharat Ratna Shri Atal Bihari Vajpayee Ekana Cricket Stadium, Lucknow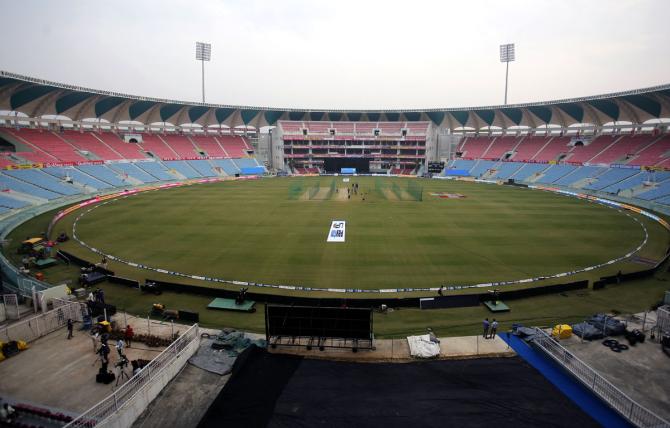 Lucknow's cricket stadium, built in 2017, has not hosted a huge number of international matches before but the conditions are primed for the ICC Men's Cricket World Cup 2023.
The square has had extensive renovation since the Lucknow Super Giants claimed the stadium as their home venue.
The stage will be set for Australia vs South Africa on 12 October, where history will be made as the stadium hosts its first-ever World Cup fixture.
Wankhede Stadium, Mumbai
India's 'cricket capital' boasts another colossal venue which will act as a host to the other semi-final.
The distinct red-soil pitch has seen some monumental feats in the sport since it was built in 1974.
From Sachin Tendulkar's masterful innings in the 1996 Men's Cricket World Cup to left-arm spinner Ajaz Patel's 10/119 bowling figures for New Zealand against India, the venue is used to providing magical moments.
MCA International Stadium, Pune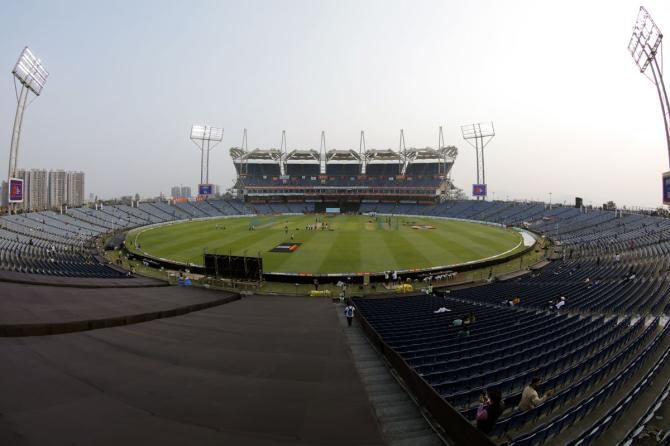 Nestled in a secluded area on the outskirts of Pune, the stadium hosted its first international game when India took on England in 2012 — it was granted Test status in 2016.
Players and fans alike flock to the 42,700-capacity stadium for its ability to conjure huge scores.
The hosts will take on Bangladesh when it stages its first 2023 ICC Men's World Cup clash on 19 October.
Rajiv Gandhi International Stadium, Hyderabad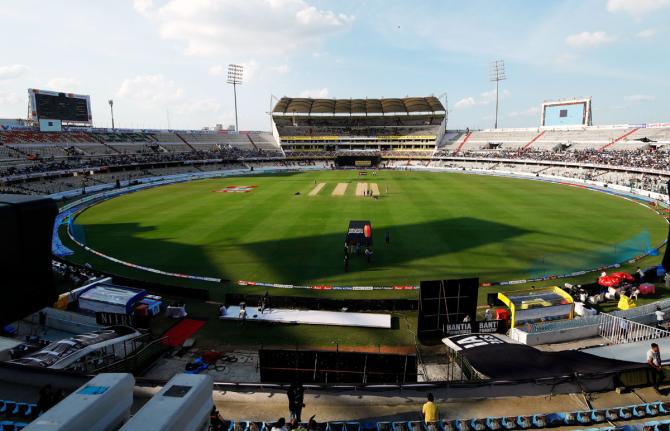 Before the Rajiv Gandhi International Stadium was built in 2005, all international cricket in Hyderabad was played at the Lal Bahadur Shastri Stadium.
The 39,200-capacity venue's popularity has sky-rocketed over 18 years and it lays claim to the rise of the Sunrisers Hyderabad who have established themselves as a strong IPL force for nearly a decade.
A total of three matches will be played in October at the stadium including Pakistan vs Sri Lanka on 12 October.
(ICC 2023)
Photographs: BCCI
Source: Read Full Article