Makes more sense to play five bowlers than extra batsman, says Bharat Arun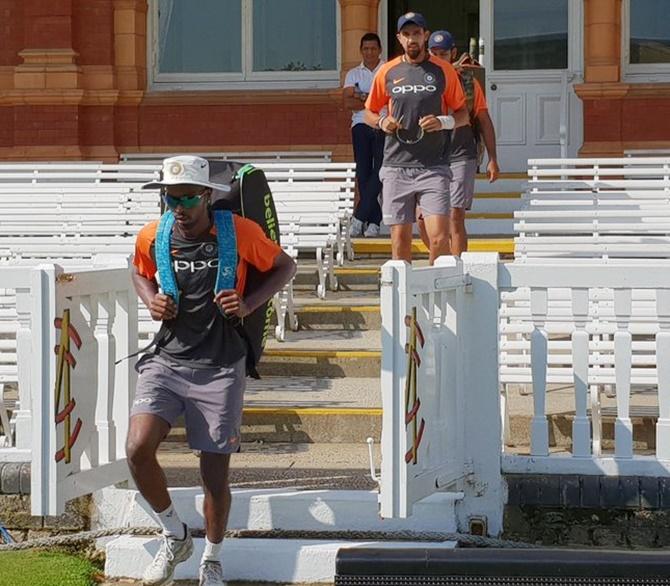 Playing an extra batsman in the second Test against England will be a 'conservative move' with the Lord's pitch looking more bowler-friendly than Edgbaston, feels India bowling coach Bharat Arun.
India lost the first Test by 31 runs and the second Test will start at the 'Home of Cricket' from Thursday.
Interestingly, Sunil Gavaskar has been the biggest advocate of playing an extra batsman after India's poor show in the series opener.
"Playing an extra batsman here, I would consider it as a conservative move. I think everything depends on the conditions and they are not going to be as friendly as it was in the first Test, it makes more sense to play five bowlers (here)," Arun said during a press conference.
The Indian batsmen were seen pushing hard at swinging deliveries but Arun defended them.
"The batsmen played a lot forward in Birmingham and they did it in the practice game as well. They feel they have a lot more options in doing that rather than staying back inside the crease," Arun said.
He further explained the reason for expansive front foot movement.
"You are cutting the amount of swing that the bowler can get by going further up and closer to the ball. I guess it worked pretty well for the batsmen (thus far)," he added.
\
Arun also expressed his satisfaction after the bowlers once again took 20 wickets in a Test match outside sub-continent. This is the fourth consecutive Test match after three in South Africa where the bowlers have taken 20 wickets.
"We can't ask for anything better. There is still room for improvement but the bowlers did a good job. There was huge improvement from the first innings to the second and that was extremely welcome," he said.
The square at the Lord's (venue for the second Test) bore a dry look on Tuesday, with a variety of heavily used wickets.
Arun said that any call on team combination will be taken on Wednesday.
"We will take a call tomorrow. We will take a look at the wicket but our bowlers have done extremely well in the last game. So we really need to look at any change in strategy depending on the wicket."
He didn't divulge if an additional spinner in Ravindra Jadeja or Kuldeep Yadav will come into play.
"It's a good choice (to pick between Kuldeep Yadav and Ravindra Jadeja), a tough one too. Depending on the conditions and the team, we'll take a call on that," said Arun.
Hardik Pandya bowled only 10 overs in the first innings at Edgbaston and none in the second but Arun thinks that it's a good sign.
"The less Hardik bowls, it augurs well for the team because it means other (specialist) bowlers have done very well. I am not taking any credit from Hardik. But he did an exceptionally good job for us in South Africa and I don't see any reason why he shouldn't come to the part here," he added.
The coach also defended Umesh Yadav, who was erratic in the first innings.
"Umesh is at his best when he is bowling quick. In the first innings, he was more looking at bowling to one line. But in the second innings he was being himself," he signed off.
Source: Read Full Article