Sweden hero Musovic lost for words
Sweden goalkeeper Zecira Musovic emerged as the hero as her team beat the United States 5-4 on penalties to knock the defending champions out of the Women's World Cup on Sunday.
The 27-year-old kept the Scandinavians in the match, making 11 saves before the shootout to deny the Americans and ensure the game ended 0-0 after extra time.
"I'm at a loss for words. I don't know what to say except that I am extremely proud that we persevered against an extremely strong U.S. that pressed for 120 minutes," Musovic told reporters. "We're not going home yet."
Sweden captain Magdalena Eriksson praised the Chelsea keeper.
"Zecira had a great game, we hung on, and we were in the game, and then anything can happen," she said in a radio interview.
"I think it shows the character in the girls today, our play wasn't working but we didn't give up, we battled on, we defended our area very well."
Lina Hurtig struck the winning spot-kick, though U.S. goalkeeper Alyssa Naeher parried the ball on the line and the result needed to be confirmed by VAR.
"She saves it but I get a hell of a backspin on it and don't see if it goes in but my first reaction is that it's in," Hurtig told Swedish newspaper Aftonbladet.
The Swedish players admitted they endured a nervous wait.
"I told Sofia (Jakobsson) that I couldn't bear to watch. I had my forehead on her shoulder," forward Fridolina Rolfo said.
"But she said I had to watch. And then it becomes so special, with an eternal wait for the announcement."
Sweden play Japan in the quarter-finals on Friday.
Megan Rapinoe's World Cup career comes to tearful end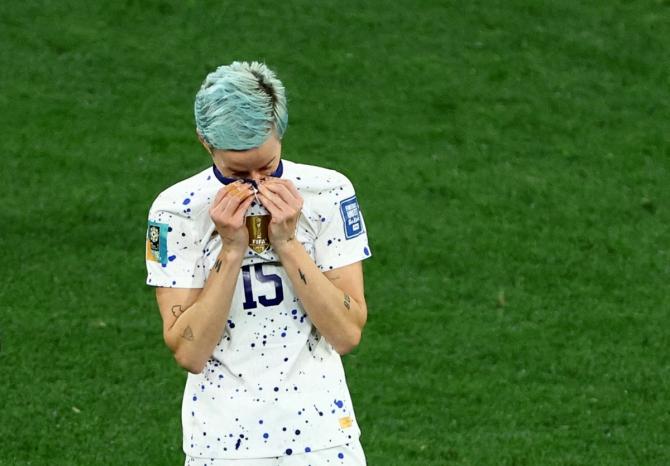 Megan Rapinoe did not get the Women's World Cup farewell she wanted on Sunday, a penalty that sailed over the crossbar the last international play by one of the United States' most decorated players.
American soccer's charismatic figurehead was sent on as a substitute in extra time but the last-16 game against old foes Sweden ended 0-0 before the Swedes won the penalty shootout 5-4.
Rapinoe was of three American players to miss her spot-kick.
"This is the balance to the beautiful side of the game. I think it can be cruel and (it was) just not our day," Rapinoe told Fox Sports.
"I still just feel really grateful and joyful."
Renowned for her reliability as a penalty taker, Rapinoe said missing one in the final moment of her career felt like "a sick joke".
She tearfully embraced her coach on the pitch before linking up with her team mates one last time while the Sweden players celebrated to Abba's "Dancing Queen".
"I've loved playing for this team and playing for this country. It's been an honour," she said.
Rapinoe won the Golden Boot, Golden Ball and Ballon d'Or for her role in the United States' victorious 2019 World Cup campaign and her personality and activism off the pitch took her star to new heights in a country where not many female soccer players have achieved household fame.
"I've always tried to play the game the right way and to go about things the right way," she told reporters in Auckland.
"I've always tried to use whatever platform we have – and this platform obviously was built long before I got here."
The 38-year-old Rapinoe played few minutes at her fourth World Cup, embracing a role largely as a mentor to a young and inexperienced U.S. team after playing a key part in helping the team win the 2015 and 2019 world crowns.
Her most memorable moment, however, came in 2011 when she sent a laser-like cross to Abby Wambach in the quarter-final against Brazil to set up what was voted the greatest goal in the history of the tournament.
Rapinoe plans to finish her club season with National Women's Soccer League side OL Reign before retiring and shows no signs of retreating from public life after a career spent championing social causes.
She was a leading voice for the U.S. players in their pay equity fight against their federation in 2019, the effects of which were still being felt at the 2023 tournament, as teams from around the globe fought for better pay and conditions.
Source: Read Full Article