In its submission to Parliament in July 2022, the minister of youth affairs and sports had informed that of the 30 sexual harassment complaints received by the Sports Authority of India since 2017, necessary action had been taken in all 30 cases.
However, recent protests at Jantar Mantar by wrestlers against Wrestling Federation of India President, Brij Bhushan Sharan Singh, show that the problem goes beyond SAI.
Singh, who is also a member of Parliament from the ruling dispensation, was accused of sexual harassment by wrestler Vinesh Phogat, who won a gold medal in the 2022 Commonwealth Games.
In fact, a parliamentary committee report on empowerment of women from February 2019 noted that the number of cases 'could be higher as many times cases against coaches also might have gone unreported/not complained against'.
An analysis by Business Standard shows that incidents of sexual harassment complaints have stayed in single digits through the years and have lowered since the pandemic.
While a total of 45 complaints were registered between 2010 and 2019, 21 of those were registered in the three years from 2017 till 2019.
On average, 3.4 complaints were registered every year between 2010 and 2016.
In the three succeeding years, the count doubled to an average of seven complaints per year.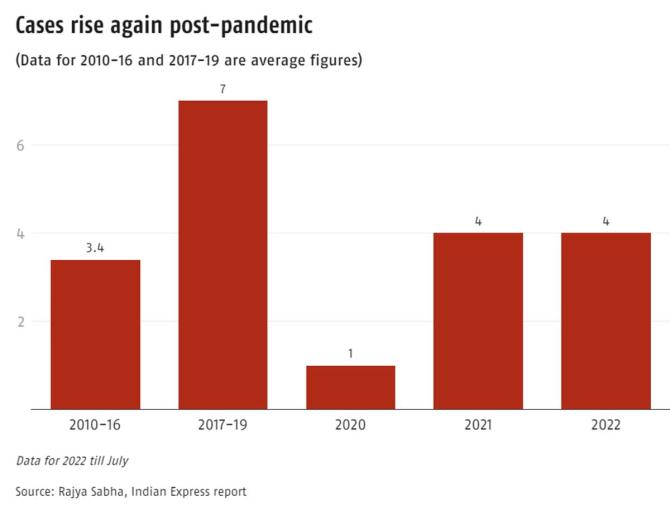 In 2020, only one complaint was registered, whereas four were registered in 2021.
In the first seven months of 2022, four complaints were registered.
A reason may be the absence of information to players.
A 2020 report by the Parliamentary Standing Committee had found that despite a recommendation to provide a letter of information on code of conduct, how and where to file a complaint, to each player the ministry was 'silent' on the process.
Feature Presentation: Ashish Narsale/Rediff.com
Source: Read Full Article