PV Sindhu claimed a second successive World Championships final spot after seeing off a fighting Akane Yamaguchi of Japan in straight games at the women's singles semifinals.
Olympic silver medallist P V Sindhu continued her incredible run of form in the World Championships, earning a second successive final spot after seeing off Japan's Akane Yamaguchi at the women's singles semifinals in Bengaluru on Saturday.
World number three Sindhu, who had finished runners-up at the Glasgow edition last year after losing to another Japanese Nozomi Okuhara in an epic summit showdown, notched up a superb 21-16 24-22 win over world number two Yamaguchi in a 55-minute hard-fought match.
"It was a good match overall. I hope this time it would be a better result then the last time. I have to prepare well for tomorrow, so its not yet over," Sindhu said after the match.
Sindhu entered the match with a 6-4 head-to-head record against Yamaguchi, who had defeated the Indian in big-ticket events such as All England Championship this year and Dubai Superseries Final last year. The duo faced off twice this year with each registering a win.
"We know each other's game, we play very often, we played at the All England Championship. So we needed to be patience and consistent to win. I was prepared for long matches because both Yamaguchi and Okuhara are very good players and can go on and on in the rallies," Sindhu said.
"So I had to be on the court always. In the second game when I was down, I still had hope that till the last point it wasn't over for me, so I kept trying. I had to work hard to get each point."
The 23-year-old from Hyderabad, who also won two bronze medals in 2013 and 2014, will face Olympic champion and former two-time gold medallist Carolina Marin of Spain tomorrow.
Marin had robbed Sindhu off a gold medal at the Rio Olympics after defeating the Indian in the summit clash.
Overall, Marin has a 6-5 advantage over Sindhu, who had beaten the Spaniard in their last encounter at the Malaysia Open in June.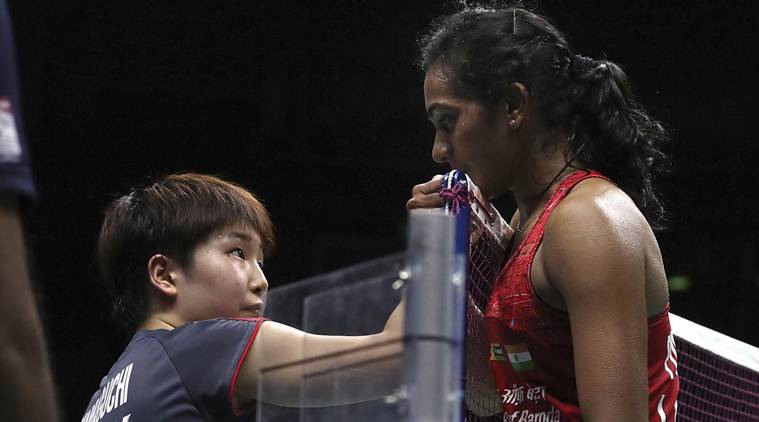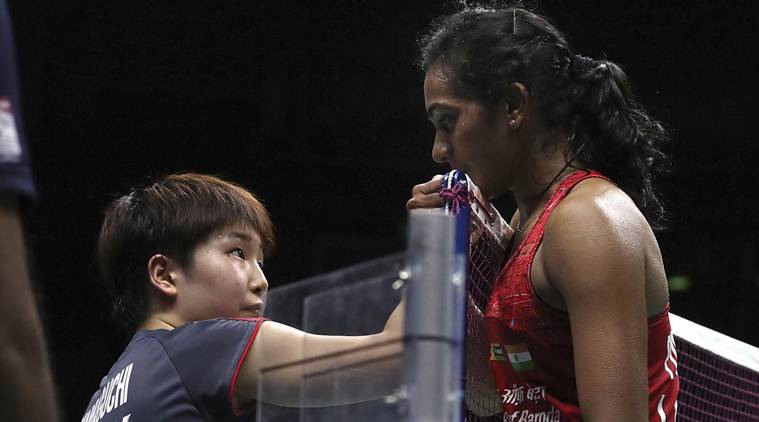 "Tomorrow is going to be an aggressive match. Again we know each other's game, so no easy matches, no easy points, just have to turn up and give my best tomorrow," Sindhu said.
Marin today beat Chinese eighth seed He Bingjiao 13-21 21-16 21-13 to make her third World Championship final.
Sindhu looked a bit nervous and took time to get into the groove, resulting in Yamaguchi racing away to a 5-0 lead.
The Indian earned the first point with a precise smash but a couple of wide strokes on both sides of the court helped the Japanese move to 6-3.
At 4-8, Sindhu reeled off five straight points to grab a 9-8 lead. However, the Japanese managed to hold a slender 11-10 lead at the break after Sindhu failed to cross the net.
After the breather, Sindhu stepped up her retrieving skills and covered the court better as Yamaguchi tried to put the shuttle close to the lines and ended up committing many unforced errors.
At 10-12, Sindhu rode on eight straight points to reach 18-12. However, she went out twice and also sent the shuttle long once to allow Yamaguchi make a recovery.
However, the Indian eventually grabbed four game points after capitalising on a weak return from the Japanese and converted it immediately when Yamaguchi faltered at the forecourt.
Just like the opening game, Sindhu again lagged 2-6 initially in the second game, before the Indian managed to reduce the gap to 7-8. But after Sindhu went out Yamaguchi unleashed a whipping cross court smash and one at the back court to move to the interval with a 11-7 advantage.
The Japanese extended the lead to 14-9 with two precise smashes. But she went long thrice after that and Sindhu too found the net twice. It was 16-12 advantage for Yamaguchi at that point.
Sindhu then scripted an incredible recovery from 12-19, reeling off eight straight points to grab one match point. Yamaguchi saved one before holding a game point herself. However, the Japanese goofed up during the serve to squander her advantage.
After another intense rally, Yamaguchi went long to hand over Sindhu a second match point but what ensued next was the longest rally of the contest, comprising 41 shots, which ended with Sindhu hitting wide.
However, Yamaguchi hit wide again to gift Sindhu her third match point and this time she converted it after the Japanese went wide again.
Shi faces Momota
Third-seeded Shi Yuqi of China beat two-time world champion Chen Long 21-11, 21-17 Saturday to reach the final of the badminton world championships, where he will face Kento Momota of Japan.
Shi looked sharp in the semifinal, returning smashes with ease and forcing his more experienced opponent into difficult shots.
He put his victory down to support off the court.
"I'm very confident because my relatives and friends from my hometown have come to support me," Shi said.
It was Shi's second straight win against Chen, after starting his career 0-4 with the 2016 Olympic champion.
This tournament could represent a possible changing of the guard for the Chinese men, as Shi also beat six-time champion Lin Dan in the round of 16.
The 22-year-old Shi's biggest career win to date was winning the All England Open title in March after losing the 2017 final of the same tournament.
Facing Shi in the final will be No. 6 seed Momota, who defeated unseeded Daren Liew of Malaysia 21-16, 21-5.
"Shi Yuqi is very comprehensive and able to defend," said Momota. "Tomorrow I will control my pace in front of the net."
Momota has been in top form since returning from a gambling-related suspension that sidelined him for 15 months and caused him to miss the Rio de Janeiro Olympics.
He won the Indonesia Open in July and the Asia Championships in April, during which he defeated Shi in the only match the two have played against each other.
Momota is looking to become the first Japanese man to win the world championships in their 41-year history.
For all the latest Sports News, download Indian Express App



Badminton World Championships Highlights: PV Sindhu wins 21-14, 21-9 to enter next round




Badminton World Championships: India look to make a mark in Nanjing
Source: Read Full Article