India's Head Coach Rahul Dravid has no hesitation in admitting that his side's World Cup semi-final against New Zealand on Wednesday would be a high-pressure game.
India ended the group stage of the competition unbeaten with flawless nine wins on the trot after defeating the Netherlands by 160 runs in Bengaluru on Sunday.
"I would be in-authentic if I say that there will be no pressure of semi-final. You have no guarantees to win any game of cricket. What you can do is prepare the best you can, and we've been doing that," Dravid told Star Sports after India's thunping win over the Netherlands.
India's World Cup hopes cling to the last two knockout matches and Dravid is aware of the burden of expectations.
"When it's going well it looks good. One loss and everyone says you don't know anything," Dravid replied when told about how the broadcasters were analysing his performance in the league games.
Dravid was particularly happy with how Shreyas Iyer has been showing consistency at the back-end of the tournament.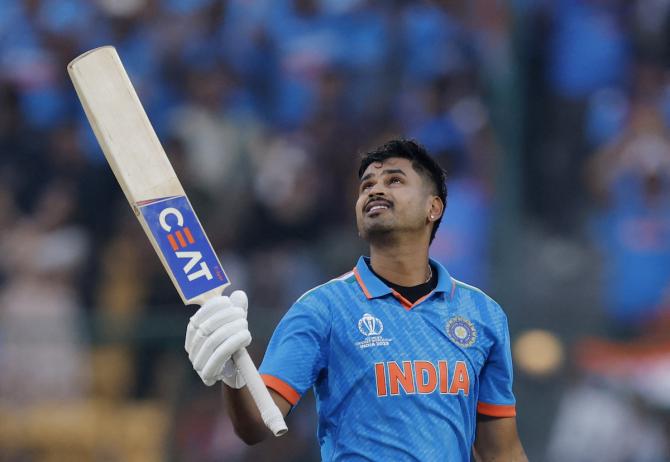 "Shreyas Iyer is the backbone of our middle order, and we all know how tough it has been for us to find a good No. 4 batter for the last 10 years," Dravid said.
Speaking on Saturday, Dravid told reporters Iyer brought a calm temperament to the table in the high-pressure role.
"You just look at even some of his knocks under pressure, how he's able to actually bring the best out of himself under those pressure situations," Dravid said.
"Everyone will have areas they need to work on and improve. There's no complete batsman who can say 'I know everything'. At the end of the day, you have to be judged by the results you produce, the runs you score and when you score them."
Netherlands all-rounder Roelof van der Merwe said India's domination in the group stage put them in a strong position for Wednesday's semi-final against New Zealand in Mumbai.
"India are a well-balanced side. They have match-winners all the way through. They've shown it in this World Cup," said Van der Merwe.
"They're going to be a tough team to beat. The other teams also, South Africa have got match-winners and the consistency of New Zealand and Australia … It's going to be interesting, but I think India do shape up well."
Source: Read Full Article