If guts and grit win Grand Slam titles just hand the Wimbledon trophy to Andy Murray right now.
Of course it doesn't work like that though and the Scot must come back on Friday to earn a spot in the third round after an epic battle with Greek powerhouse Stefanos Tsitsipas was halted with the clock approaching 11pm local time on Thursday.
The scoreboard under the lights showed Murray leading the hard-fought contest 6-7(3), 7-6(2), 6-4.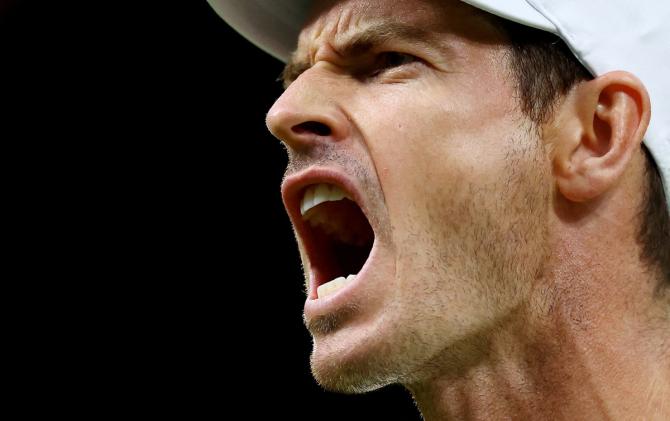 It had been a fascinating match played out in a heady Centre Court atmosphere with nothing to separate twice champion Murray and his flaxen-haired fifth-seeded opponent.
Whisper it quietly, but there have been times over the past 19 years that much of the Wimbledon crowd has not always found it easy to take to the passionate Scot.
Today, Murray is nothing short of a National Treasure, having famously ended Britain's 77-year wait for a home men's singles champion in 2013, and the Centre Court crowd roared their appreciation throughout in the chill of London's evening.
The younger man by a dozen years, Tsitsipas has never got past the fourth round in five previous visits and despite his more youthful legs – and Murray's metal hip – it was the Scot who looked more comfortable moving around the slick surface.
There was so very little to choose between the two combatants in the opening set – just two points separated them, Murray winning 37 points and Tsitsipas 39.
But the Greek won when they mattered as it came to an almost-inevitable tiebreak.
One of his 21 clean winners in that opening set came to punch through Murray's defences for a 4-3 lead in the tiebreak.
Two points later he held three set points at 6-3, and converted on his first by out-manoeuvring the Scot to take a one-set lead after just shy of an hour's play.
Time and time again over the years, though, Murray has shown he is hewn from granite and he slugged toe-to-toe with the younger man.
The clock ticked, the games rolled over and once again the set entered a tiebreak and this time Murray was not to be denied, levelling the match with a roar and an air-punch and Centre Court jumped to its feet.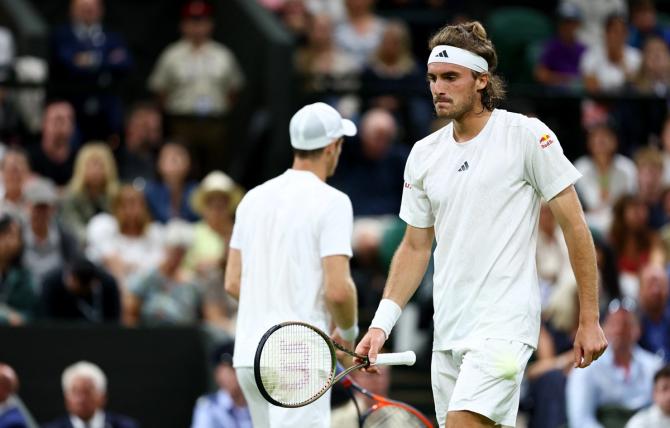 The heady atmosphere seeping into every cubic inch of the arena hung in the air and when play resumed for a third set Murray broke the mighty Greek serve for the first time in the match to burst out of the gates into an early lead.
It was one he would not relinquish and at 10:38pm he fired a service that Tsitsipas could only return long.
Murray sat in his seat, looked at his team in the stands and waved his hand in a 'call it' gesture as the umpire announced play would be suspended until Friday.
The break could hardly have come at a better time for Murray who had just been wrong-footed and yelped in pain as he slid to the ground.
Tsitsipas stalked off court while Murray collected his bag and the crowd roared their appreciation as the night-time clash ended on a cliff-hanger.
Source: Read Full Article