India vs England (IND vs ENG) 4th Test Live Cricket Score Streaming Online Updates: England were 131/2 at Lunch on Day 5, chasing 368 in the fourth innings.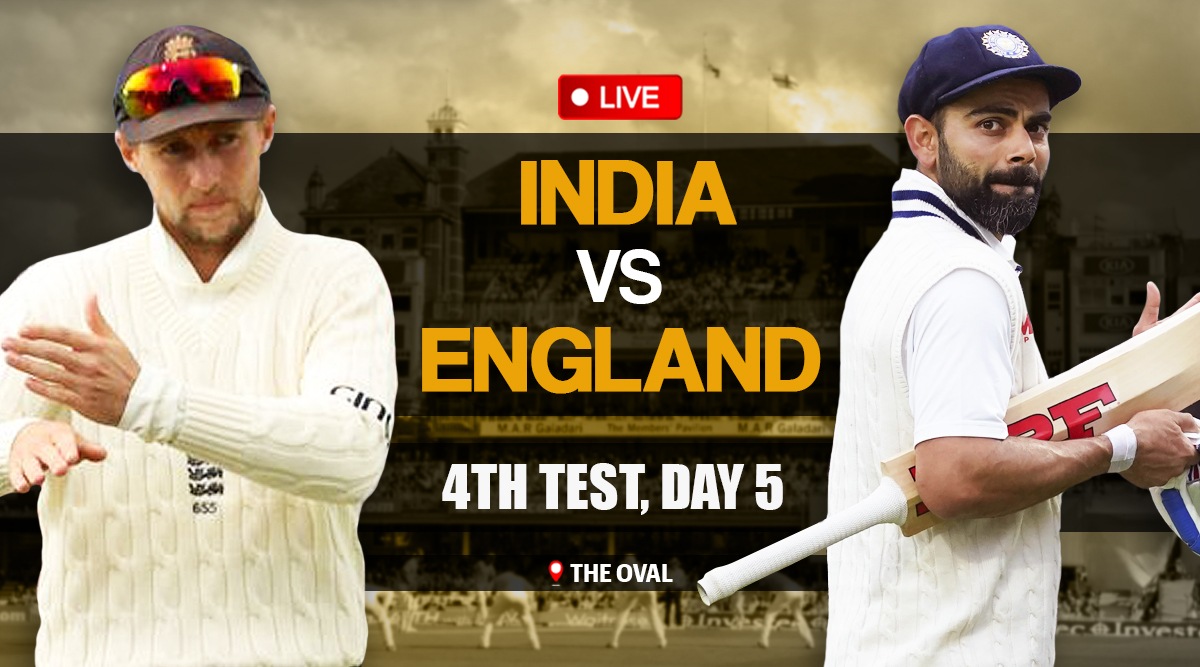 India vs England (IND vs ENG) 4th Test Live Cricket Score Online Updates: All four results — an England win, an India win, a draw and even a tie – are possible on this final day of the 4th Test of this ongoing series. England were 77 for no loss at stumps on the fourth day of action, chasing a mammoth target of 368 in the fourth Test of the five-match series against India.
England needed 291 runs in three sessions. India needed 10 wickets. Rory Burns was dismissed by Shardul Thakur in his first over of the day, before Dawid Malan was run out by his partner Haseeb Hameed. At Lunch, England were 131/2, needing 237 more runs to win
India (Playing XI): Rohit Sharma, KL Rahul, Cheteshwar Pujara, Virat Kohli (c), Ajinkya Rahane, Rishabh Pant (w), Ravindra Jadeja, Shardul Thakur, Umesh Yadav, Jasprit Bumrah, Mohammed Siraj
England (Playing XI): Rory Burns, Haseeb Hameed, Dawid Malan, Joe Root (c), Ollie Pope, Jonny Bairstow (w), Moeen Ali, Chris Woakes, Craig Overton, Ollie Robinson, James Anderson
India vs England 4th Test Day 5 Live:
How will the second session go? Nasser Hussain says England would look to not lose wickets, at least till the drinks break after the first hour. England can go for the win in the final session, when India will tire, if they have wickets in hand, says Nasser.
India throw in Umesh and Siraj for short spells before Lunch. One imagines Bumrah will be running in with his tail up in the afternoon session. For now, Root and Hameed look to defend till the Lunch break. The couple of wickets in the morning session has swung the momentum in India's favour. Going by the volume of chatter from the centre, India think they can win this match.
Root joins Hameed. There's around 15 minutes left in the morning session. Hameed, while still out there, is not looking like the safest batsman. Burns and Malan, both of whom are now out, both looked better prospects for England. The last hour has seen India putting pressure on the English top order, resulting in the run rate going down, and signs of pressure telling. Can England come up with the stomach for a fight?
ENG 121/2
Malan was run out by Hameed, is the verdict from the commentary box. There was no run there, not even in a T20, says Sunny G.
Is that a run out? Malan's expression reveals he does not think he was in the crease. India celebrate. Hameed calls Malan for a run, Malan responds, and is found short. Finally the 2nd wicket, at the stroke of Lunch.
ENG 120/2
Here's how dangerous Jadeja is looking on occasions:
Dropped catch! Hameed slogs Jadeja. Siraj, at mid-on, fumbles the sitter. Jadeja can't believe it! India should have had a second wicket there. Should have! The run rate has come down with Shardul and Jadeja operating, and the pressure almost told on Hameed. Almost.
ENG 112/1
Malan comes in at 3. India bring on Jadeja to capitalize on the rough in front of the left-hander. Hameed gets to his 50. He has not been fluent today, but he has been more compact than he has looked all through this series. Perhaps the last time he looked so compact in England's whites was in Ahmedabad in 2016.
Shardul into the attack now. Burns again flicks off his pads to get another four. A couple of runs to follow, takes Burns to his 50. He has overtaken Hameed and gotten to the mark before him. But next ball, he is gone! He nicks behind to Pant. Shardul draws first blood!
ENG 100/1
A half-hearted appeal as Hameed looks to flick a ball from Umesh on the leg side and Pant collects but no Review taken. Burns now nurdles one of his pads to get four to fine leg. Umesh is straying on the leg side.
ENG 92/0
Burns, like yesterday, gets the first boundary of the pair. Opens the face of his bat against Umesh and the ball runs down to the third man fence. Hameed also looking solid in his defence, approaching his 50.
ENG 85/0
Hameed and Burns resume England's vigil on Day 5. Umesh Yadav bowls the first over of the day.
ENG 78/0
It's a bright sunny Day 5 at The Oval. Which means the pitch might even get better for batting. Will England pull off one of the greatest 4th innings chases ever? Will India have enough ammunition to put them under pressure?
For understandable reasons, a considerable fraction of the pre-day talk today has been on Jadeja.
Like Shardul, who says, "We're into the last day and the game is equally poised. Both teams are pushing hard for a result, you can't expect a lot more. All we need is an early wicket, or even if we get a couple of wickets in the middle, the pressure will be on them. We'll need to keep pushing them back. There can be a bit of reverse swing with the older ball, there's enough footholes and Jadeja will be obviously bowling into the rough. I think there could be a bit of reverse swing on offer later today."
And Kaif, who says:
What a cracking day of the 4th Test we are set for. All four results are very possible, maybe a tie a little less than the other three. Burns and Hameed looked in fine fettle during the evening session yesterday. Can India break through them early on Day 5? Action begins in 15 more minutes.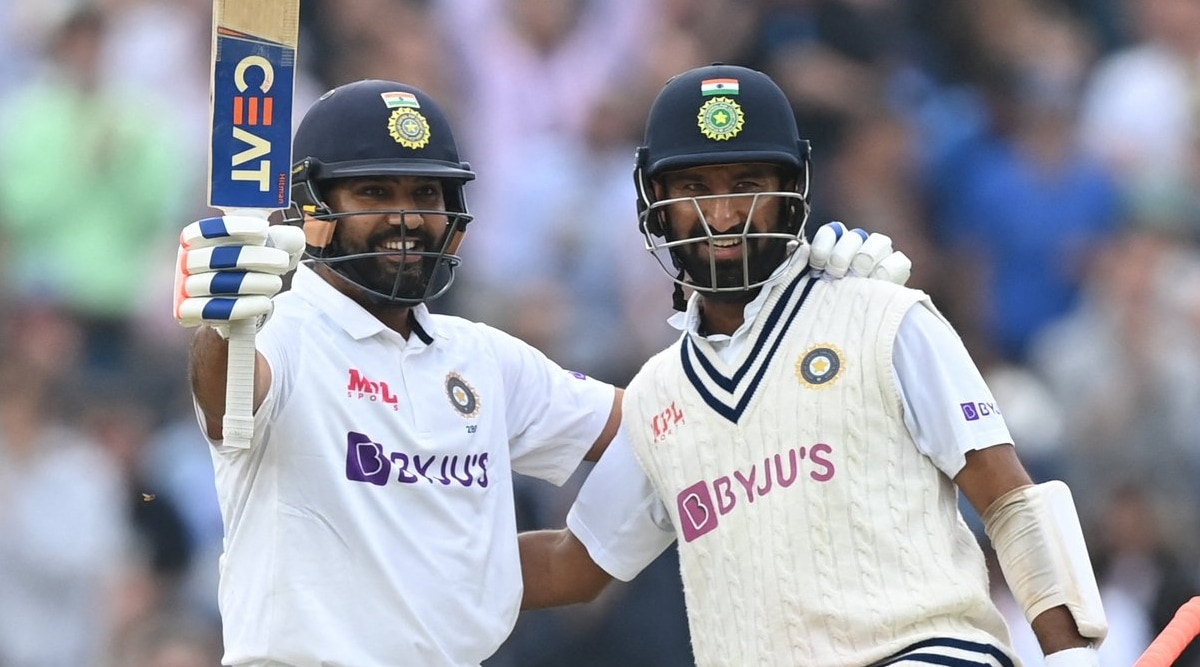 India's Rohit Sharma celebrates scoring a century with teammate Cheteshwar Pujara during the fourth Test against England. (AP)
In his first overseas Test hundred, Rohit Sharma showed dignified restraint. A raised bat to acknowledge the applause, a handshake with Cheteshwar Pujara and a smile, which more than anything else had the relief of breaking the jinx. He has been playing Test cricket since 2013. Eight years and 42 Test matches later, the monkey was finally off his back.
Carried by his century and Pujara's effervescent 61, the tourists mounted a fightback and two wickets in an over notwithstanding, they finished the day on 270/3, when bad light stopped play. With two days to go, India lead by 171 runs and the ball has started to turn off the footmarks. (READ MORE)
Source: Read Full Article