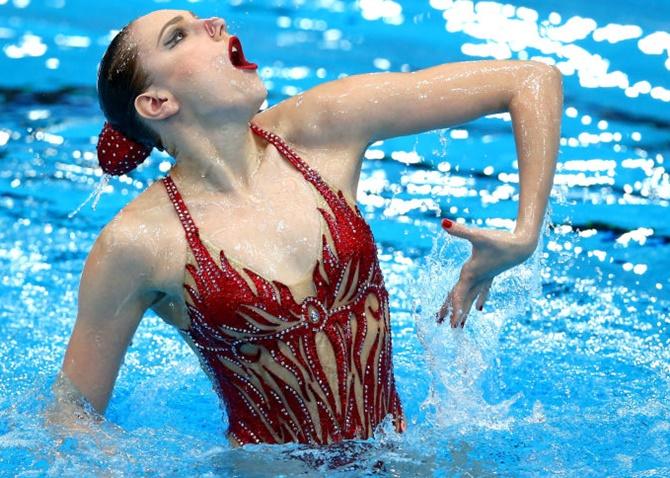 Svetlana Kolesnichenko, the new standard bearer for artistic aquatics, added another European Championships gold to her huge collection of international medals when she took the synchronised swimming solo technical title on Monday.
In a Russian team that dominates the sport, the 24-year-old Kolesnichenko has become its most celebrated figure with one Olympic and 13 world titles to her name.
Yet it is only in the past year having taken up the solo events and won four titles at the 2017 world championships that the athlete from Gatchina, near St Petersburg, has really flourished.
Performing to Edvard Grieg's Peer Gynt, Kolesnichenko was not quite at her very best but still dominated, her mark of 93.4816 putting her more than two points clear of Ukrainian silver medallist Yelyzaveta Yakhno (91.3517).
Italy's Linda Cerruti (90.2282) took the bronze as Kolesnichenko celebrated her sixth European title, and the second in Glasgow following her victory in the duet technical with Varvara Subbotina.
"I will work harder in the next year to improve. I'm getting stronger," said Kolesnichenko, who has the chance to collect another two golds on the final day of competition on Tuesday.
Kolesnichenko has certainly come a long way from the six-year-old girl who was taken to a synchronised swimming club because her mother thought she was too fat, only for the coach to originally refuse to take her on.
Swimmers Milak, Kolesnikov and Burdisso showcase European young talent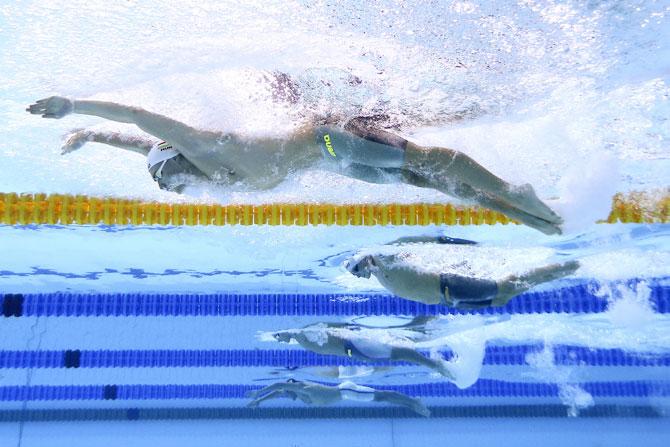 Hungarian teenager Kristof Milak produced another youthful tour de force at the European swimming championships to destroy the 200 metres butterfly field and even boldly attack Michael Phelps's world record en route to winning gold on Sunday.
At an event showcasing the remarkable potential of young European swimming talent, the 18-year-old Milak set a championship record of one minute 52.79 seconds, while 16-year-old Italian Federico Burdisso won the bronze behind him.
Their performances followed that of 18-year-old Russian Kliment Kolesnikov, who had set a world 50 metres backstroke record on Saturday and beat his own world junior record at 100m backstroke in Sunday's semi-finals.
The men's 1,500 metres saw the biggest shock of the Championships when Italy's under-the-weather Olympic champion Gregorio Paltrinieri was beaten by two young guns of endurance swimming, new champion Florian Wellbrock, of Germany, and Ukrainian Mykhaylo Romanchuk.
Teenager Milak has a daring, all-or-nothing approach, giving everything for as long as he can and trying to hold on. After blitzing the first two lengths, he was ahead of Phelps's record pace at halfway when the American clocked his landmark 1:51.51 in 2009.
Milak was still only a tenth of a second down on that pace going into the final length when he began to suffer for his monumental effort.
"I just wanted to do my own pace, not caring about anyone or anything and I began as hard as I could," Milak said with a smile.
"I died over the second 100 and didn't have too much left for the finish. I have not swum the 200 fly in such a stupid way for a long time."
He still finished well clear of his fellow countryman Tamas Kenderisi (1:54.36) and Burdisso (1:55.97), who could not quite believe he had made the podium at such a tender age.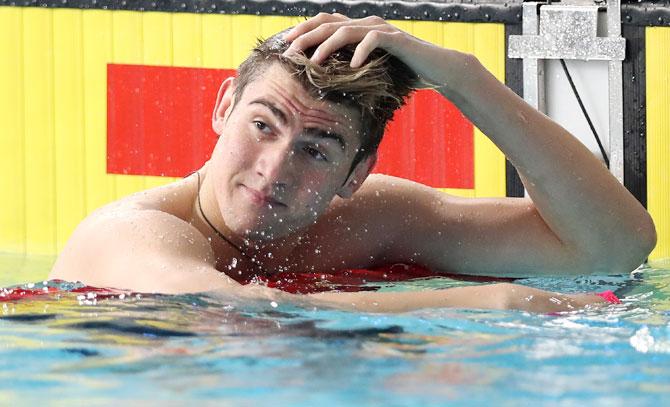 "He is not like me, he is really good," Burdisso smiled, talking of Milak.
"But yes, I am coming."
Kolesnikov, who cannot seem to stop shredding world junior records, collected another when he clocked 52.95 seconds in his semi-final, slicing two-hundredths of a second off his own mark. Another one is probable in Monday's final.
The 20-year-old Wellbrock swam nearly 20 seconds faster than in his semi-final as he clocked 14:36.15, a time that moved him to fourth on the world all-time list, and he was followed home by 21-year-old Romanchuk, the 400m freestyle winner.
Paltrinieri, third in 14:42.85, said his sub-par performance had been down to illness.
"I had the flu until two hours ago. Two hours before coming to the pool I had a high temperature. I don't think I'm very well, I tried to do what I could," he said, admitting he had thought of pulling out.
Alessandro Miressi helped to ease Italian disappointment by pulling away from the field in the final 15 metres to capture gold in the 100 metres freestyle in 48.01 seconds.
British swimmers had the home fans in the Tollcross Centre on their feet, with Georgia Davies taking the 50m backstroke before Calum Jarvis, Duncan Scott, silver medalist earlier in the 100m free, Thomas Dean and James Guy landed the 4x200m freestyle crown in a championship record 7:05.32.
Russia's Yuliya Efimova produced an extraordinary second length in the 100 metres breaststroke final to break her own championship record in 1:05.53 and outpace Lithuania's 2012 Olympic champion Ruta Meilutyte.
Source: Read Full Article