Germany won't accept underdogs tag against France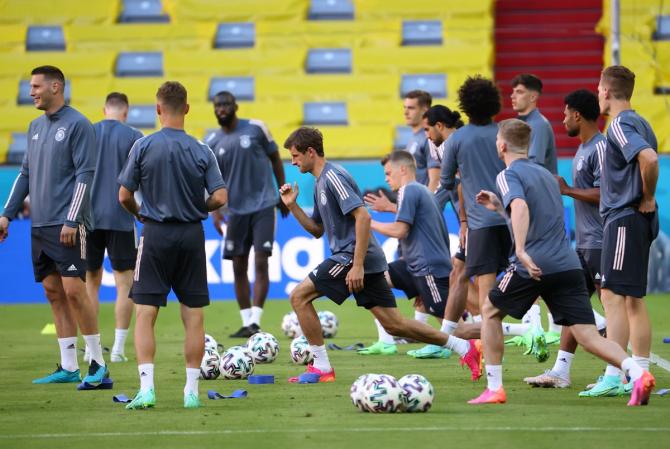 Germany, on Monday, refused to accept the underdogs tag in their Euro 2020 Group F opener against world champions France on Tuesday, saying they were out to win the game and pay back fans for a disappointing World Cup campaign three years ago.
The Germans will play their group matches in Munich and captain Manuel Neuer said their shock 2018 World Cup first-round exit meant they had to make amends in front of a 14,000 home crowd.
"It is very important to start with a successful result," goalkeeper Neuer told a virtual news conference. "We know we owe the fans something after the last tournament. We hope to excite them with the way we will play and we need their support."
With 2014 world champions Thomas Mueller and Mats Hummels back in the squad after more than two years, Germany are going into the tournament with a largely untested team after an overhaul in 2019 was cut short by the COVID-10 pandemic and a string of bad results.
The three-times European champions are not among the title favourites this time, unlike France.
"We know France have been successful in the past years," Neuer said. "But we are still a very good team, uncomfortable to play against.
"We have respect for them but we don't see ourselves as the underdogs. We want to win the game here in Munich," he said.
Germany coach Joachim Loew, in his final tournament before stepping down after 15 years in charge, is set to include Leon Goretzka in his squad, with the midfielder having recovered from injury and having trained several times with the team.
Midfielder Jonas Hofmann is not expected to feature.
"Apart from Jonas, all players trained, including Leon. Leon has done four or five sessions with the team. He has left a very good impression and there seems to be nothing left from his injury," Loew said.
"What will be important tomorrow is to do what the team has showed in the past 14 days," he said. "That we are brimming with ambition and confidence, that we will go into the one-on-ones and we will throw everything into this game."
Germany also play European champions Portugal before taking on Hungary in their last group game.
Hungary need unity, luck against defending champions Portugal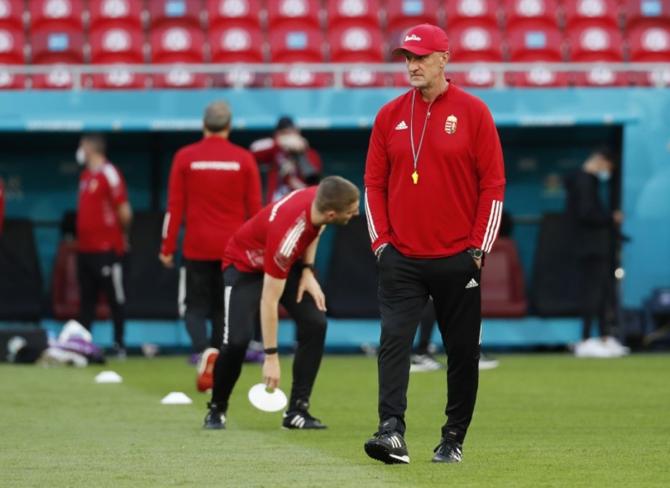 Hungary need cohesion, discipline and a fair bit of luck against defending champions Portugal if they are to make a good start to their Euro 2020 Group F campaign, coach Marco Rossi said on Monday.
Hungary are playing in their second consecutive Euros after failing to qualify for any major tournament for three decades, and they are clear underdogs in a group that also includes world champions France and perennial powerhouse Germany.
Asked which Portuguese player Hungary will be most concerned about on Tuesday, Rossi laughed.
"I could almost list the entire squad," he told reporters. "I could just be the kit man or one of the ground staff for them… Naming one player would be a disservice to the others. They have huge potential in all areas of the pitch."
He said the Portuguese frontline was perhaps the most formidable, with world-class players in the starting lineup and on the bench.
"We need to help one another out, we need to make sure we're very compact, and close down the space between the lines. And I hope that we can also have that rub-of-the-green bit of fortune that is very important if you were to have a positive result," he said.
Hungary rely on a robust defence and counter-attacks. Fewer big names in their squad means the team may be fresher than opponents who have played full seasons in big domestic and international tournaments.
Bundesliga stalwarts like Leipzig goalkeeper Peter Gulacsi do play for Hungary, tough opponents even without their most valuable player, Dominik Szoboszlai.
"We are well aware of the group we are in," added forward Adam Szalai, Hungary's captain and their most-capped current player with 70 international appearances.
"We need to execute our strategy, especially on defence, because this Portuguese team is stronger even than the 2016 one," he said.
Hungary and Portugal played one of the most exciting group matches at Euro 2016, with Hungary leading three times and Portugal equalising on each occasion including two goals by Cristiano Ronaldo.
Hungary finished top of the group before losing 4-0 to Belgium in the round of 16 while Portugal won the title.
One factor in Hungary's favour may be a jam-packed Puskas Arena, the only Euro 2020 venue which allows full capacity.
Finns aim to strengthen bid to reach Euro knockout stage with win over Russia
The near-tragedy of Christian Eriksen's collapse cast a shadow over Finland's 1-0 win over Denmark on Saturday but they will be in pole position to book a spot in the knockout stage if they beat Russia on Wednesday.
First-time Euro finalists Finland know that a win in St. Petersburg will put them on six points and in a strong position to qualify from Group B.
To give themselves the best chance of doing so, the Finns will have to do something they have not managed to do for over a century – beat the Russians.
The last time the Finns managed to a win over Russia was at the 1912 Olympics, when Finland was still under Russian control.
Since the collapse of the Soviet Union, the Russians have won all four meetings against Finland, conceding only once.
Joel Pohjanpalo's header on the hour mark put the Finns second in the table behind leaders Belgium on goal difference. But their first game at the finals of a major tournament was a harrowing one for the Finns.
Denmark playmaker Eriksen suffered a cardiac arrest on the field, but quick action by his team mates and the medical staff saved his life and he was transported to a nearby hospital before the game eventually resumed.
"It was a mental challenge, what happened on the field was something much more important than football," Finland captain Tim Sparv told reporters.
Striker Teemu Pukki, who scored 10 goals in qualifying, looked like he had fully recovered from a troublesome ankle injury as he led the line, and the Finns are again likely to try to sit deep and hit the Russians on the break.
Russia, who made the 2018 World Cup quarter-finals on home soil, fell flat against the Belgians and a positive result is essential if they want to get themselves back on track.
"We wait for the Finnish team on June 16 and then there will be the match in Denmark. One match does not solve everything, but we will endeavour to turn the Finnish team aside," Russia coach Stanislav Cherchesov told a press conference.
The game kicks off at 1300 GMT on Wednesday, with group rivals Denmark facing Belgium in Copenhagen at 1600 GMT the following day.
Source: Read Full Article