India allegedly switches semi-final pitch without ICC approval.
World Cup 2023 is facing a major dispute with claims that the Board of Control for Cricket in India unilaterally changed the pitch for the team's semi-final against New Zealand in Mumbai on Wednesday, without obtaining permission from the International Cricket Council .
The semi-final is now set to take place on a pitch that has already been used twice, potentially benefiting India's spinners as they strive to secure a spot in their first 50-over World Cup final since 2011.
Pitch preparations for ICC events are typically supervised by the governing body's consultant, Andy Atkinson, who collaborates with the home board to determine which strips on the square will be used for each game. However, Mail Sport reports that this agreement has been disregarded as the tournament approaches its climax.
Originally, the pitch for the Mumbai semi-final was designated as No 7, a fresh surface not utilised in any of the venue's group matches.
Yet, a circulated WhatsApp message on Tuesday, November 14, to over 50 BCCI and ICC officials revealed that the semi-final had been relocated to pitch No 6, already hosting matches between England and South Africa, as well as India and Sri Lanka, the Daily Mail newspaper's Lawrence Booth revealed.
Atkinson, reportedly uninformed of any issues with pitch No 7, expressed his dissatisfaction with the changes.
Concerns are now emerging that plans for the final in Ahmedabad on Sunday, where India or New Zealand will face Australia or South Africa, could also be altered unilaterally.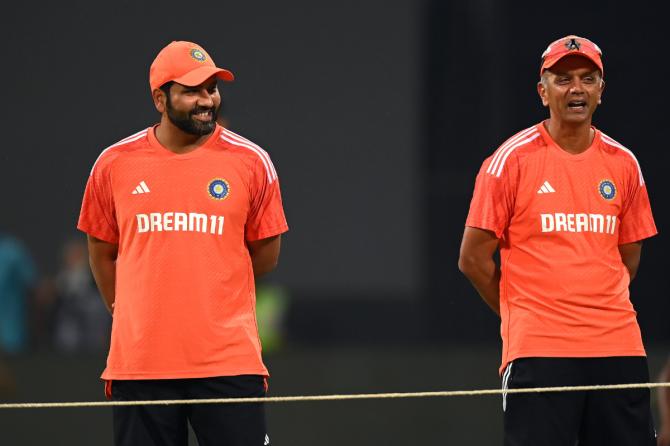 In response to the controversy, Atkinson flew to Ahmedabad last Friday, seeking clarity on the final's preparations. He discovered that while the tournament's opening game adhered to the agreed upon pitch No 6, the next three matches deviated from the schedule.
Atkinson raised concerns in an e-mail, stating that these changes were made 'without proper notice or forewarning.'
As per The Daily Mail, the matters took a turn for the worse when the ICC events manager informed Atkinson that the India-Pakistan fixture took place on pitch No 5, when it was supposed to be played on pitch No 7 as per the schedule.
In an e-mail accessed by the The Daily Mail newspaper, Atkinson stated, 'As a result of these actions, one must speculate if this will be the first ever ICC CWC (Cricket World Cup) final to have a pitch which has been specifically chosen and prepared to their stipulation at the request of the team management and/or the hierarchy of the home nation board.'
'Or will it be selected or prepared without favouritism for either of the sides competing in the match in the usual manner, and unquestionably because it is the usual pitch for the occasion?' the mail added.
A spokesperson for the BCCI said, 'The ICC independent pitch consultant works with the host and venues on their proposed pitch allocations and this process is ongoing throughout an event of this length and nature.'
Source: Read Full Article