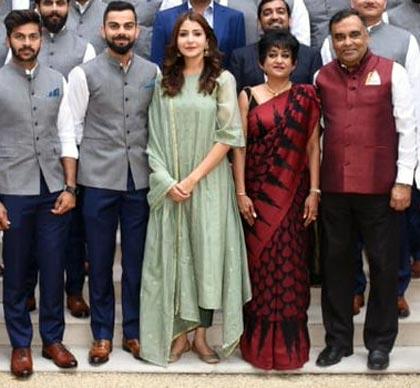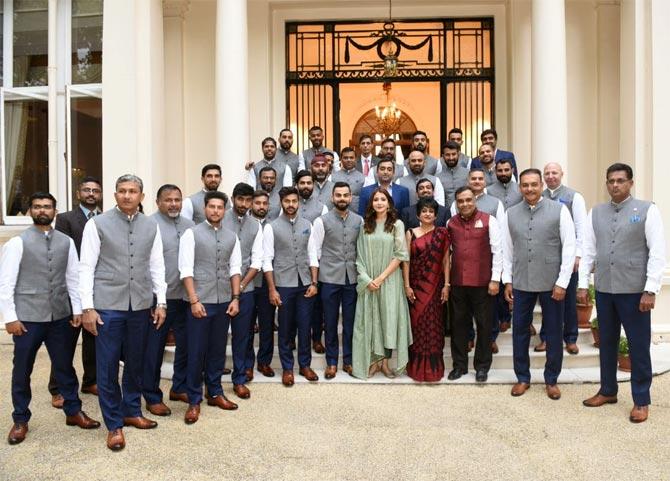 Controversy never seems to be far from Virat Kohli, especially when it comes to his wife Anushka Sharma.
After being trolled in the past whenever India lost a match, some fans on social media have now questioned Anushka's presence in the Indian team's official photo in London after their dinner at the Indian high commission on Tuesday night.
After being hosted by Yashvardhan Kumar Sinha, the Indian high commissioner to the UK, the team posed for an official photograph with Anuskha also present.
"Vice captain is in last row and First Lady of Indian cricket is in front row. These people giving lecture online few days back. @AnushkaSharma," commented Ali MG on Twitter.
While another Twitter user Sanjay Tank said: "Is captain wife more important than vice captain? Where are other players wife's? Don't divide team for the sake of captain or Bollywood please."
Kohli has not taken kindly to fans trolling his wife Anuskha in the past. Two years ago, Kohli came to the defence of Anushka, who had become the subject of a lot of abuse and jokes on social media following their then break-up.
Coverage: India's tour of England
"Shame on people for trolling @AnushkaSharma non-stop. Have some compassion. She has always only given me positivity," an angry Kohli had tweeted in March 2016.
India captain Kohli married his girlfriend Anushka in December last year and she has been quite a regular presence in the stands whenever India is playing.
In fact, after scoring a century in the first Test Test against Birmingham recently, Kohli had kissed his wedding ring and gestured to his wife Anushka, who was present in the stands.
The duo have also been posting a lot of pictures on social media during India's ongoing tour of England.
Source: Read Full Article