In a stellar display of athleticism, Indian relay teams made their mark at the Asian Games, clinching gold and silver medals.
The men's 4x400m relay team, comprising Anas Muhammed Yahiya, Amoj Jacob, Muhammed Ajmal Variyathodi, and Rajesh Ramesh, not only secured India's 18th gold at the Games but also set a national record with a blazing timing of 3:01.58s. It was a sensational run that left their competitors trailing.
Qatar put up a commendable performance, achieving a season-best timing of 3:02.05s to claim the second spot, while Sri Lanka clinched the bronze and also broke their national record with a timing of 3:02.55s. It was a podium full of record-breaking achievements.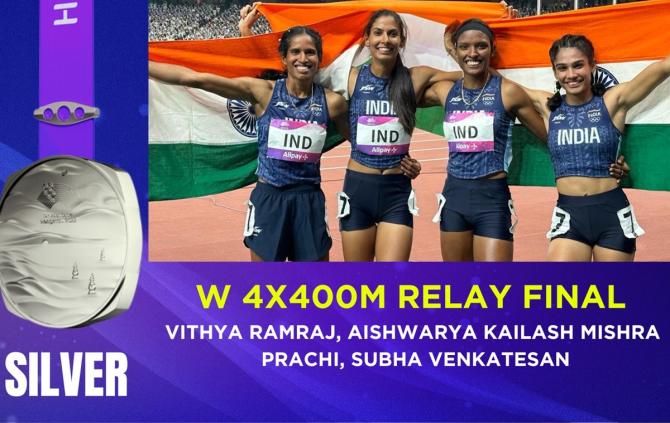 The Indian women's 4x400m relay team, consisting of Vithya Ramraj, Aishwarya Mishra, Prachi, and Subha Venkatesan, also showcased their prowess by securing a silver medal. Their timing of 3:27.85 was impressive, but Bahrain outperformed with a Games record effort of 3:27.65 to take the top position. Sri Lanka secured the bronze with a timing of 3:30.88.
In other athletics events, Harmilan Bains and Avinash Sable added to India's medal tally. Harmilan impressed with a silver medal in the women's 800m, clocking a timing of 2:03.75. Avinash Sable displayed his endurance in the men's 5000m and secured another silver for India with a performance of 13:21.09.
In the men's high jump, Anil Kushare made a season-best jump of 2.26m, narrowly missing out on a medal as he finished in fourth place. He needed to clear the 2.29m mark to stay in contention for a medal. Jesse Sandesh finished 9th with a jump of 2.19m.
Finally, Sheena Varkey Nellickal represented India in the Women's Triple Jump final, finishing in sixth place with a respectable throw of 13.34m. It was a valiant effort on her part.
Indian athletes have displayed remarkable dedication and skill at the Asian Games, bringing home an impressive haul of medals and setting records along the way. Their achievements are a source of pride for the nation.
Source: Read Full Article