Maara actress Shraddha Srinath took a sarcastic jibe at Varun Dhawan and Natasha Dalal's wedding. The actress took to her Instagram handle and posted a sarcastic note before congratulating Varun Dhawan and Natasha Dalal on their wedding. Shraddha Srinath's jibe was at the patriarchy that exists in the industry and the media. "Another good actor bites the dust. Sad that we will not see him on screen again. Obviously his wife and in laws will not be okay with him acting with other heroines. Maybe he will switch to doing male oriented films? But how to balance personal life and work life ya. Tough. Will miss him. Congratulations though, Varun. (sic)." Shraddha Srinath wrote as she shared Varun's post in her stories. Check out the Jersey actress' post below: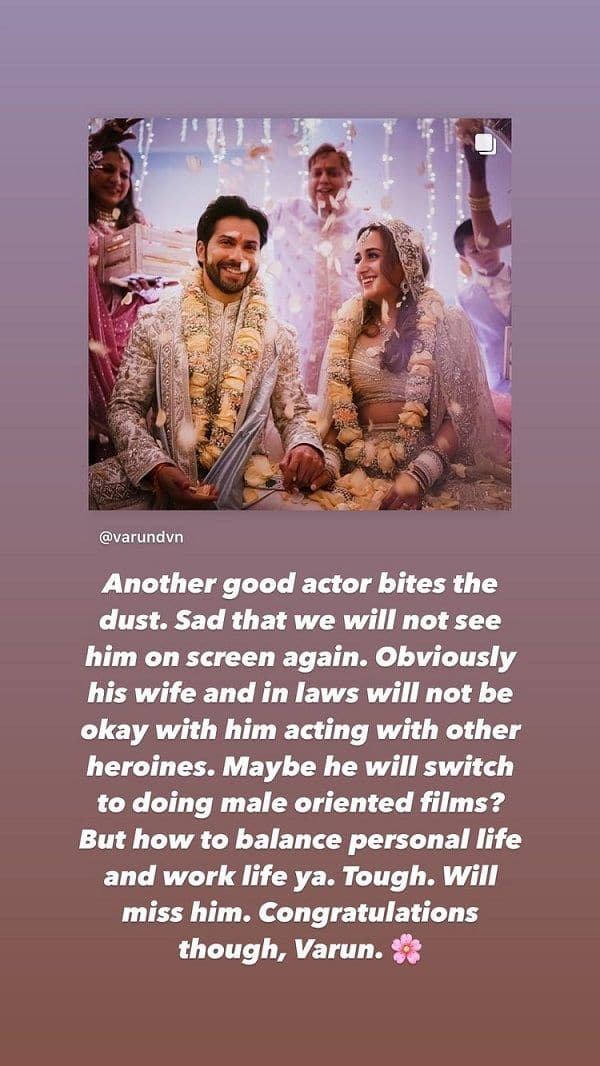 Talking about Varun Dhawan and Natasha Dalal's wedding, the two lovers tied the knot on 24th January 2021. It was a close-knit affair yet a grand one with close friends and relatives in attendance. Ever since Varun married his sweetheart wishes and congratulatory posts. However, Shraddha Srinath's wish is quite different than that of others. It did raise several eyebrows and a lot of people re-posted/ shared the story on their Instagram handles.
Meanwhile, on the work front, Shraddha was seen in Maara alongside R Madhavan. Maara is a remake of a Malayalam film, Charlie. BollywoodLife's critic, Urmimala Banerjee had given Maara two and a half stars in her review and wrote, "R Madhavan and Shraddha Srinath's film Maara is faithful to Charlie in its essence and basic plot. Dulquer Salman charmed his way into the hearts of millions, and R Madhavan does not falter. With his talent, the actor brings Maara alive with a lot of love. Sadly, R Madhavan hardly has many scenes in the first half of the film. The movie's heroine Shraddha Srinath is near-perfect as Paru. In Maara, she sparkles in every scene. Though she does not have too many dialogues, Shraddha's expressions nail her free-spirited, curious and fearless personality. Mouli and Padmavati Rao also put in wonderful performances. Cinematographers Karthik Muthukumar and Dinesh Karthik deserve a special mention. They capture the tea gardens of Ooty with beauty creating a wonderful setting for a dreamy romantic film. Ajayan Challiserry's art direction does full justice to the quirky tone of the romantic drama. From a comic thief (Babu Alexander) to Usman Bhai (MS Bhaskar), a true art enthusiast, the film has stand-out supporting characters."
We wonder what would be Varun Dhawan's reply to this.
Source: Read Full Article