A brief history of queer resistance to Section 377 of the Indian Penal Code, from the silence and stigma of the nineties to the assertion today.
The boy who calls himself Cherry is wearing a fitted blouse, blue-and-cream striped pants that end above his ankles, and white shoes sprinkled with glitter. His hair is immaculately brushed. He smells nice. After this party in a five-star hotel in south Delhi gets over, he will look for a washroom to change back into a black T-shirt and jeans — as if, he has been to a regular birthday party, just as he has told his mother.
He will also clean up carefully. "Once I had a love bite and my mother noticed it. She thinks it was a girl," he says, scrolling through one of his two Facebook profile pages. On the first, he checked in at a nearby mall an hour ago. On the other, he is a poet and gay. "When I look at this page on my phone, my eyes are all the time on the door. Koi aa gaya toh? Kisi ne dekh liya toh?" says the Delhi University student, who reads crime novels and is a fan of Virat Kohli.
He is just looking for social acceptance, he adds, and his own circle. "I want to have a place where I can talk freely to my friends and just be myself," he adds. What has he to say about Section 377 of the Indian Penal Code (IPC)? "It's the 21st century, right? We shouldn't even be talking about 377. Shouldn't they have ended it in the last century?" he asks.
They did try. At a tea stall in Connaught Place, Cherry might meet members of the AIDS Bhedbhav Vidroh Andolan (ABVA), now a group of elderly people who used to be idealist, Left-leaning youth from the medical, legal, academic, human rights and social work fields. In April 1994, ABVA had filed a 75,000-word petition in the Delhi High Court asking for Section 377, which criminalises homosexuality, to be struck down. Advocate Shobha Aggarwal had stood before a judge, who had asked, "So, are you in favour of free sex?" One of the lawyers for ABVA shot back, "My Lord, I am in favour of safe sex." In 2001, the case was dismissed. Aggarwal, who was 31 then, says, "Apart from the attitude of the judges, there was no member of the gay community who came forward."
A human rights activist remembers it as a time of fear. "Those of us who were out were of two kinds. Either we were front-line, working-class trans people who had to be out because chhupney ki koi jagah hi nahi thi (there was no place to hide). Or, we had the economic capital to say, kucch ho bhi jayega toh nikal jayenge (we'll survive even if someone gets to know)," he says. He had come out to his mother, but she had asked him not to mention it publicly. She was worried about the consequences.
ABVA, which used to meet in the India Coffee House on Wednesdays, was taunted as the G Group, after a Hindi expletive for sodomiser. One of the triggers for the ABVA petition had been the arrest in 1992 of a dozen men at Central Park, a cruising site for gays in Delhi's Connaught Place since before Independence. Gay people were easy targets of police extortion, blackmail and sexual favours. The arrests had led to the first public protest at the park — by the 18-member ABVA — followed by a large demonstration at the Delhi Police headquarters.
They were also up against the belief that there were no homosexuals in India. In 1994, when a survey pointed out that more than two-thirds of inmates of Tihar Jail indulged in homosexual activities, former Delhi IG (prisons) Kiran Bedi had said, "My prisoners are hurt by the allegations." In 1998, right-wing groups had announced "there are no lesbians in India" to justify attacks on the film, Fire. "Lawyers could not even speak the word, homosexual, forget about giving credence to gay people. Today, people say LGBT as if it's the most normal thing, like kela or santra," says the activist.
Last month, a five-judge bench of the Supreme Court of India heard a batch of new petitions appealing for Section 377 to be read or struck down. Lawyer Menaka Guruswamy, who represents an LGBTQI community from the IITs, had said, "How strongly must we love knowing we are un-convicted felons under Section 377? My Lords, this is love that must be constitutionally recognised, and not just sexual acts."
Aggarwal was surprised to see the crowd that turned up for the hearings this July — there was barely space to stand in Court Number One. In the late '90s, there were few people in the Delhi High Court curious about the arguments against Section 377.
Out of the Bottle
The year that ABVA's petition was dismissed, another was filed in the Delhi High Court, this time for Section 377 to be read down to exclude adult consensual acts. Aditya Bondyopadhyay, who wrote the petition as part of Lawyers Collective, is preparing to move to Puducherry, where he and his partner have found a place by the sea. "I can afford to relax now. I never thought that in my lifetime I would see people, who identify as gay, on the streets and the courts in our favour," he says.
When he identified as homosexual in the 1990s, there were only about six openly gay men out in India. Among them were Ashok Row Kavi, Owais Khan, Arif Jafar and Pawan Dhall. "If a religious fanatic had decided he wanted a gay-mukt Bharat, he would only have had to travel to six cities and kill six people," says Bondyopadhyay.
When Bondyopadhyay was a 19-year-old student in Kolkata, his close friend Sujoy committed suicide. "He was in the Dhakuria Lake area with a male friend. He was found by two policemen. The cops took whatever money he had but they also took his phone number and his address," says Bondyopadhyay. The police began to visit Sujoy's house in the morning when his parents were out at work. "They threatened to tell his family. At first, he gave the cops all his pocket money. Then he started stealing money and jewellery from the house, but the blackmail continued. We told him, 'Tell your mother you have to go away for studies to Delhi. Just leave Kolkata'. It didn't help. One day, Sujoy couldn't take it any more and drowned himself in the Dhakuria lake," he says.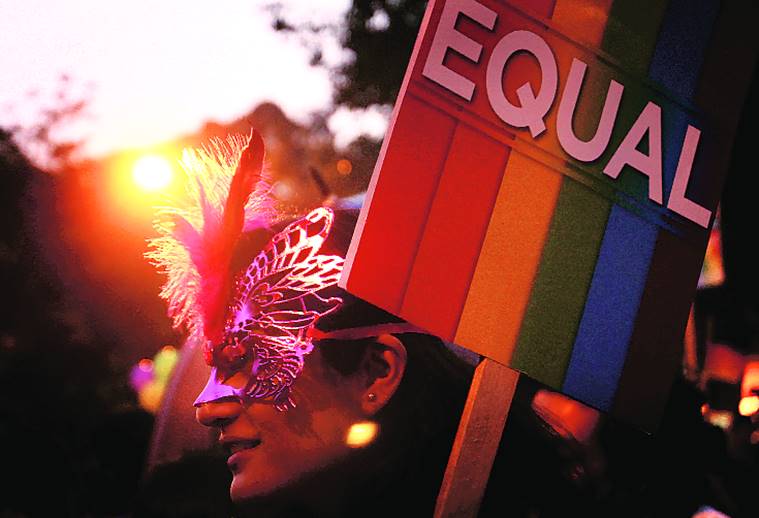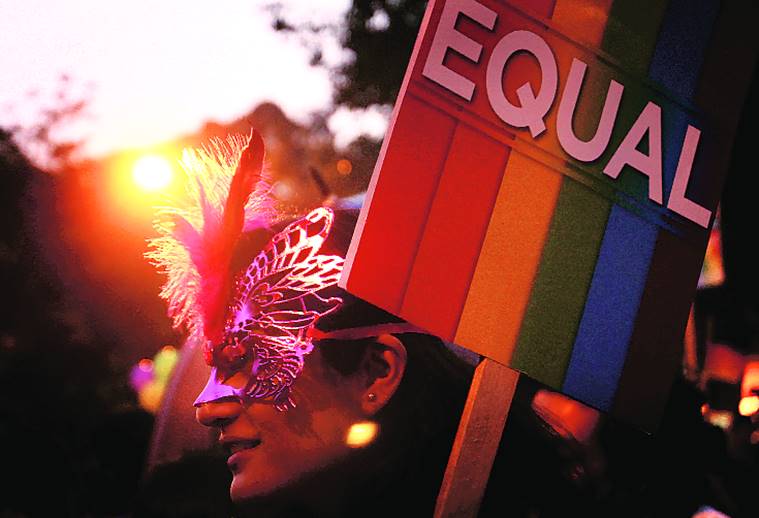 When Bondyopadhyay thought about it, he came to the conclusion that his friend could be blackmailed because he had something to hide. "That's when I decided I will never hide. I will never have a secret with which anybody can blackmail me. Probably that is why I am out and loud about my own sexuality," he says.
While they were drafting the petition for Naz Foundation — which would ultimately lead the Delhi HC to read down Section 377 in 2009 — there were arguments about what line or ground to take. "We had to make the health argument. We couldn't just go to the court and say, 'We are queer and need to be given our rights'. We had to cushion it with HIV," he says.
The office of Naz Foundation, an NGO that works on HIV/AIDS and sexual health, is situated in a residential area in south Delhi. It is here that Anjali Gopalan had "braced for a long battle". Around the turn of the millennium, a couple had brought their 21-year-old son to her, hoping she would drive "sense" into him. "I explained to them that he was gay and forcing him to get married was not the solution," she says. She didn't hear from them again. The boy did come back. He had been getting shock treatment at a hospital in Delhi to make him straight, he told her. Gopalan went to the Human Rights Commission but they didn't register the case as "homosexuality was a crime".
The Naz Petition wasn't only a legal effort. "We had to change mindsets. I realised that my involvement in the court was not that important because there were all these good lawyers willing to fight. I would work with organisations to increase visibility, decrease negative perception and make us acceptable. The media, especially, had to be on our side. We trained activists to go to TV studios and talk. We had huge consultations over Section 377 when over 100 different groups such as Gay Bombay, Bharosa, Adhikaar from all over India came and strategised," Bondyopadhyay says. The sessions were held in Delhi, Kolkata, Bengaluru, Hyderabad and Mumbai in 2001-2002.
The groups decided that it was no longer enough to be quietly distributing condoms and hoping the police won't know. "No longer under the radar, the community had to be out there and brazenly living our lives," he says. The gay community continues to maintain linkages with the media, women's groups, liberal, left-leaning students unions, workers' groups that are left of centre and religious minority groups.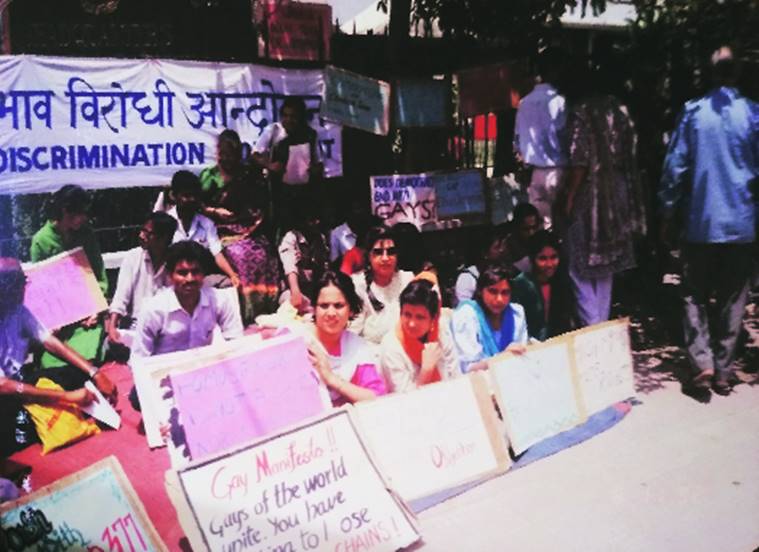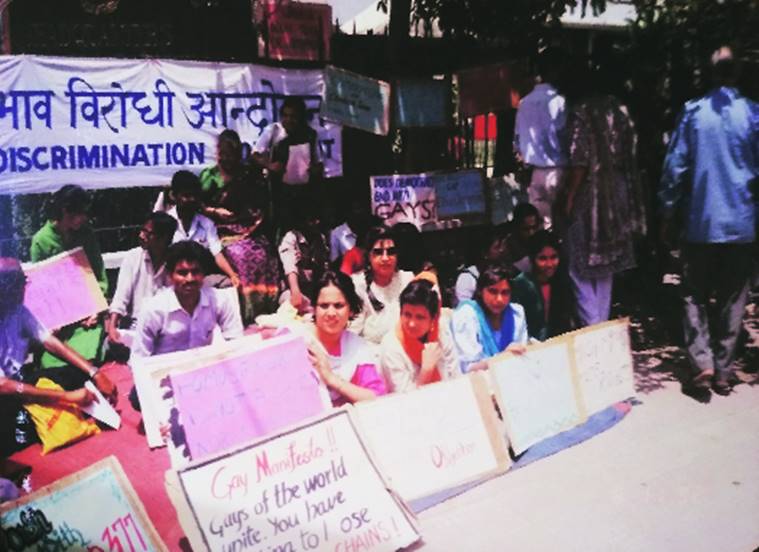 When the organisation, Alliance India, received $40 million in 2004-05 from a global fund to fight AIDS, tuberculosis and malaria, Bondyopadhyay says, "One of the things we insisted on was the formation of almost 400 community-based support groups in small towns of India". "We wanted to spread the movement to small-town India, away from the metros, and politicise the people to such an extent that even when the funds dry up, the genie never goes back into the bottle," he says.
He spent a lot of time to mobilise the international human rights crowd to keep the pressure on the Indian government. "For five years, I spent three months in Geneva when the United Nations Committee on Human Rights met. I was the first Indian to testify before the committee against India supporting and sponsoring oppression of sexual minorities," he says.
Not everybody agreed with the strategies. One of the first points of difference was the language of the movement. Vernacular or English? "Identities were always there and terms existed. When denied, homosexuality had gone underground and created a sub-language of its own," he says. Should these indigenous terms — which are spoken by the queer community from Kandahar in Afghanistan to Chittagong in Bangladesh — be replaced by the Western vocabulary of "gay", "lesbian", "queer" and "LGBT"? Where should the case to read out the law be filed — Mumbai or Delhi? Or should there be more than one? But by the time the Lawyers Collective placed Naz Foundation's petition before Delhi High Court, these questions didn't matter. The entire queer community mobilised. Subsequently, every time there was a setback, the community came together.
The Door is Half Open
Balbir Krishan, a BA student in a west UP village in 1994, had made some sketches based on Ajanta's semi-nude drawings that got some older people so angry they told him that he was "doing dirty work". "In my childhood, I faced sexual abuse. How many times and how many men raped me, I can't count. I learned that I have to hide many things from my family and society. So I destroyed some sketches and hid the others," he says. By 1999, when he decided to become a professional artist, queer artistes were only tentatively coming out and finding the doors half open.
A queer performer in Kolkata, Sudarshan Chakraborty, made a dance drama, The Alien Flower, about a gay man who is forced to seek psychiatric help, in 1998. "I received a threat call from the husband of a famous dancer even as the audience queue stretched from the front door of the hall to the road," he says.
As a youngster, Krishan had fought with his family, friends and, more than anyone, with himself about his sexuality. In 1996, during his MA, he was on the brink. "I was done with this life and society," he says. He lay down on a railway track in Agra. "I survived but I lost both my legs. Then the fight became harder but this time my art saved me," he says.
In 2007, the fledgling artist moved to New Delhi from his village with "this big hope that I will find more opportunity and freedom." "Very soon, I found out that my whole identity was an issue in Delhi's art world. In three years, I did everything to find a single opportunity to exhibit or sell my work but found none. There were only rejections everywhere. Galleries, art curators and artists liked my work but wouldn't agree to exhibit. Many of them told me to change my subject but I couldn't compromise," he says. He moved back to his village in 2010.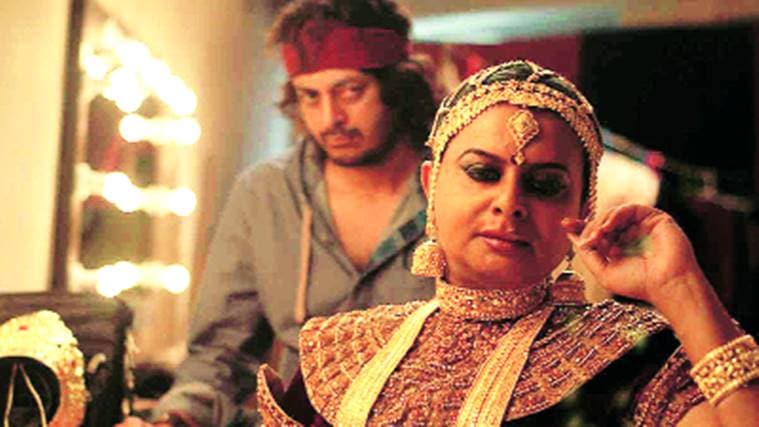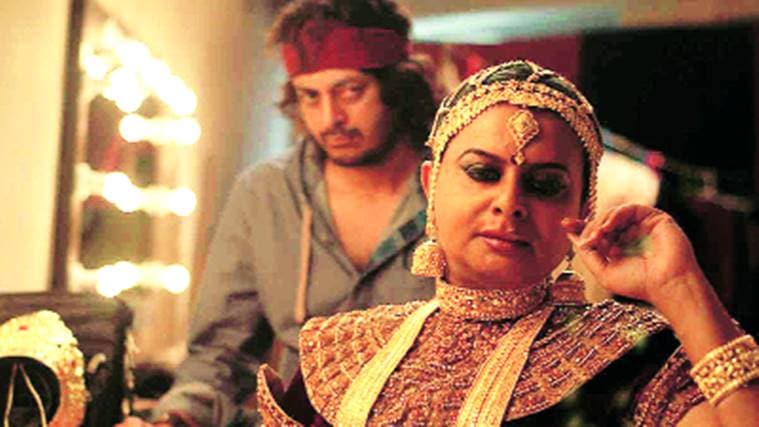 In the meantime, queer writing, poetry slams and films had begun to explode across India. Actor-filmmaker Rituparno Ghosh's oeuvre took a sudden turn, as he played gay protagonists in Kaushik Ganguly's Arekti Premer Golpo (2010) and Sanjoy Nag's Memories in March (2010). He was paired opposite Jishu Sengupta in a gay love story, Chitrangada (2012). He shaved his head and began to wear androgynous clothing. In Mumbai, another filmmaker, Sridhar Rangayan, was openly gay.
But, in 2012, gay photographer Sunil Gupta's show, "Sun City and Other Stories" was taken down at the Alliance Francaise de Delhi though the opening was attended by over 100 people, including a cross-section of important personalities. According to an official statement of Alliance Francaise, "It is pertinent to point out that, even though the police had publicly stated that the content of the exhibition was not objectionable or unlawful, their verbal direction to the Alliance was to the contrary and was the governing factor in the decision to cancel the show."
After he got a job, Krishan decided to organise his show at the Lalit Kala Akademi in 2012. "Out Here and Now" opened in Lalit Kala Akademi, a government venue in the heart of Delhi's art district. "I was surprised that the opening was successful. A large number of people came to attend the show," he says. A few days later, the exhibition was attacked by an unidentified man. "He destroyed one of my works, threw me on the floor and kicked me. I was unable to help, given my disability. I was shocked and scared that someone could do this."
One day after the attack, Krishna's show moved to Triveni Kala Sangam. "This time, the art world, LGBTQI community and the media turned out in huge support," says Krishna, who now lives in the US. He had come out in 2012, when he decided to marry his partner, Michael Giangrasso, a teacher. "When people found out about my marriage, everyone got mad — my family, village and the khap panchayat. My life was in danger and, in 2013, I was forced to leave. After that I never returned to my village," says Krishan, who lives with Michael in the US.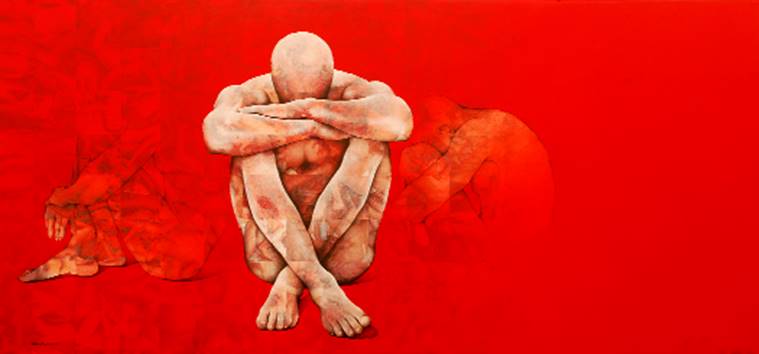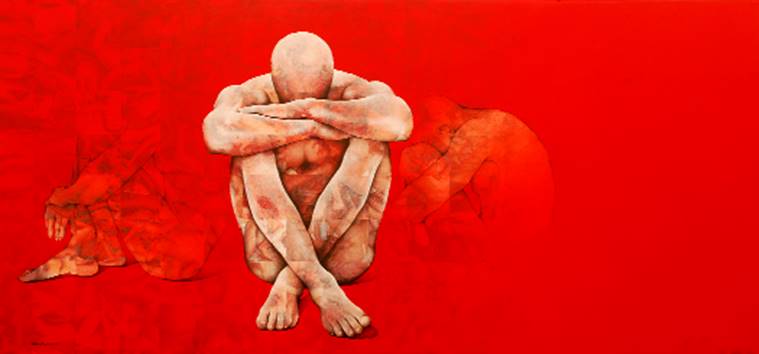 In June, as the countdown began to the hearings in the Supreme Court, a Delhi-based human rights group, Engendered, held a show at the American Centre, titled "Me We", which featured only queer artists, 25 of them. "Art is about permanent resistance because it is work that stays. Dance, theatre seem innocuous but are strong mobilising forces," says Myna Mukherjee, cultural curator and founder of Engendered.
Long March to Freedom
In 1999, Kolkata had hosted the first "pride" march and, in 2008, it arrived in Delhi, to be followed by Mumbai six months later. "We needed to be more visible. Let people see us in fancy masks and realise that LGBT is not about how to f***, where and why, but it is also about a lifestyle choice and culture, joy, celebration," says Bondyopadhyay, who has been one of the organisers. Dressed in feathers and frills, holding up placards and giant flags, the queer community came out in rainbow colours. In 2017-18, there were 19 pride marches "including in towns such as Bhabua and Kushingar". A pride was held two days before the Delhi High Court announced a pathbreaking verdict in 2009.
When the Supreme Court recriminalised homosexuality in 2013, the Delhi queer pride committee quietly changed its slogan to "No going back". "I changed my Facebook picture to show a slash through the number 377. I will remove it only when homosexuality is decriminalised," says Manish Sharma, standing on the doorway of a party he has organised. More than 200 male couples have crowded the bar and the mirrored ceiling reflects them dancing as the DJ turns up the volume on Aane do, aane do / Dil mein aa jaane do. "After 2009, the number of people at my parties went up to 500 or 600. I had to arrange for bigger venues," says Sharma, who has been organising gay parties since 2008. "Then, in 2013, the Supreme Court verdict forced people back into the closet. I am out and I don't care who knows. Most of the boys dancing here have to hide their real selves at home or in their workplaces. There is no other choice," he says. But the music is pumping the adrenaline, Kehdo ghabrahat ko / Bye, bye, bye, bye, bye-bye. Suddenly, the DJ lowers the volume and, from the silent, dark dance floor, a chorus of voices rise, "Love you zindagi".
For all the latest Eye News, download Indian Express App
Source: Read Full Article