Even as the state has patted itself on the back for an overwhelming 1 lakh new enrollments in this session in its government schools, teachers said that there was no space to accommodate them due to shortage of classrooms.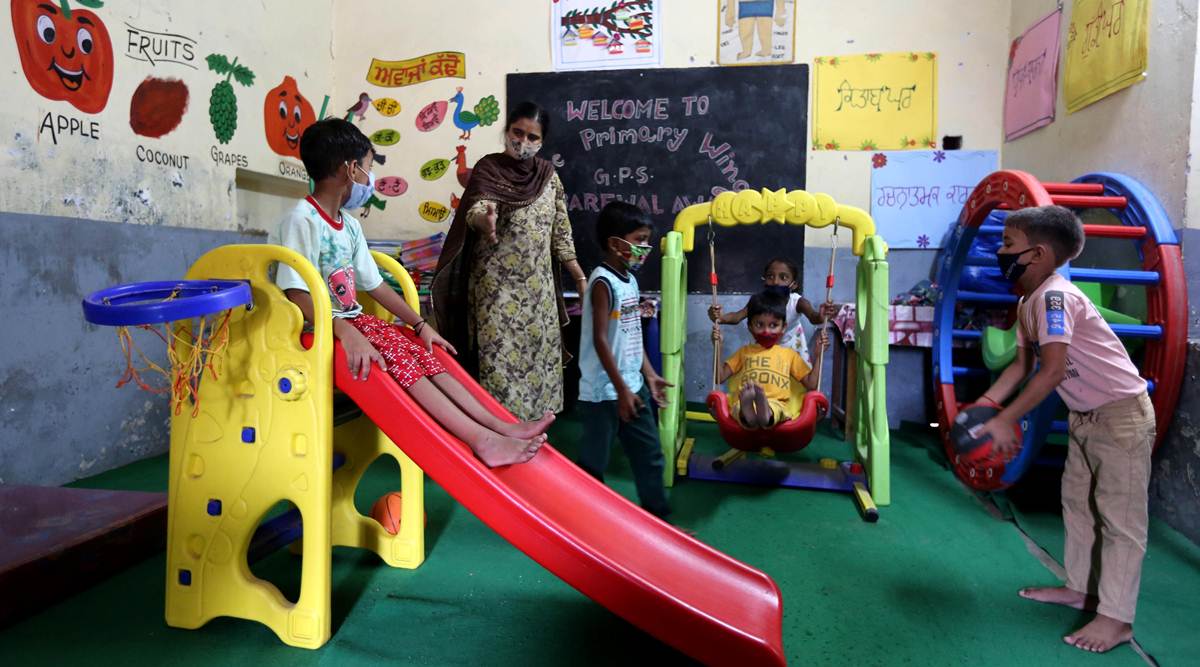 Crammed in a single classroom amid low attendance, students from two Class IV sections of government primary school in Mohali's Nayagaon huddled together with their masks falling off their faces in humid, sweaty conditions.
As the school welcomed its students back between rising and ebbing pandemic waves, the Covid guideline of one child per bench seemed all but forgotten. Outside the Class IV room, a few students from Class III sat on the benches in the corridor, while in the staff room, teachers sat together without their masks.
These scenes shifted quickly as presence of an outsider in the campus was noticed. As this reporter went around the school, teachers tried to move students sitting close to each other by making some of them sit on the floor.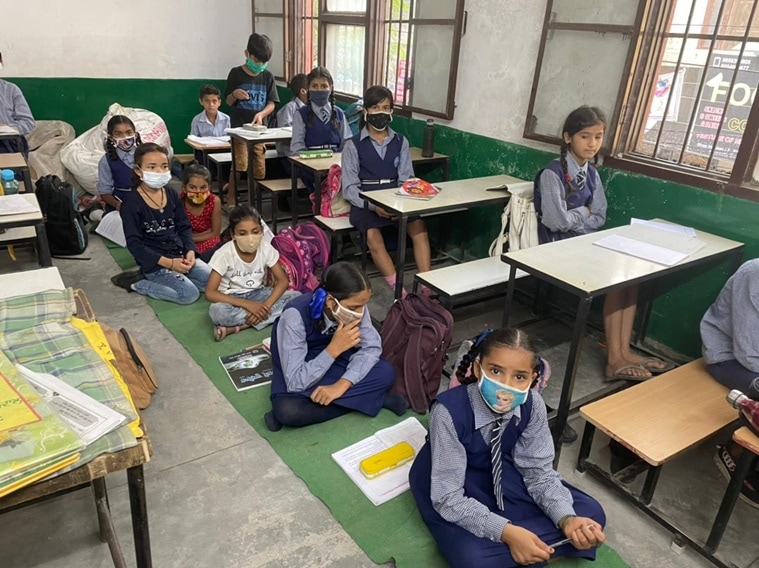 Monday saw schools across Punjab open amid falling Covid cases.
Punjab had opened schools in phased manner for all classes earlier too, but they were again closed in March this year as second Covid wave peaked.
On Monday, children attended physical classes of their new session (2021-22) for the first time.
But the fresh attempt to get in-person schooling off the ground again brought forth challenge of sticking to Covid-appropriate behaviour.
Dealing with these challenges included students sitting on the ground to maintain 'social distancing' due to lack of space and teachers chiding primary and pre-primary children to keep their masks on.
Even as Punjab government has patted its back for overwhelming new enrollments in this session in its government schools (more than a lakh new students admitted), teachers said that there was no space to accommodate them due to shortage of classrooms, more so in Covid times, when they have to ensure social distancing.
"We are already short of at least six classrooms. We have asked for funds to construct them. Today 202 of our 442 students attended classes. We were not expecting such good response. This year there have been overwhelming new admissions and we are short of space. Now, we are planning to hold classes in shifts to ensure social distancing," said Karamjit Singh, head teacher of the school.
As per the guidelines of Punjab government, only the fully vaccinated teachers and non-teaching staff (who have got both doses) should attend schools physically. However, many teachers are yet to get their second dose. While the education department is in the process of compiling its data of fully vaccinated teachers, sources from the department said that at least 75,000 teachers of nearly one lakh have got at least one dose.
"We have more than a lakh teachers, almost 1.12 lakh of which 75,000 have got at least one vaccine dose as per the data entered on the portal by teachers themselves," said a source.
At government primary school, Kansal in Kharar, the colourful corridors of the 'Smart School' came alive with chirping of students again Monday.
"Come little children, come to me, I will teach you ABC…," 7-year old Sahibjot Singh, who recently shifted to government school from a private school, recited in excitement after his teacher.
"I like coming to school because on phone, teacher's voice would break often and it was difficult to understand things," said Sahibjot.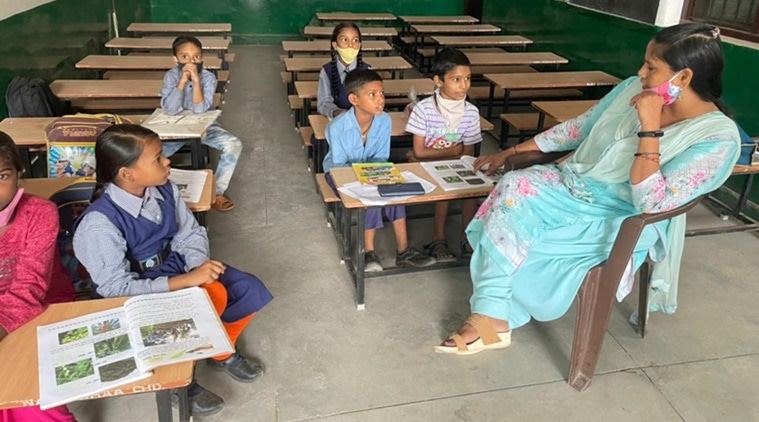 The school's head teacher, N D Tiwari, said that 153 students of 343 attended school on day one and now they are planning to hold classes in shifts as so many children cannot be accommodated in already existing classrooms.
"We need 2-3 more classrooms as now only one child can be made to sit on one bench. We also have middle school running in our campus. Till then, we are now planning to hold classes on different timings to maintain social distancing," he said.
"While in pre-Covid times, one classroom meant seating 40 students, now one room can accommodate 20 only. We have admitted 75 new students this session so we need at least two new rooms. Covid has reduced capacity of classrooms to half as we have to ensure six feet distance. We have space but funds are required for construction. Till then we will hold classes in shifts," he said.
Teachers in other districts such as Moga, Ludhiana, Muktsar and others said that on day one, while some schools had even 60-65 per cent attendance, others had less than 50 per cent attendance.
"But since orders came yesterday only, some students were not aware that schools have opened today. Parents of children who had no or limited access of smartphones are relieved," said a teacher from Ludhiana.
In Jalandhar, around 52 per cent attendance was witnessed on day one. In rural areas, attendance was higher than urban areas. Harinder Singh, district education officer (secondary), said that attendance was close to 52 per cent on day one which was good and they were hoping to have more children in schools in coming days. He said that parents were wary in urban areas and reluctant to send their children to schools.
"We are asking them to check Covid protocol implementation in schools before sending their children," he said.
(With inputs from Anju Agnihotri Chaba)
Source: Read Full Article