62% of Indians plan using AI to help write their expression of affection; the highest among 9 nations surveyed.
Shivani Shinde reports.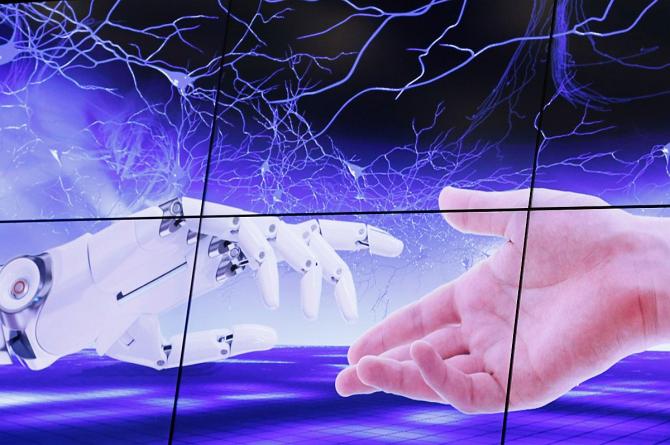 If you get a love letter this Valentine's Day, make sure it was written by a real person and not a machine powered by artificial intelligence (AI).
People are rushing to ChatGPT to confess their love, according to a study by McAfee Corp.
As many as 78 per cent Indians surveyed were unable to tell the difference between a love letter written by the Microsoft-backed OpenAI service and one by a human being.
As many as 62 per cent Indian adults plan using AI to help write their love letters this Valentine's Day, the most among all countries surveyed.
As many as 73% of them will use AI to boost their dating profiles.
McAfee's 'Modern Love' report surveyed 5,000 people in nine countries to discover how AI and the internet are changing love and relationships.
"With the rise in popularity of artificial intelligence, particularly tools such as ChatGPT that anybody with a web browser can access, the chances of receiving machine-generated information are on the rise.
"While some AI use cases may be innocent enough, we know cybercriminals also use AI to scale malicious activity," said Steve Grobman, McAfee chief technology officer.
While using AI bots to help those who feel ill-equipped to express their feelings might seem like a harmless use of an emerging technology, it demonstrates the growing challenges people face in identifying whether information received online is from a person or a machine.
The vast majority (60 per cent) of Indian respondents preferred a machine-generated love note in the style of American poet e.e. cummings to his original 1952 poem 'i carry your heart with me'.
The top reason for using AI as a ghostwriter was that it would make the sender feel more confident (59 per cent); others cited lack of time (32 per cent) or lack of inspiration (26 per cent), while 14 per cent said it would just be quicker and easier, believing they would not be found out.
However, 57 per cent of respondents said they would be offended if they found out the note they had received was produced by a machine.
"With Valentine's Day around the corner, it's important to stay vigilant and use security solutions that can help safeguard your privacy and identity and protect you from clicking on malicious links a scammer might send.
"It is easy to drop your guard when chatting to a potential partner but it's important to be on alert if you're asked suspicious requests for money or personal information," said Grobman.
A dating website or social media channel is a common way to meet a new love interest, but as McAfee's study shows it's also never been more difficult to tell the difference between real and fake.
In fact, 76 per cent of Indians admit to being catfished—when somebody pretends to be someone they're not online—or knowing somebody who has.
Additionally, 89 per cent of Indian respondents have engaged in direct conversations with strangers on social media across platforms, compared to 66 per cent globally.
The most common platforms a stranger is likely to use to reach Indian adults are Instagram (64 per cent), WhatsApp (59 per cent) and Facebook (51 per cent).
Fortunately, a lot of people are vigilant when interacting with strangers online. Requests for personally identifiable info such as date of birth, email ID, home address, intimate photos, or videos most often give scammers away.
Not being able to meet in person or do video chats (43 per cent), fake profile photos (41 per cent), requests for personal information (41 per cent) alerted them to being catfished, found the study.
Source: Read Full Article