Vaccine availability in India surpasses the production rate of auto-disable syringes, and buffer stocks were inadequately created, reports Sohini Das.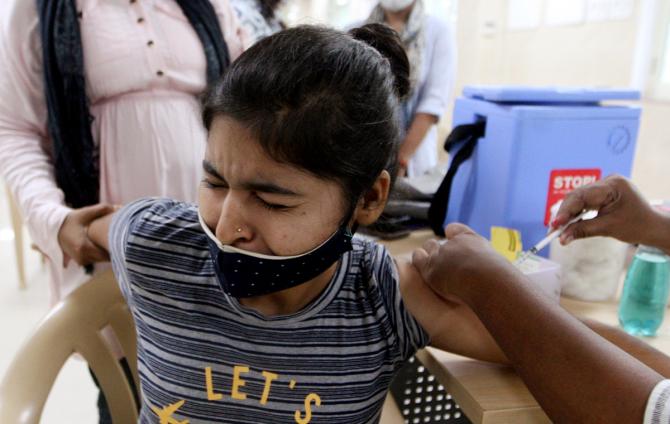 As the world's largest Covid-19 vaccination programme gathers pace, demand for syringes is in danger of overshooting supply. Anticipating a demand-supply mismatch, the Direct­orate General of Foreign Trade put curbs on the export of syringes and needles last Monday.
India needs around 300 million syringes to inoculate its children annually. But it needs close to that number every month for the Covid-19 vaccination drive.
Syringe producers, therefore, need to inject some pace to keep up with this demand. Vaccine availability in India surpasses the production rate of auto-disable (AD) syringes, and buffer stocks were inadequately created, Rajiv Nath, chairman and managing director of Hindustan Syringes and Medical Devices (HMD), one of India's largest syringe manufacturers, said.
Consider this: From October, the world's largest vaccine maker and the biggest contributor to India's Covid-19 vaccination drive, Serum Institute of India, is targeting the manufacture of 200 million doses of Covishield every month. HMD produces 90 million AD syringes a month. AD syringes are designed to prevent reuse, and are used primarily by governments and global non-profits for vaccination drives.
How has this shortage been created? Industry sources said the government has not indicated long-term demand to the makers well in advance. For instance, Nath pointed out, the Government of India's order with HMD for 2022 is only for 75 million AD syringes as of now.
"We need more clarity if we need to allocate 300 million or 500 million AD syringes for next year. If not India, then we need to find international buyers," he added.
Yet, the ramp-up of the Covid-19 vaccination programme was planned well in advance, and domestic syringe makers also expanded capacities over the last one year.
HMD, which makes the Dispovan brand, has already doubled its AD syringe capacity from 500 million a year to a billion syringes now. Its overall capacity has increased from 2.4 billion syringes a year (including disposable ones) to 3 billion now.
In June 2020 the capacity was 500 million units of 0.5 ml AD syringes. By March 2022, HMD aims to ramp up AD syringe capacity to 1.25 billion, and disposable syringe capacity to 2 billion annually, taking its total syringe capacity to 3.5 billion a year.
HMD, which has its plant in Faridabad, Haryana, is also adding a new plant to make steel tubings and canulae, components for making needles. The firm has invested Rs 100 crore in the last one year for this, and plans to put in another Rs 50 crore.
But these expansions are clearly not enough to meet immediate needs. Industry sources claim that the Centre is looking to procure around 1 billion syringes between September and December to support the vaccination drive. Anticipating that the supply of AD syringes could be tight, the government has floated tenders to procure even disposable syringes.
Narendra Jain, president and CEO of Iscon Surgicals, another major syringes maker, explained: "The government is now open to procuring even 1 cc AD syringes apart from the 0.5 ml syringes. Some six or seven players who have a 1 cc product could, thus, participate in tenders. Moreover, low-dead space syringes (which ensure little or no wastage of the dose) are now also being procured by the Centre."
The problem is exacerbated by the fact that the demand for syringes for purposes other than Covid-19 vaccinations has also picked up. Nath said that last year, of the 1.9 billion disposable syringe capacity they had, the utilisation was around 50-60 per cent. Now this has gone up to 100 per cent.
This apart, India's syringe demand is experiencing a seasonal spike with dengue and typhoid cases on the rise. Demand for disposable syringes is, thus, high, but this surge is expected to taper off by November.
That is why the government has taken the precautionary step to curb outbound syringe shipments. Last fiscal India exported syringes worth $45 million or so, and between April and July this year, industry exports stood at $17.37 million.
Industry sources claim that as vaccine exports are likely to start by the last quarter of the calendar year, international demand for syringes is expected to rise as well.
As of now, the bulk of the production of key companies is consumed by the domestic market. Almost 80 per cent of HMD's production is consumed in India, and the proportion is more or less similar for Iscon.
But the problem of aligning supply with specific demand remains. The industry body of syringe makers — the All India Syringe & Needle Manufacturers Association — has urged the government to lift the restriction on non-Covid-19 sizes of syringes such as those for administering insulin, 5 ml and larger sizes as also the 0.3 ml AD syringes being developed for Pfizer. It further said that at least 50 per cent of the quantity shipped to the country last year during the October-to-January period should be permitted for export.
The manufacturers' body has also sought information from the health ministry on India's quarterly needs for calendar year 2022. "We can't plan on a two- to four-month horizon," an association representative said. In the immediate term, therefore, the industry awaits a shot of clarity from the government.
Source: Read Full Article