'Had liberalisation not taken place, I may have gone back to the US,' Ratan Tata tells Girish Kuber.
An exclusive excerpt from The Tatas: How A Family Built A Business And A Nation.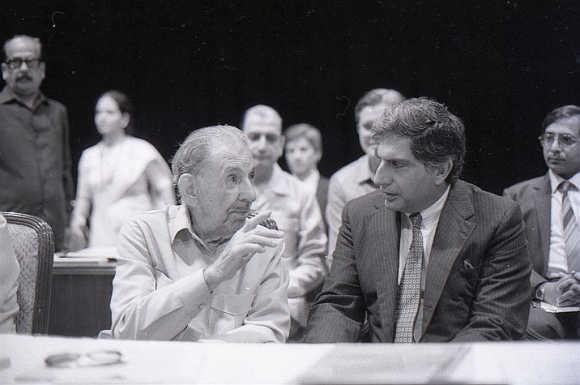 When you took charge, there were stalwarts running different businesses. They were emperors in their own right. Did you think, or do you think now, that JRD was a little too democratic? Did the Tata group have to pay the price for his being too nice to others?
I don't think so. JRD was a lovable person and that trait of his reflected in the Tata group too.
JRD used to say, 'The doors to my office are always open — be it an ordinary janitor or the director of a company.'
Anyone could approach him and talk to him.
JRD used to say, 'The janitor has the same rights as the director. He too is an employee.'
It happened so often that JRD would stop his car at a bus stop and ask the employee waiting for a bus there to hop in!
The employee would many times not know that the person offering the ride was JRD.
He would later realise on seeing his photo in a newspaper!
JRD's genial nature was an important part of his personality.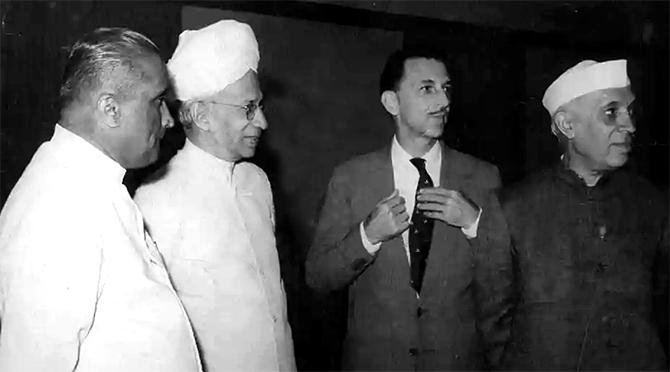 Did that ever cause an obstruction in the growth of the group?
Never! There was no question about it. JRD's behaviour was natural to him.
Don't you feel his good-natured behaviour was detrimental to growth? During the permit and licence raj, did JRD's overly democratic approach not hamper the group's growth?
Not at all! JRD was not overly democratic. In fact, there is nothing like overly democratic. Either you are democratic or you are not.
You are thinking of his strength as his weakness. He was firm in his views and would not get swayed by others. But his behaviour was genial and friendly.
If he saw a man stumble and fall in the streets, he would rush to help him. He would not bother to ask who he was.
That was a value he carried in life. It is unfair to say that his democratic approach caused problems for the group.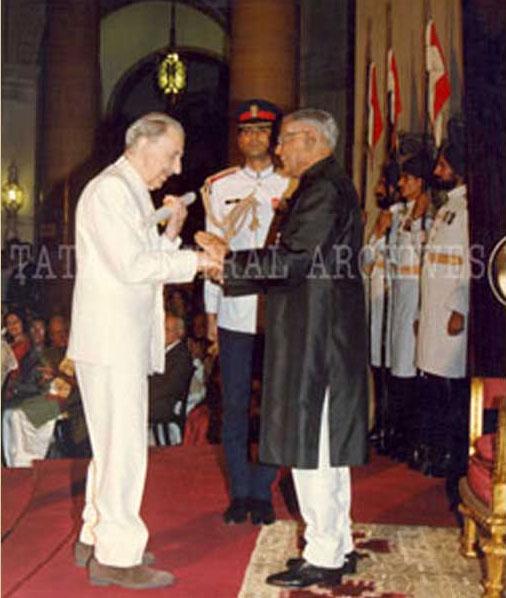 I remember Mr Soonawala saying it would have helped if JRD had been a stricter person.
People used to say JRD used to give them a long rope. But that was his style. His philosophy of life.
He used to trust people. He used to take everyone at face value until he or she betrayed him.
In retrospect, do you believe he took far too long to decide his successor? After all, you have been with the group since 1962.
I had not joined the group to take over as chairman. I never believed he saw me as his successor and treated me so for those many years. I think the decision was taken at the right time.
In retrospect, I do feel that had the decision been taken earlier, I would have had more energy to do things.
But JRD was fully in charge and had the same zeal and energy as in his earlier days. He had a towering personality.
When I was made chairman, I was terrified. My god! How would I match up to him? I was worried that he would be in Bombay House instructing me, advising me.
But from the day JRD retired, he never interfered. I never felt he was looking over my shoulders.
He never poked his nose in any of my decisions. He remained a mentor. It is his greatness.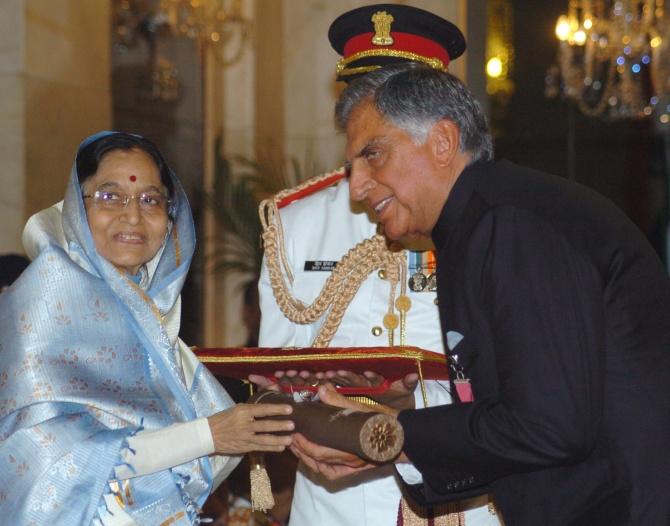 JRD was so loving in nature. Everyone loved his presence. Yet, when you were made the chairman, there was bitterness felt by some.
I am not 100 per cent sure, but I do believe he had indirectly promised a few people that they would be made chairman.
He had strong likes and dislikes. He had considered a few people as suitable for the post. But, over the years, he grew disillusioned with them. Then he would think of someone else.
Finally, he selected me. It was good in a way. Had I been the apple of his eye from day one, I may have met the same fate as others. (Laughs out loud)
Did he not consider Nusli Wadia too as a potential successor?
Nusli was like a son to him. JRD did not have children and he used to shower his love on him like a father.
He did believe that Nusli could be an able successor but, for some reasons not known to me, that did not happen and some disconnect grew between the two.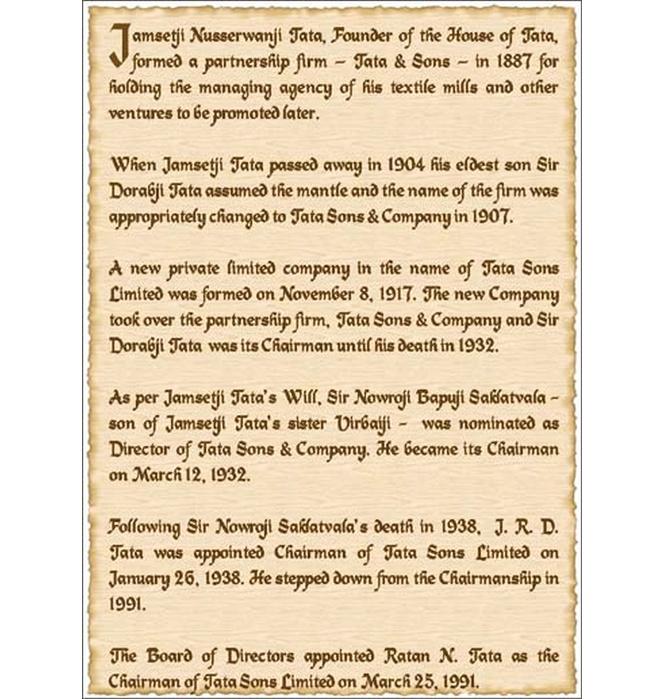 Do you think our lack of trust in our own competencies has set the country back a few decades?
Otherwise, we could have had a fully indigenous car and seen a domestic airline do well back in the 1960s.
Don't you think the governments then could have acted better?
(Sighs deeply and answers carefully) Looking back, I do feel that our country could have been different. But we have taken all that very philosophically.
There is no bitterness, let me assure you.
No bitterness? Wouldn't the Tata-Singapore Airlines joint venture have taken off much earlier?
No, there is no bitterness. Yes, had it happened, it would have been great — to have the airlines take off much earlier.
JRD created Air India. But it was later nationaliSed. JRD used to believe that he could launch another airline with the help of the government. The deal with Singapore Airlines was one such proposal which was objected to by one person.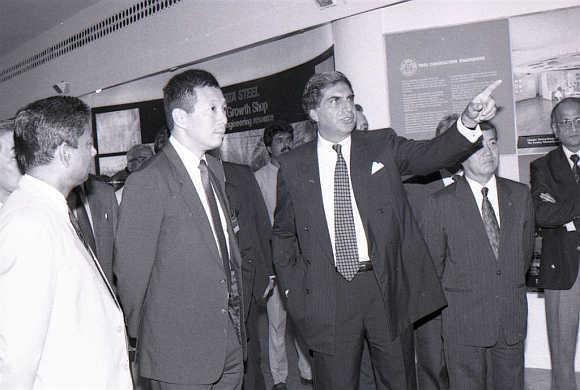 Pramod Mahajan? Or was it C M Ibrahim, aviation minister in the I K Gujral government?
Neither. (Mentions an industrialist in the aviation sector he doesn't want to name.) It was he who was behind Pramod Mahajan's objection.
Does that hurt you — to realise that these men are so selfish that they are willing to put the country's development at stake for some personal gains?
I don't recall JRD feeling bitter. Yes, he did feel bad. But he would never allow his thoughts to affect his love for the nation. He sometimes used to get fed up.
I was with him in those days. He would feel that a proposal would get rejected by the government. He used to feel disappointed. But never bitter.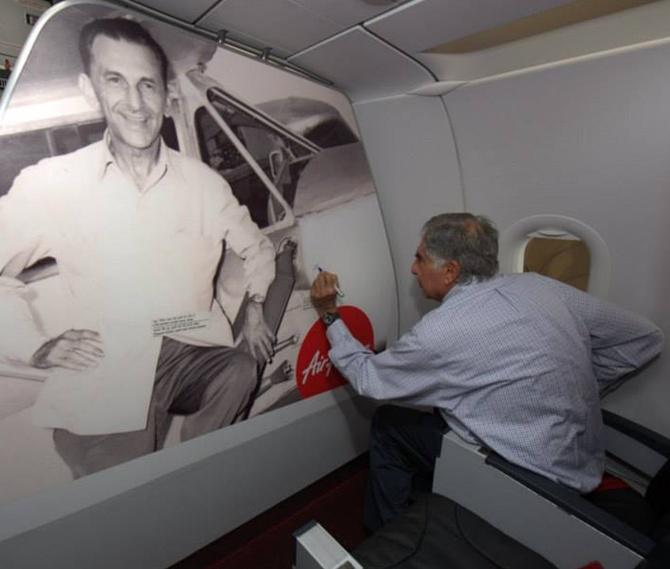 You were with JRD when Air India and New India Assurance were nationalised. George Fernandes tried to nationalise TISCO too. Did JRD ever feel that the government had let him down?
He did feel that he was being pulled back, but he never felt let down.
He surely used to feel bad about his proposals being rejected, but he used to wish the government would give up its permit and licence raj mentality and think of the progress of the nation.
He used to rue the fact that the government was not willing to look at it that way. He used to object to the way the government functioned, but he never allowed himself to get bitter about it.
He took it all in his stride. He was very philosophical about it.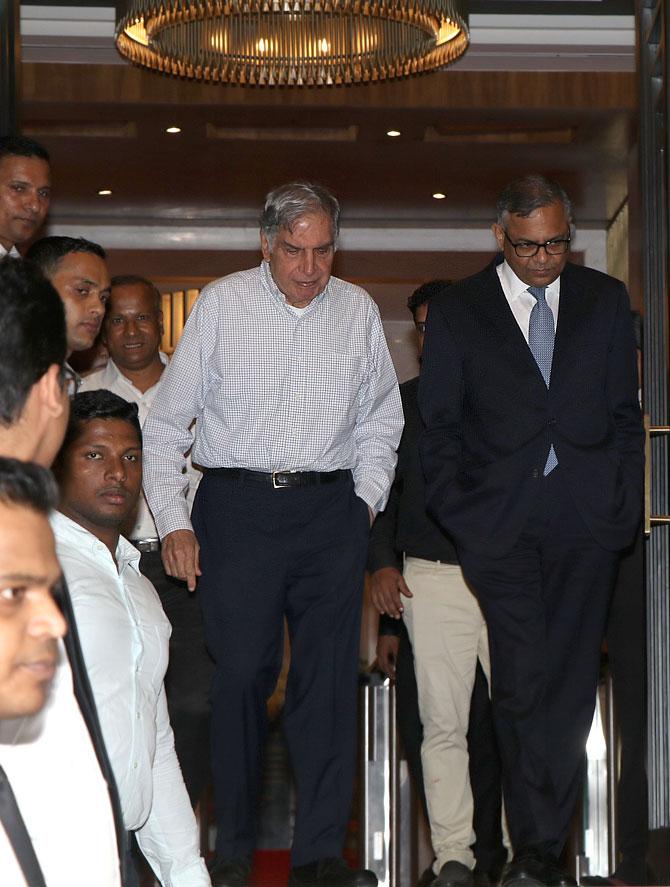 You introduced the concept of brand royalty.
It was necessary to do that. To give the group a particular shape. To recreate the Tata brand.
There was a lot of criticism then. Many had commented that the Tata companies were going in different directions during JRD's time.
There were nearly 35 large companies. Tata Chemicals had a vision and a logo of its own, while Tata Steel represented something else.
The group's image was not being represented by any one company. It was not consistent.
My contribution has been to create a single identity which is reflected across the group.
We started charging for the brand usage. We did not force any company but made it clear that if they used the Tata name, they needed to pay for it.
We made an agreement with all companies based on which they had to follow certain rules, values and ways of working.
If they were using the Tata name, they were bound to follow them.
Was it easy? There were big guns like Darbari Seth, Russi Mody and others who had minds of their own.
There was initial objection. Not that it was easy to implement our policies. But once the companies started seeing the benefits, it was easy.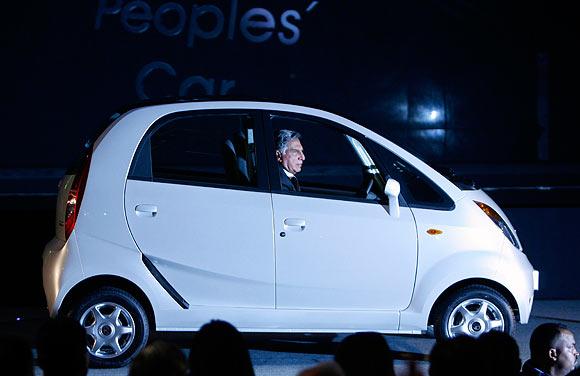 Did the stalwarts not feel that you were challenging their supremacy?
Of course, they did. But they had no choice.
When the companies realised the value of using the Tata name and being associated with the group, they themselves came forward to join.
Numbers show that the group reached new heights during your tenure. What is the learning you feel most proud of?
I remember my days with NELCO. It was in huge losses and struggling when I was asked to look into it.
We had cash flow issues and were worried about not being able to pay the workers' salaries.
I had to borrow money from banks to be able to tide over the crisis. I learnt a lot then.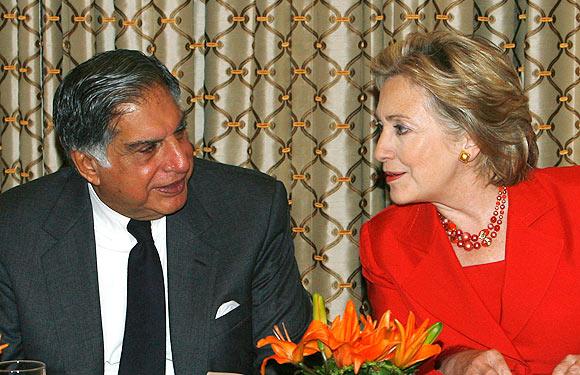 How relevant or sufficient was the experience to run a group like the Tatas?
Had that not been enough, I would have had to make more mistakes to learn! (Laughs) I learnt a lot about handling labour issues. I used to interact a lot with the workers' unions.
Now, at this stage in life, do you get a feeling that you were born in the right family but not in the right country?
Never! I have never felt that way. In fact, I feel lucky to have been born here.
It was coincidental that the opening up of the economy and liberalisation took place at the same time when I took over.
Maybe, had liberalisation not taken place, I may have gone back to the US. I have been lucky.
Many sectors opened up for investments. We were able to do what we were not allowed to for decades.
JRD had struggled so much! I was able to reap the benefits of it!
Do you think changes are taking place here? In the way people look at industry?
I definitely feel so.
Everyone wants growth, but with it come jealousy and pettiness.
We try to pull the other person down, but I feel that the youth of today are different.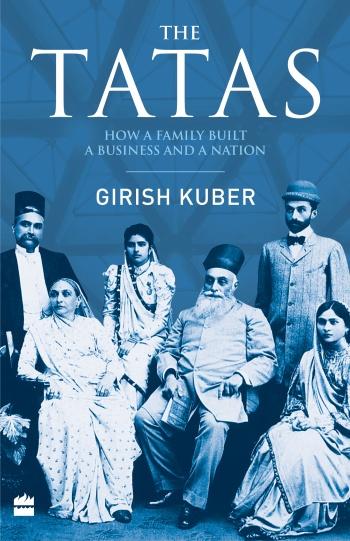 Excerpted from The Tatas: How A Family Built A Business And A Nation by Girish Kuber, with the kind permission of the publishers, HarperCollins India.
Source: Read Full Article