Shailajanand Mishra lists The Top Videos of the Week! Take a look.
Every week is full of newsworthy events. And we make sure we bring you the most interesting ones, with a special twist.
These videos are chosen by you, through your likes.
So if you'd like to see your favourite video on our weekly round-up, please make sure you like them on iShare.
Amitabh Bachchan resumes shooting
Date: June 24
Location: Mumbai
The legendary Amitabh Bachchan was spotted in the Mumbai suburban hotspot, Bandra, shooting for his upcoming film, Goodbye.
His co-star is Neena Gupta, who hasn't looked back after Badhaai Ho.
The shooting for Goodbye, which is being produced by Balaji Telefilms, came to halt due to second wave of COVID-19 in April.
Why this bride called off her wedding
Date: June 25
Location: Auraiya, Uttar Pradesh
Who knew wearing glasses to read a newspaper could stop a wedding?
That's exactly what happened in Auraiya when a girl refused to marry because the groom was unable to read without his glasses.
"My parents were deceived. They did not tell us about boy's weak eyesight. I called off the wedding because he could not do anything without wearing his glasses," the bride, Archana, told ANI.
Bihar nurse gives 'empty shot'
Date: June 26
Location: Chhapra, Bihar
This one went viral on social media.
A nurse injected an empty syringe into a man at a COVID vaccination centre in Chhapra on June 21. The nurse has been removed from vaccination duty.
Alert female cop saves man's life
Date: June 28
Location: Mumbai
A female RPF cop saved the life of a passenger, who slipped while boarding a running train at the Vadala Road railway station in Mumbai.
The incident was captured on CCTV.
The RPF constable's brave, quick action prevented a tragedy.
Bhopal woman grows 'mini-forest' behind her home
Date: June 29
Location: Bhopal
A woman from Bhopal has grown a 'mini forest' behind her home.
Her 'mini forest' has 4,000 plants growing in an 800 sq ft area.
These plants belong to 450 species, of which 150 are rare and cannot survive in Lucknow's climatic condition. So she has created a special space for them.
She is also a national record holder for creating the 'mini-jungle'.
Why she sold 12 mangoes for Rs 120,000
Date: June 30
Location: Jamshedpur
A 11-year-old girl from Jamshedpur sold a dozen mangoes for Rs 1.2 lakh and bought a smartphone so that she could continue her online studies.
Tulsi was unable to pursue her studies online due to financial constraints. In order to save money, she used to pick mangoes from a garden and sell them.
Mumbai businessman Ameya Hete found about Tulsi's struggle. He immediately purchased a dozen mangoes for Rs 1.2 lakh to help her continue with her education.
One mango tree, 121 varieties of mangoes
Date: July 1
Location: Saharanpur
This single mango tree has 121 varieties of the fruit growing on it!
The 15-year-old mango tree has become quite an attraction in Uttar Pradesh's Saharanpur district, which is famed for its mangoes.
Growing in the district's Company Bagh area, the unique tree is the product of an experiment initiated by horticulturists five years ago with the aim to develop new varieties of mangoes and experiment with their taste.
Feature Presentation: Ashish Narsale/Rediff.com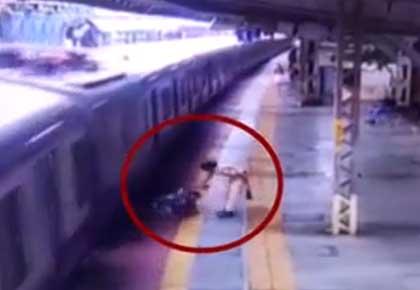 Source: Read Full Article