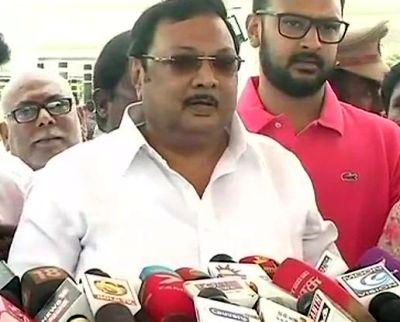 Amid suspense over who the political successor of Karunanidhi and the chief of Dravida Munnetra Kazagham will be, M K Alagiri, who was expelled from the party four years ago, claimed on Monday that all the true relatives of his father were on his side and were supporting him.
Addressing media persons at his father's memorial at Chennai's Marina Beach, Karunanidhi's eldest son Alagiri said, "My father's true relatives are all are on my side. All the supporters in Tamil Nadu are on my side and are encouraging me only. Only time will give the answers; that is all I am willing to say now."
Alagiri's comments come a day ahead of a key meeting of the DMK where the party's leadership will most likely be decided. The late leader's younger son M K Stalin is currently the working president of the party.
It was under his leadership that the DMK fought the May 2016 assembly elections, which the party lost to the ruling All India Anna Dravida Munnetra Kazhagam, its second straight defeat.
Alagiri was once considered to hold sway over the party and had won the 2009 Lok Sabha election and went on to become the chemical and fertilisers minister in the Manmohan Singh government. However, he was suspended from the party in January 2014 after he came out in support of Narendra Modi and the Bharatiya Janata Party ahead of the Lok Sabha elections.
— With inputs from Agencies
Source: Read Full Article