Telsa has already received government approval for four of its models to be roadworthy in India.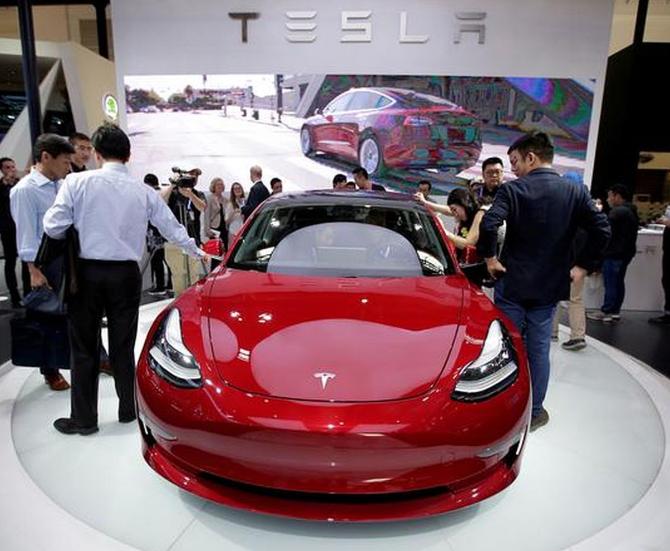 Palo Alto-based electric carmaker Tesla has initiated talks with the government on the modalities of setting up fully-owned retail outlets.
The company needs to comply with the foreign direct investment (FDI) guidelines related to single-brand retail, including local sourcing norms, to sell directly in India.
At least two other foreign majors — Apple and Ikea — were engaged in talks with the government long before the sourcing norms were eased under the single-brand retail route.
While Swedish furnishing company Ikea has begun its retail foray in India, the iPhone maker is yet to set up its physical store in the country.
Last year, Apple launched its online store for India, while deferring the brick-and-mortar outlet due to the pandemic.
An e-mail sent to Tesla's press team in North America and Asia Pacific did not elicit any response.
Companies with proposals involving over 51 per cent foreign stake in single brand retail must source 30 per cent of the value of their goods from India.
As per the tweaked FDI rules to enable foreign businesses to operate in India, all procurements made in India by the single brand retailer entity shall be counted towards local sourcing, whether it's for domestic or overseas sales.
Tesla has globally set up its own retail outlets rather than going for a dealer network. It also sells online.
The rule states that a single brand retail trading (SBRT) entity is also permitted to set off sourcing of goods from India for global operations against the mandatory 30 per cent sourcing requirement.
For this purpose "sourcing of goods" from India for global operations shall mean value of goods sourced from India for global operations for that single brand (in Rs) in a particular financial year directly by the entity undertaking SBRT or its group companies or indirectly by them through a third party under a legally tenable agreement.
Industry experts say that Tesla has been sourcing auto components from the country after signing up non-disclosure agreements.
There have been recent reports that it might increase India sourcing and is in talks with at least three domestic component manufacturers.
According to auto component analysts, they have been looking for a range of components like light-weighting of forged parts, possibly steering wheels, amongst others.
Under the FDI rules, the company can account the value of third-party deals for meeting its local sourcing norms, irrespective of whether it's for use in India or exported.
Apple Inc, which plans to source 30 per cent from India in five years for mobile devices, has already started assembling phones through its contract manufacturers, both for India and exports.
Tesla is looking at importing the cars initially. Tesla boss Elon Musk has called for a cut in the duty of imports — currently at over 100 per cent — saying this policy is not consistent with its climate goals.
Musk has also said that depending on how imports of cars do in India, it might look at a production facility in the country.
The move has already been publicly opposed by many Indian players like Ola Electric, which has said that the company should invest in manufacturing in India rather than import.
But it has also received support from global companies like Hyundai–the second largest car manufacturer in the country–and Volkswagen. Many global companies have been pushing for a reduction in duty to 40 per cent.
The size of the electric car market is negligible and existing models are expensive and out of reach of most consumers.
R C Bhargava, chairman of the largest carmaker Maruti Suzuki, in an interview said the market for electric cars was very small and would take more than five years to take off.
Telsa has already received government approval for four of its models to be roadworthy in India.
Photograph: Jason Lee/Reuters
Source: Read Full Article