Tata Motors, the market leader in electric four-wheeler space, has sought incentives for its Tiago EV under the government's production-linked incentive (PLI) scheme, group chief financial officer P B Balaji said on Tuesday.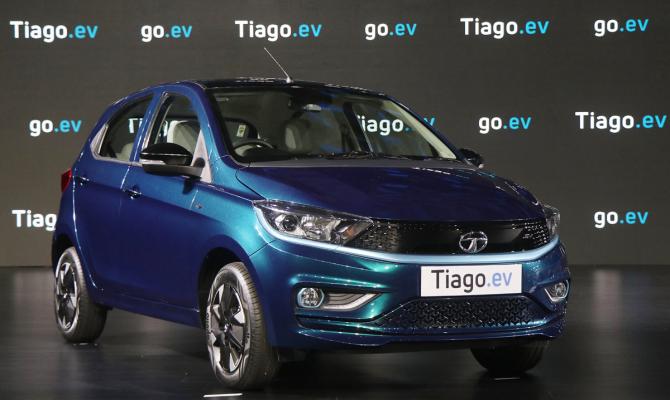 The Mumbai-headquartered firm has applied for all variants of the Tiago, which recently hit a sales milestone of 10,000 units.
"The Automotive Research Association of India certification is done.
"We are now in the process of filing paperwork and we expect to get an approval from the government in the next one or two months," Balaji told reporters.
Original equipment manufacturers (OEMs) have to take an eligibility certificate from the association, a testing agency under the ministry of heavy industries, to claim incentives under the PLI scheme that was launched to promote domestic production.
Mahindra and Mahindra had recently received an eligibility certificate from the association for its electric three-wheeler.
The Rs 25,938-crore PLI scheme started in September 2021.
OEMs were to be given incentives from April 2022 on the sales value of advanced automotive technology (AAT) products (vehicles and components) made in India if they met the minimum 50 per cent domestic value addition (DVA) criterion.
The government, however, came up with a set of standard operating procedures in April 2023.
Rising EV input costs
Balaji said the prices of lithium cells used in electric vehicles have increased since June last year but there has been some stabilisation since March.
"We are expecting reduction to happen as the year progresses, as more supplies come up, and there is some softening of demand, in China for example," he added.
Tata Motors has taken several rounds of price hikes for its passenger vehicles range: In April and July 2022 and in February, May, and July 2023. The total quantum of cumulative price hikes is around 3.4 per cent.
Balaji said that multiple factors, such as the brand, innovation and cost-saving programmes, shape the pricing decision.
The Tata Motors brand has strengthened and the company's ability to get better pricing in the market has improved compared to the past, Balaji added.
"We are balancing between growth, appropriate profitability and the level of competitiveness that we need to be in this business," he said, adding that no immediate price hikes are planned.
Source: Read Full Article