From a city remarkably calm as the Taliban knocked at the door, to one that locked itself inside or desperately sought a way out. The Indian Express captures the ordinary lives amidst the extraordinary collapse of the Afghan capital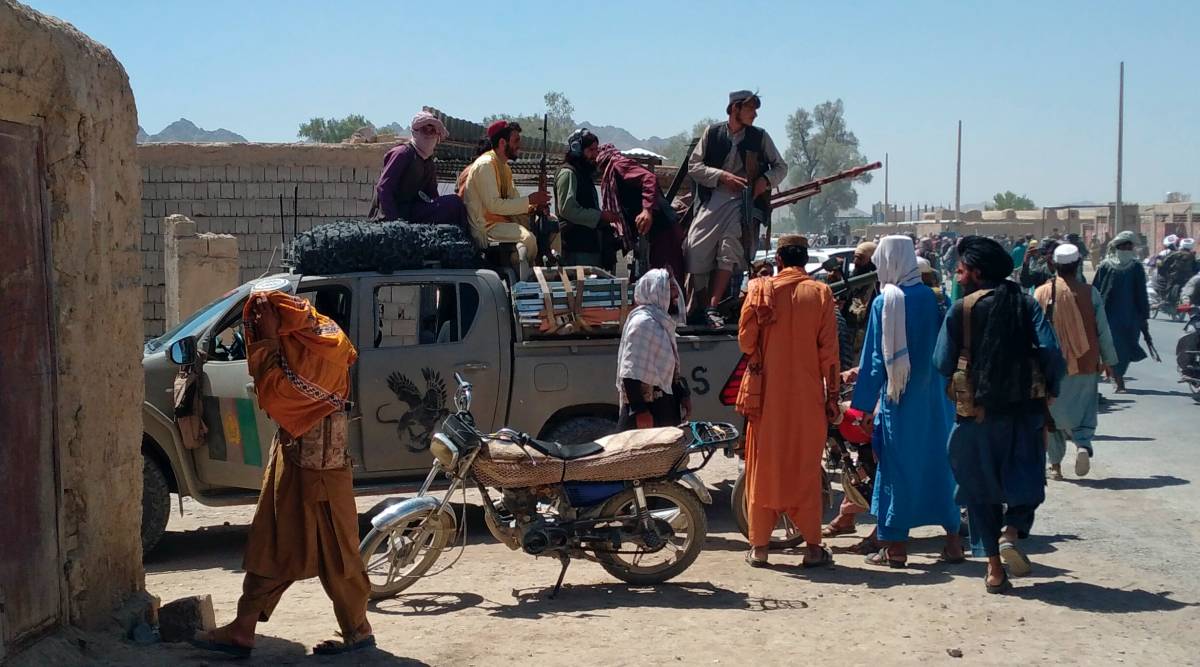 From a city remarkably calm as the Taliban knocked at the door, to one that locked itself inside or desperately sought a way out. The Indian Express captures the ordinary lives amidst the extraordinary collapse of the Afghan capital
AUGUST 13
Taliban are heading to Kabul, having swept south, west
From Delhi to Kabul's Hamid Karzai International Airport, it's a two-hour flight. Less than fifth of the seats are occupied this Friday the 13th, most of them businessmen or students, braving four government advisories against travel to Afghanistan. The afternoon is warm when we land in Kabul, but it quickly turns crisp as cool winds blow in from the surrounding hillocks.
A mask-less Kamran, in his 30s, is there to receive me. He has been recommended by a Kabul-based friend as a reliable driver.
Outside, despite the news that the Taliban are now just 100-odd km from the capital, the streets are not as empty as one would expect, filled with men and women, some with children as well, and security check-points. The hillocks provide a deceptively peaceful backdrop. Most of the vehicles on the road, like ours are worn-out Toyotas. The brand and Afghanistan have a long association, well documented at least since the 1996, when the Taliban first came riding into Kabul on them.
We cross the downtown Shahr-e-nau area, with its famous Slice bakery, glitzy shops, a shopping mall advertising Hush Puppies, and takeaway joints like Chief Burger. The customers are mostly men, but there are also women. Kamran advises that I pick up some dry fruits before I leave.
As we cross a park, the conflict hits one in the face. Almost all such expanses across Kabul are now overtaken by families who have surged into the capital from the countryside, fleeing the Taliban. Those unable to find space in the grounds have set up home on the footpaths, with local mosques pitching in with aid.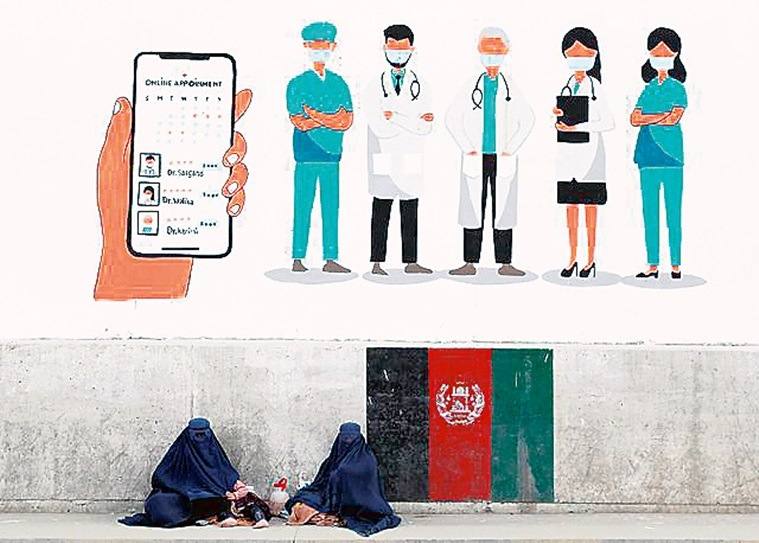 Mohammad Wasim, 47, a father with three teenage daughters and two sons, says, "Taliban ke aane se hum zinda laash ban jayenge… Sirf pathar ki tarah reh jayenge (We will be like the walking dead once the Taliban come, little better than a rock)."
As I settle down at a guesthouse, I realise the Internet is patchy. It will have to do for the night.
AUGUST 14
Taliban seize Pul-e-Alam, 70 km south of Kabul
The first thing next morning, I move into Serena Hotel in Shahr-e-nau. My room, No. 347, comes cheap. and I soon realise why. It's street-facing — in a war-habituated country, this means it runs a greater risk in case of an attack.
Almost all the other guests are journalists or diplomats. The hotel knows its clientele well; power is uninterrupted and a complaint regarding Internet is answered promptly by staff that includes one wearing a badge saying he is fully vaccinated against Covid. The virus has been surging in its second coming, with more than 1.5 lakh cases and 7,000-plus deaths as of August 13, according to the Johns Hopkins University database. But, amidst the war, vaccinations (both with India- and China-made shots) are trailing and masks are a rarity.
Serena is considered one of the most protected hotels in Kabul, having survived two attacks, in 2008 and 2014, leaving six and nine dead respectively, including foreigners.
It will be soon after that strongman Abdul Rashid Dostum's Mazar-e-Sharif will fall to the Taliban — in another decisive point in the war. In Karte Seh, a dusty, middle-class Kabul neighbourhood that in the mid-1990s had been the site of pitched battles between the mujahideen and Soviet-backed troops, a queue is already building outside the passport office.
Amidst the hundreds in the line, is Babar. Holding a sheaf of papers, the 40-year-old says, "I will go to whichever place gives me a visa."
A 31-year-old, employed with a German agency carrying out reconstruction projects, says he has been coming for a week now. He is married, with a daughter who is 2, and hopes they can all get out.
A passport official says that from 2,000-3,000 applications a day, the number has gone up to 10,000-12,000.
There are not many choices, says an employee at the Yangi Qarizada Brothers Travel and Tours. No country except Pakistan is granting visas, he repeats to everyone who comes enquiring.
August 15
Taliban enter Kabul
The Taliban are now at Kabul's doorstep, and from the morning, people are queued up outside a bank to withdraw money.
I want to meet some Afghan women, employed with schools, beauty salons, refugee shelters, and have a translator for the day, Rabia. In her early 30s, she works in the entertainment industry.
The government school we head to first is shut. Our next stop is a private school that is the institution of choice for the well-heeled in Kabul. The students, 300 in all, 140 of them girls, are not here today.
The principal welcomes us into the office, but soon news reaches that the Taliban have entered the city. The principal quickly summons all the teachers — 16 of the 20 are women, in their 20s and 30s — and asks them to immediately go home. "I can't risk their lives, they are like my children," the 62-year-old, who has been running the school since 2005, says. He lived through the first Taliban reign.
At the beauty parlour, the owner is in similar hurry to down the shutters and rush home.
Back in the car, our guide-cum-driver, Rahab, 35, and Rabia, both get calls from their families to come home too. It is about 12.20 pm, and the roads are suddenly full of people in panic. We find ourselves in a traffic jam.
Rahab, a father of four, one of them born days earlier, tells Rabia and me to head to the hotel on foot. He hands me an Afghani patka (scarf) to wear to blend in.
I ask Rabia if it is okay for her to be found on the streets with a man not related to her. "Allah maalik hai… aapko aise beech sadak mein kaise chhorh sakte hain (It's up to God… How can I leave you stranded like this)?"
On the streets, the chaos is growing. In one of the areas that Rabia tells me is a hub of jewellery, the women have already disappeared.
In that walk of about 30 minutes, which feels much longer (also due to the heat), Rabia talks about the Taliban not respecting women, about what it will mean for her. She spent six years in Noida, near Delhi, studying, she says. Soon, her younger sister, a small-time TV actress, calls to say she is rushing home.
Finally back at the hotel, I bid Rabia goodbye, and know I must plan my own exit from Kabul. Slogans welcoming the Taliban into the capital can already be heard on the streets.
I call up Kamran, but he says he can't come right away as the roads are blocked. Around evening, he arrives and we make our way to the Indian Embassy, in the so-called 'Green Zone', for the layers of security guarding it.
Today, there is no one around.
The Embassy is working on evacuating Indians, but it won't happen any time soon. I return to Room No. 347.
Later that evening, the Taliban take over the Presidential palace, formalising their capture of Afghanistan. A war of 20 years has come to an end with lightning speed.
Coincidentally, at the hotel, the Internet has slowed down, while phone signals too seem to be failing.
AUGUST 16
First day of Taliban
The roads are full of Taliban fighters racing each other in their SUVs, waving their flag.
My plan is to leave the hotel in the wee hours for Kabul airport. As I wait for Kamran, about 50 armed Taliban men enter the lobby and proceed to survey the facilities. They notice a journalist colleague and me, but ignore us.
On way to the airport, we are stopped several times by Taliban fighters, but then waved clear. As it gets lighter, we spot a sea of people headed the same way, crammed into vehicles or walking, with whatever they can carry.
An Afghan man, with his wife and three daughters, says he has to get to Sudan, where he works. "But how can I go in this chaos?"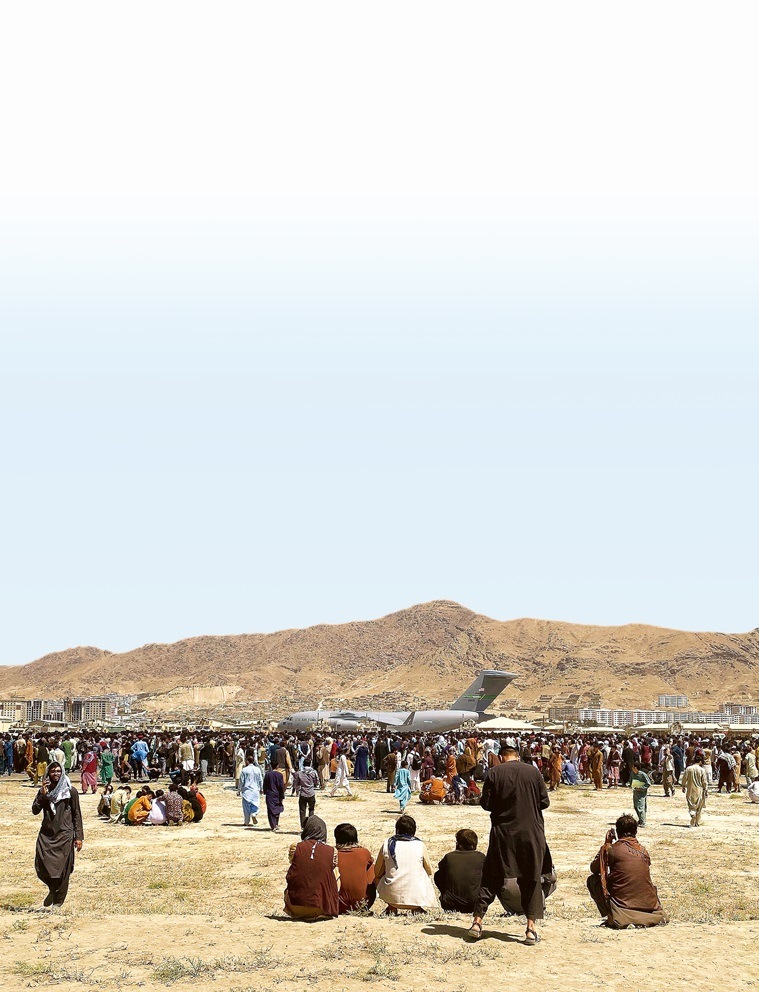 Six armoured personnel carriers block access to the airport. As the crowd try to get past, the Taliban fire into the air, every few minutes, to push them back. The men, women and children duck behind trees and a barrier, but emerge minutes later to try again. Finally, it is the Taliban who relent, move the carriers away, and people rush into the terminal building.
There is more firing, and rumours of a shootout between the Americans and the Taliban. However, few are deterred.
As the fellow journalist and I make our way into the terminal, there are shards of glass everywhere, along with bullet shells, abandoned footwear, and blood on the floor. A body is being hauled away on a baggage trolley.
There is no one manning the baggage scanners at the entrance; in fact, no one around. We take the empty chairs. Soon though, the firing seems to be getting closer and more frequent, making us conscious of the emptiness around. We move inside, near the check-in counters.
We wait, and wait, constantly checking with the Embassy and Ministry of External Affairs officials, as well as fielding anxious calls from back home. People come and go, walking calmly or breaking into a run when there are gunshots. A group of young men spot us, and walk over to say, "Why are you leaving? The Taliban won't do anything… You don't worry, go back to your hotel."
But we stay put. It's almost noon when a Taliban fighter appears. An AK-47 on his shoulder, he waves a pistol at us and asks us to leave.
Unsure, we head out to a hallway. As we are deciding what to do, a Taliban fighter drags a man to behind a wall, and we hear gunshots. People around us run, no one knows where.
A man offers to take us to the US-controlled airport area from where flights are taking off, but which is also besieged by people desperate to leave. We decide our best bet is going back to the hotel.
Outside, the control is now visibly under the Taliban. At the popular selfie point with the sign of 'I Love Kabul', its fighters are checking papers of people emerging from the airport. A commander waves us through when we say we are Indian.
But, minutes later, we find ourselves in a crossfire between a new crowd trying to make its way into the airport and the Taliban pushing them back. As bullets fly, I duck behind a suitcase containing clothes for the 7-10 days trip I had hoped for.
We decide to crouch and make our way away from what is developing into a stampede. Several people are on the ground, either having fallen or been shot. A woman bleeds, a blue-eyed girl standing next to her weeps. Out of nowhere, a stranger gets hold of my colleague's suitcase to escort her out, and I follow.
The new victors of Kabul are celebrating at road junctions, with some people clicking photos of themselves with their pick-up trucks. In my nervousness, I brush past a fighter with my suitcase. He glowers, but lets us pass.
We finally convince a taxi to take us to our hotel. There are checks now almost every 10 metres, but one look inside and the Taliban tell us to carry on. The driver keeps urging us to not take our phones out. We decide then to head to the Indian Embassy, instead of the hotel.
At the Green Zone, where there was no security the day before, there are now Taliban fighters swarming, their guns cocked. The other thing noticeable are their sneakers — a white high-top Pakistani brand that has lately caught Taliban fancy.
I request one of the younger ones, in his early 20s, to let us head on to the Embassy. He hails over someone to help translate, but says no one is permitted. As we are told to move to a corner, a group people approach us to ask the Indian Embassy to let them in as well.
Another request, to an older Talib, who looks like he is in-charge and carries a rocket-launcher, is as futile. He smiles and tells us to go to the hotel, that nothing would happen to us.
After we have stood there for another hour or so, my colleague approaches them, saying how could they let an Indian woman stand on the road. They finally let us in.
But, at the Embassy, we realise there is still some wait ahead. With the airport tarmac taken over by crowds, flights are suspended. Through the day, Indian officials work the phones, with the Taliban and the Americans.
Finally, around 10 pm, we leave the Embassy; around 150 of us in 19 Toyota Land Cruisers and three trucks. We are allowed to carry only handbags. I take my laptop, leaving behind my suitcase. With us is one of the three sniffer dogs being evacuated, the Labrador Maya. The Taliban — the word is, they might actually be armed militia — escort us.
Even at this late hour, there is traffic on the road, but no one stops us. Near the airport though, the crowd of families hoping to get in hasn't thinned. We are advised to head to another gate, which is secured, with no people.
AUGUST 17
Getting out
At about 2.30 am, we make it to the US-military held airport compound. The wait, however, continues. Busy processing papers of Afghans employed with them as translators, the US military gives us water and a place to sit at 5 am.
Around 6.30 am, the Indian Air Force's C-17 Globemaster aircraft finally takes off for Delhi, with about 130 people from the Embassy and two dozen civilians on board.
From the relief of the plane's interiors, Kabul again seems incongruously pretty, the sun bathing the hillocks. As a precaution, the IAF avoids the Afghan airspace, flying over Iran to first, Jamnagar, and then Hindon near Delhi.
I have just walked into my home at 7 pm, when my phone rings. It is Kamran. "Sir, have you reached?" he asks. When I say I just did, he rebukes me, "Kya saab, aapne phone bhi nahin kiya (What Sir, you didn't even let me know)?"
Two days later, I call up Rahab to check on him. While the Taliban control is total, there have been some protests and a backlash.
Rahab tells me for the first time about an incident that happened on August 16, after he had left Rabia and me to make our way to the hotel on foot. Around 15-20 Afghan policemen in his neighbourhood had refused to surrender their weapons to the Taliban. "They killed all of them… There was not a word of it in the news."
It's good that we left in time, he says. "Mahaul bahaut kharab hai (Things are very bad)… No one can go outside, except those who are with the Taliban." Earlier that day, he had somehow taken his newborn, just nine-days-old, to the doctor.
"We work with foreigners — Indians, Americans, British — they all left, nobody took us," he says. I promise to stay in touch.
On Friday afternoon, I call up Rabia. She tells me how, after dropping me to the hotel, she had to walk for more than an hour, often run, as people hid away before the Taliban came.
When I tell her I am back in Delhi, she is relieved. "I was worried about you," Rabia says, talking about the Taliban fighters now stationed near her house. "My father who is in his 70s is the only one stepping out to get essentials."
She wonders when the passport office will reopen so that she can try getting out of the country. "Bas insaan ki izzat pe haath nahin daalen. Marne se dar nahin lagta hai. Par zillat ki zindagi nahin jeeni… Baaki Allah ke haath mein hai (I just wish they don't harass us. I am not afraid of death. But I don't want to lead a life of dishonour… Rest is up to God)."
As I hang up, with another promise of staying in touch, I notice her WhatsApp profile photo. It is Shah Rukh Khan.
(All names have been changed to protect their identity)
Source: Read Full Article