Telangana, Rajasthan Assembly elections LIVE: Rahul Gandhi is on his last leg of his campaign for the upcoming assembly elections in Rajasthan.
Telangana, Rajasthan Assembly elections LIVE: Prime Minister Narendra Modi and Congress president Rahul Gandhi are scheduled to address separate public meetings Tuesday in Rajasthan. While the prime minister will be in Hanumangarh, Sikar and Jaipur, the Congress chief will canvass in Malakhera, Buhana and Salumbar. Revanth Reddy, Congress' working president in Telangana and Kodangal candidate was taken into preventive custody early morning today. Reddy had threatened to stop Chief Minister K Chandrasekhar Rao's rally in the constituency today.
On Monday, both leaders addressed public meetings in Telangana. Gandhi targeted the Telangana Rashtra Samithi (TRS) and All India Majlis-e-Ittehadul Muslimeen (AIMIM), accusing them of being hand-in-glove with the BJP. "TRS is the 'B' team of BJP. KCR is the rubber stamp of Modi. KCR is Khao commission Rao. Owaisi and his AIMIM are 'C' team of BJP and its role is to split anti-BJP and anti-TRS votes,'' Rahul said. Modi, on the other hand, called for replacing the dynastic rule in Telangana and vote for the BJP for a strong and democratic government, and also took on Telangana Chief Minister K Chandrashekar Rao for his decision on reservations based on religion.
Live Blog
Rajasthan will go to polls on December 7, the results of which would be declared on December 11.
Modi concludes speech in Hanumangarh.
Five years ago, headlines stated scams: Modi asks people
"Five years ago, newspaper headlines used to state corruption scams including coal scams, 2G scam or the submarine scam," says Modi. He questions people if thye have witnessed any such scams in the past five years.
Farmers cannot trust Congress' false promises: Modi
"Farmers cannot trust Congress' false promises. Congress promised to waive off farmers' loans and did not succeed," Modi says. Modi says farmers are facing trouble today due to Congress' inaccurate policies and sins.
"The four generations of this family who do not have an udnestanding of land and farmers, made policies that destroyed the farmers instead," says Modi.
Kartarpur went to Pak due to Congress' lack of vision: PM Modi
"Kartarpur went to Pakistan due to lack of vision, sensitivity of then Congress leaders. Then Congress leaders had no idea about importance of Guru Nanak Dev, therefore Kartarpur in Pakistan today.
Holy work of Kartarpur corridor came to me, Congress will have to answer why this was not done in last 70 years. Credit of Kartarpur corridor goes to your vote and correcting Congress mistakes was my destiny," says modi.
Modi lives, struggles for you: Modi in Hanumangarh
Speaking over the state of affairs in Rajasthan Modi questions the lack of water in the state. "He (Modi) lives for you, he's awake for you, he struggle for you, he bends before you," ays Modi.
All scams and corruption came to a halt, all becasue of people's vote, says Modi. "My vote has the strength that save the country from corruption."
Kartarpur corridor would not have built, if you would have voted for some other party: Modi Hanumangarh
Modi blames Congress for the Kartarpur corridor issue and says If Kartarpur corridor is built, the credit would go to people's vote. "If you would have given your vote to someone else, kartarpur wouldnt have ever happened," says Modi.
Modi speaks about the six women navy officers who completed circumnavigation this year on the vent of Navy Day.
Modi begins to address in Hanumangarh
PM Narendra Modi addresses a gathering in Hanumangarh and introduces party candidates
Raje scheduled to canvass in districts of Rajasthan
Meanwhile, Chief Minister Vasundhara Raje will most likely address people across districts of Rajasthan today including Sallada, Raipur, Kotdi, Boondi.
Silence of Cong on lynchings across Alwar in stark contrast to the noise it makes on crime
From its manifesto to public rallies, social media and posters, the Congress underscores public security and the rising crime rate in Alwar, but steers clear of mob violence fearing a Hindu backlash. Not far from Delhi, where senior party leaders routinely target the BJP state government on mob violence, is Behror — ground zero of cow vigilantism in Rajasthan and where Pehlu Khan was lynched by cow vigilantes in 2017.
Midnight arrest of Reddy is stain on democracy, a sign TRS fears imminent loss: Congress
KCR is misusing police, Reddy is Brahmos missile: G N Reddy
Telangana and Kodangal Congress' chief taken into preventive custody
Revanth Reddy, Congress' working president in Telangana and Kodangal candidate for the upcoming elections, was taken into preventive custody early Tuesday morning. Reddy, the incumbent MLA, had threatened to stop Chief Minister K Chandrasekhar Rao's rally in the constituency today. Karnataka minister and Congress leader D K Shivakumar described the move as "intimidation" by the Telangana Police and appealed to the Election Commission to take action.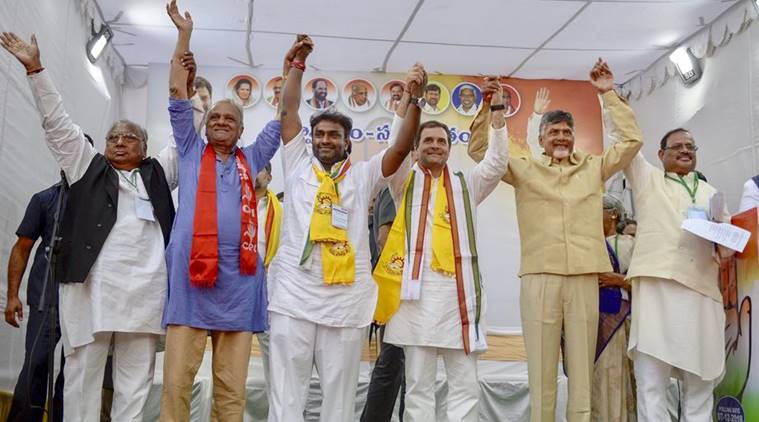 Gadwal: Congress President Rahul Gandhi, Andhra Pradesh chief minister N Chandrababu Naidu and other leaders during an election rally ahead of the state Assembly elections in Gadwal, Telangana, Monday, Dec 3, 2018. (Handout Photo via PTI)
Modi invoked the first prime minister Jawahar Lal Nehru while talking about the agrarian distress in the country on Monday.
Without naming Nehru, Modi said a leader wore a rose and had knowledge of gardening but did not know about farming, which he held as the reason behind farmers' distress. "He (Nehru) used to wear rose and had the knowledge of gardens but did not know about farmers or farming, due to which the community faced hardship," PM Modi was quoted as saying by PTI.
On Monday Congress president hit at Modi accusing the prime minister and ruling BJP of posing a threat to the country, claiming that they "spread hatred and anger".
Source: Read Full Article