Indian online shoppers spent an average of $224 in 2017, which was less than a tenth of what the average user spent online in the US at $2,237 in the same year
Illustration: Uttam Ghosh/Rediff.com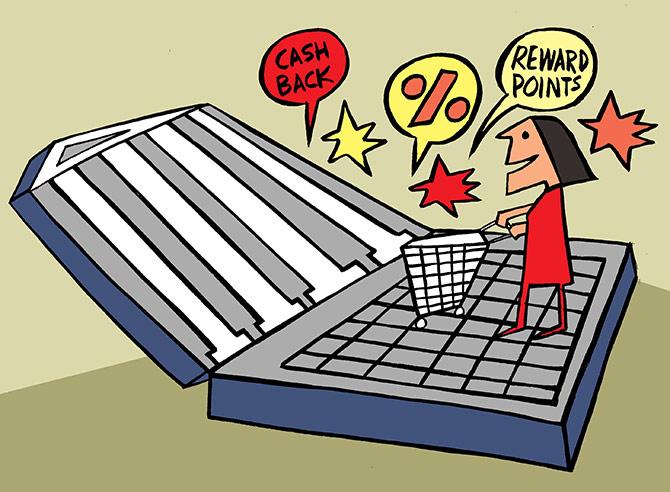 As India's Internet penetration booms (390 million Internet users) thanks to rock bottom data prices ($0.17 per GB in 2017), the country's online retail market is witnessing a massive surge.
According to a joint report by Bain and Company, Google and Omidyar Network, the country's online retail market is a $50 billion opportunity waiting to be realised.
In 2017, online retail in India clocked $20 billion in sales. While this paled in comparison to the US ($459 billion) and China ($935 billion), India exhibited highest growth in online spending among major economies.
Indian online shoppers spent an average of $224 in 2017, which was less than a tenth of what the average user spent online in the US at $2,237 in the same year.
But while the US online sales' compound annual growth rate (CAGR) was 14 per cent in the five years to 2017, India's growth was five times higher at a CAGR of 70 per cent.
India's online retail market is definitely at a lower base than in the US or China, making up just 2 per cent of overall retail, but penetration is so low that the market is expected to grow at a higher pace for years to come.
The report showed that of the 390 million active Internet users in India, only 40 per cent (160 million) transacted online.
Of this, about 90 per cent (140 million) were from relatively affluent backgrounds, alluding to the fact online retail still isn't a mass phenomenon in the country.
For online retail to grow and realise its potential $50 billion size, e-tailers and other stakeholders need to address a few key issues such as: High user drop-outs (54 million of the 140 million affluent shoppers have not made a second purchase online), get more women to use the Internet (33 per cent of men in India have access to the Internet, compared to 22 per cent women), and bring more people from rural areas online (55 per cent of urban India has access to the Internet versus 15 per cent of rural India).


Source: Read Full Article