Meanwhile, Russian President Vladimir Putin said the withdrawal of US forces and its allies from Afghanistan has led to a new crisis.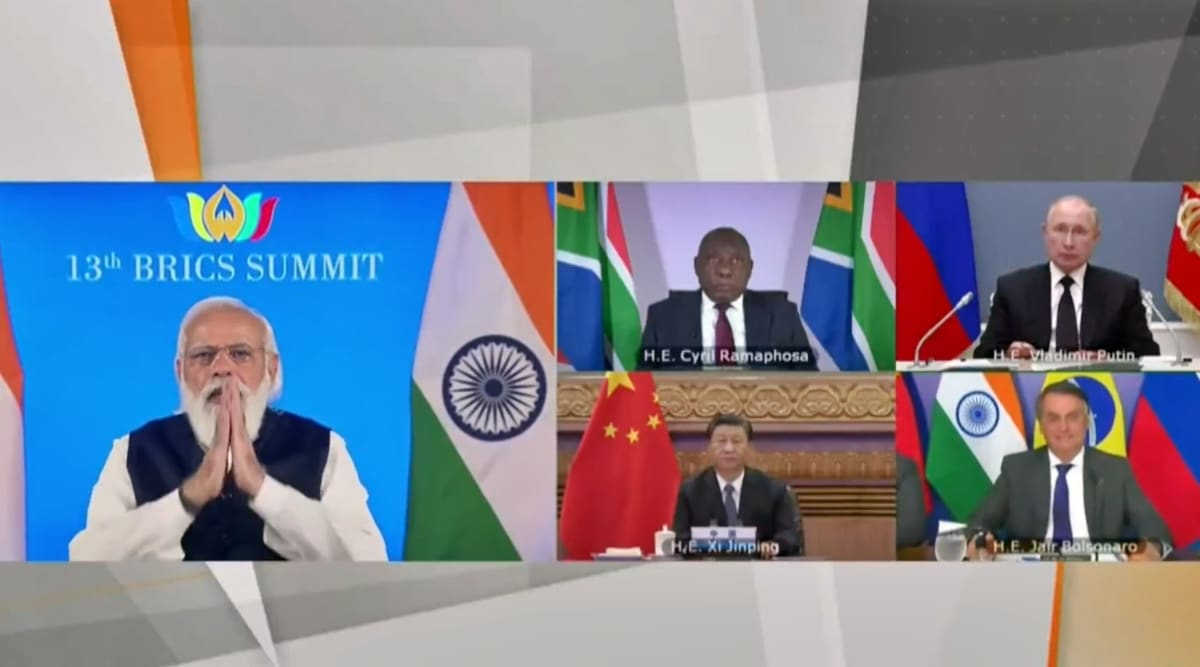 Prime Minister Narendra Modi Thursday chaired the 13th BRICS summit via video conferencing along with Brazil's Jair Bolsonaro, Russian President Vladimir Putin, Chinese President Xi Jinping and South African President Cyril Ramaphosa.
The summit comes in wake of the Taliban takeover in Afghanistan.
https://youtube.com/watch?v=Njq6VHtVp2k%3Fversion%3D3%26%23038%3Brel%3D1%26%23038%3Bshowsearch%3D0%26%23038%3Bshowinfo%3D1%26%23038%3Biv_load_policy%3D1%26%23038%3Bfs%3D1%26%23038%3Bhl%3Den-US%26%23038%3Bautohide%3D2%26%23038%3Bwmode%3Dtransparent
In his opening remarks, Prime Minister Modi said that BRICS made many achievements in the last one and a half decades. "Today we are an influential voice for the emerging economies of the world," Modi said in his address. He also thanked members for providing full cooperation to India during its chairship.
"Despite the Covid-19 situation this year, over 150 BRICS meetings and events were organised. Of these, over 20 were ministerial-level. We tried to expand the BRICS agenda. BRICS achieved many firsts this year…Our Water Resources Ministers will meet in BRICS format for the first time in November," Modi said.
Meanwhile, Putin said the withdrawal of US forces and its allies from Afghanistan has led to a new crisis. "It is still unclear how this will affect global and regional security. It is for good reason that our countries have paid special attention to this issue," Putin was quoted as saying by ANI.
"Afghanistan should not become a threat to its neighbouring countries, a source of terrorism and drug trafficking," Putin added.
The BRICS (Brazil-Russia-India-China-South Africa) brings together five of the largest developing countries of the world, representing 41 per cent of the global population, 24 per cent of the global GDP and 16 per cent of the global trade. India hosted the summit in its capacity as its chair.
This is the second time Prime Minister Modi is chairing the BRICS Summit. Earlier he had chaired the Goa Summit in 2016.
Source: Read Full Article