India's leading commodity exchange, National Commodity and Derivatives Exchange (NCDEX), and private weather forecasting company Skymet took a significant step towards launching the country's first tradeable weather index on Monday (August 14) by entering into an agreement to deepen their understanding of the impact that weather has on agricultural commodities.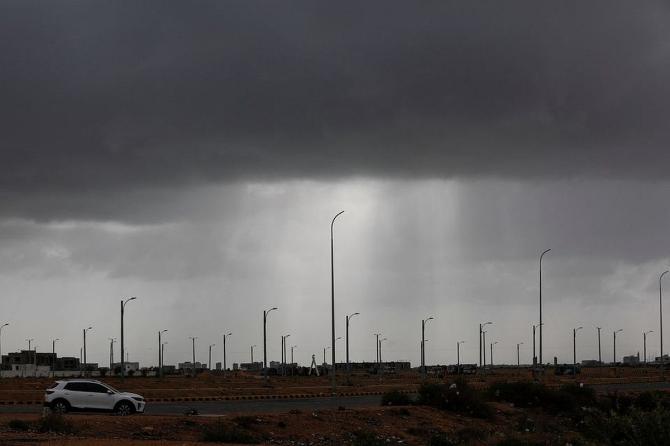 The memorandum of understanding (MoU) between NCDEX and Skymet is a profound step in the direction of linking farmers with the weather in a scientific way, according to an official statement.
Sources indicate that NCDEX and Skymet will conduct workshops and seminars across the country to educate farmers about how they can scientifically use weather forecasts to hedge risks.
Globally, tradeable weather indices are utilised by market participants to hedge their financial risks against frequent weather changes due to the growing impact of climate change.
Previously, in June, NCDEX and Skymet had launched two national-level rainfall-based indices: the Indian Monsoon Index (Cumulative Monsoon Index) and the Indian Rain Index (Monthly Cumulative Rainfall Index).
These indices were introduced to monitor the systematic movement of rainfall in the country.
However, they merely represented rainfall and were not available for trading.
Sources suggest that with the knowledge acquired over the past three years and the significant interest shown by participants, NCDEX, in collaboration with Skymet, is now exploring the formal launch of trading in these two weather indices.
However, no specific timeline has been provided, as this process involves obtaining regulatory clearances from bodies such as the Securities and Exchange Board of India.
"Weather risk is a crucial consideration affecting the agricultural sector, and we believe there is an urgent need for tools like weather derivatives in our country.
"These tools would facilitate farmers, processors, exporters, and others with an effective means to hedge their price risk. We took an important step in this direction around three years ago when we launched the two weather indices.
"In the past three years, we have received tremendous market feedback, confirming a strong appetite for a tradeable weather index.
"This MoU is a concrete step in that direction," stated Jatin Singh, managing director (MD) and founder of Skymet Weather Services.
Arun Raste, MD and chief executive officer of NCDEX, stated that the goal of this partnership is to equip market players with insightful information that will assist them in making better decisions, effectively managing risks, and supporting the overall stability of the agriculture industry.
Similar to other parts of the world, Indian agriculture is increasingly susceptible to uncertain weather patterns.
Notably, not only agriculture but also sectors dependent on farming, such as the food processing industry and general businesses, have become more vulnerable to unpredictable weather conditions, including excessive rainfall, prolonged heatwaves, and sudden temperature drops.
During the April to June summer months of this year, while northern India (typically hot during summer) experienced unseasonal rains, the eastern and southern parts of the country endured a historic high number of heatwave days.
These erratic events disrupted the business cycles of several sectors, particularly agriculture, beverage, and consumer durables.
Even the power generation and coal mining sectors had to adjust their plans due to changes in demand across various regions of the country.
Agricultural produce, in particular, has been significantly impacted, resulting in soaring prices for several summer staples.
Similarly, the white goods sector experienced a less-than-anticipated summer season, contrary to predictions of record-breaking heat.
Source: Read Full Article