Nala Sopara neighbourhood 'shut down' in support of arrested gaurakshak Vaibhav Raut in 2014
In his neighbourhood in Nala Sopara, some 64 km from Mumbai, Vaibhav Raut is a popular man. Members of the Hindu Govansh Raksha Samiti of which Raut is a coordinator, claim that in November 2014, Nala Sopara observed a daylong bandh to protest a police case against him. The Maharashtra Anti-Terrorism Squad (ATS) on Friday arrested Raut and two associates for allegedly planning terror attacks in multiple cities in Maharashtra.
"Raut is a gaurashak and has been committed to the cause. He had always led raids to save bovines from being slaughtered, even before the state government brought in the law banning beef trade," Diptesh Patil, another coordinator of the Samiti, told The Sunday Express in Nala Sopara Saturday.
"In November 2014, after he got a case registered against a local butcher for slaughtering a cow, members of the Qureshi community got a case registered against him. The next day, as a mark of protest, we observed a bandh and everyone participated in it," Patil said.
On Saturday, at the panchyat hall abutting Raut's residence, members of the outfit gathered to discuss the case and the arrests. "Raut is a simple man who never even abuses anyone. How can we believe that he was assembling bombs in his backyard? He believed in Sanatan dharma and was passionate about the Hindu religion and ethos," said another member, who claimed that the ATS had "planted" the bombs.
Said Patil: "They came with a few empty trunks, and later in the morning claimed before the media that they have recovered bombs."
The Hindu Govansh Raksha Samiti is a local self-appointed cow vigilante group of around a hundred men between ages 15 and 55. Among its members are both educated and uneducated, and employed and unemployed individuals, and some who do odd jobs. "We don't have an office, we organise our meetings at chowks or panchayat halls, and since all of us rally for the same cause, we find time despite our other commitments," said Patil, who said he works for a private firm.
After the current government passed the beef ban law, the outfit has managed to conduct 30 "live raids", and get five cases of ferrying meat alleged to be beef, registered. Police are still investigating these cases, and have filed no chargesheets yet.
"Raut led all the raids and that was the reason behind the police issuing prohibitory orders against him," Patil said. This, police sources said, happened in 2015, just before Bakrid, after Palghar police marked Raut out as a "troublemaker". In 2016, Raut registered 20 complaints against members of the Qureshi community. The prohibitory order issued under Section 144 of the CrPC in 2015 continued even in 2016 and 2017, police sources said.
The outfit is a part of the larger Hindu brigade that operates from Nala Sopra. "We don't have a parent organisation but we work closely with the VHP, HJS, Sanatan Sanstha, Bajrang Dal, and both the Shiv Sena and BJP," claimed Patil. The outfit was floated by local youths in early 2014, and Raut was a founding member. The work of outfit members is "seva", Patil said: "Nobody seeks any remuneration for this. We are doing this for the larger cause of Rashtra seva."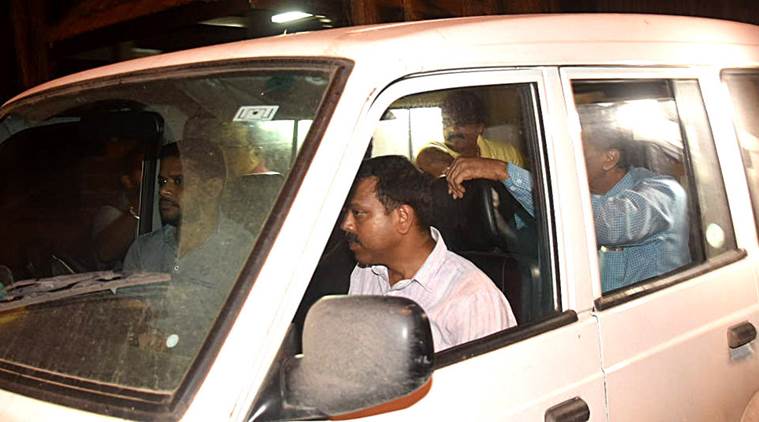 Other than carrying out raids against alleged illegal beef traders, the outfit conducts a host of activities including organising a "Rashtra Hindu Andolan" to carry the message of building a mandir in Ayodhya, and making local youth celebrate "Matru-pitru Day" instead of Valentine's Day. "It is not in our culture to celebrate Valentine's Day and spoil our youth. In Nala Sopara, we have replaced it with observing a day to mark our respect to our parents who have brought us in this world. Asaram Bapu was the one who coined this, and we follow it till date," another member said.
The outfit claims their members, including Raut, have participated in "adivasans" of the Sanatan Sanstha. "He (Raut) was a regular and was called by the Sanatan Sanstha to participate in their annual conclaves. I had accompanied him once," Patil said.
Meanwhile, Sanatan Sanstha lawyer Sanjeev Punalekar alleged that the ATS had detained four men illegally, and were pressuring them to extract statements against the arrested accused. These four men were Prasad Deshpande, Avadhoot Paithankar, Mahesh Indalkar and Vishal Khutwal, Punalekar said.
A few kilometres from Raut's residence is Waza Mahula, a Muslim-dominated ghetto. Mohammed Abbas Fowzy, a local Congress leader, alleged: "There is a well-oiled police and vigilante nexus. All the raids happen on the highway or the arterial roads. Traders are stopped at the entry point; those who pay are let off, cases are filed against those who don't. Cow protection is a sham, this is actually an extortion racket."
Must Watch
Manmarziyaan Trailer: 5 Best Things
Floods and landslides in Kerala after southwest monsoon wreaks havoc
Samsung Galaxy Note 9 launched: S Pen, battery are the big changes
5 Reasons To Watch Vishwaroopam 2
For all the latest India News, download Indian Express App



Thane brothers 'kidnapped' in Malaysia return home




Bombay HC orders action against scrutiny committee issuing caste certificate
Source: Read Full Article